WHUR and Verizon to Host Domestic Violence Forum With Iyanla Vanzant
WHUR and Verizon to Host Domestic Violence Forum With Iyanla Vanzant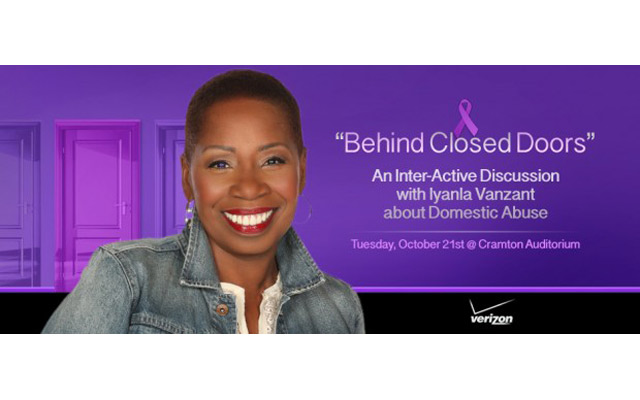 WASHINGTON – WHUR 96.3 FM and HUR-Voices SiriusXM 141, part of the Howard University Radio Network, are joining forces with Verizon to host a domestic violence forum featuring life coach Iyanla Vanzant on Tuesday, Oct. 21, from 7:30-9 p.m. at Cramton Auditorium.
The forum entitled, "Behind Closed Doors," will be a 90-minute interactive discussion with Vanzant, host of "Iyanla Fix My Life" on the Oprah Winfrey Network, about the impact domestic violence has on communities throughout the Washington, D.C., area. Vanzant will work with both victims and perpetrators as she tackles domestic violence/intimate partner violence, an issue that impacts 1 of every 4 women and 1 of every 7 men nationwide. 
In addition to the discussion, representatives of domestic violence organizations from around the region will be on hand to provide resources and services to individuals who may need further assistance. "Behind Closed Doors" is part of a month-long WHUR-Verizon campaign to educate the public about the signs of domestic violence and provide information on where to seek help for both the abused and abuser.
"We are honored to have this partnership with Verizon to address such a critical issue impacting communities across the country. This platform gives us an opportunity to discuss domestic violence in a safe non-judgmental environment while providing resources to those who may need it," said WHUR General Manager Jim Watkins.
"Behind Closed Doors" is free and open to the public. Registration is required at www.whur.com.