Augmented reality will change concerts forever
U2, Maroon 5 and Eminem are shattering the fourth wall.
Full Transparency
Our editorial transparency tool uses blockchain technology to permanently log all changes made to official releases after publication. However, this post is not an official release and therefore not tracked. Visit our learn more for more information.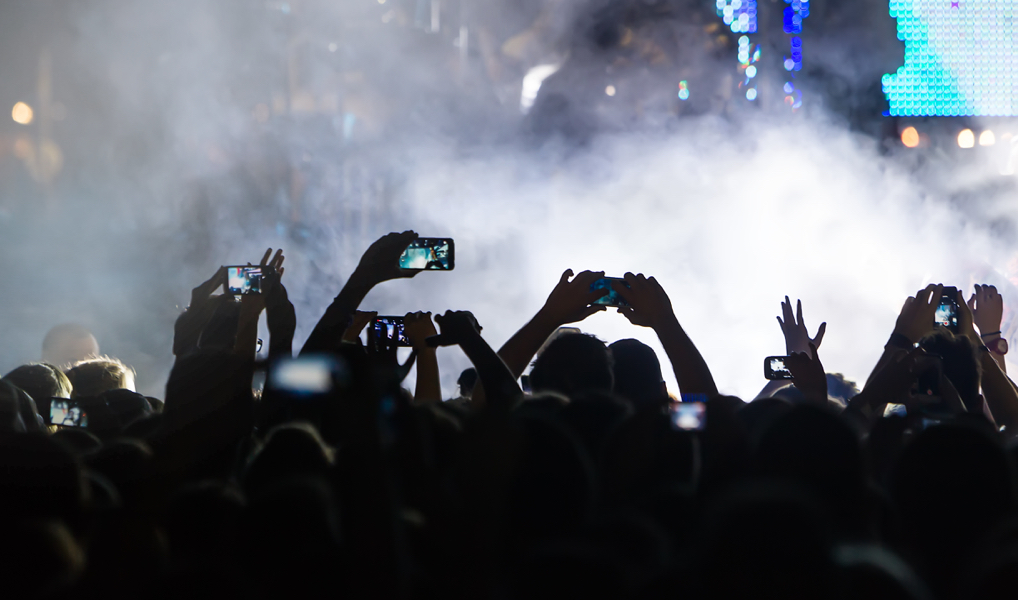 At the beginning of U2's Experience + Innocence show, the audience in the stadium saw a blue and white iceberg projected across an 80-foot wide screen. As Bono's smooth baritone sang the opening words of the band's set, the five-foot, six-inch Irish singer appeared at the center of the stage. But anyone holding up their phones to the screen witnessed an enormous, electric blue outline of Bono towering over the crowd.
Concerts featuring augmented reality (AR) and virtual reality (VR), like the ones U2 gave on the band's recent tour, are still at an experimental phase, but many event experts expect the technology will become a regular part of live shows.
Eminem utilized AR at last year's Coachella festival. After downloading an app on their phones, fans could view his set accompanied by silly and startling images like a plate of the rapper's mom's spaghetti overturning on top of them. This year, Coachella built an AR-equipped stage where festival-goers could peek through an app on their phone screens during performances to see spaceships fly through the sky.
"VR and AR are moving with a velocity now," said Jonny Cosgrove, a former concert promoter who's now CEO of the VR company meetingRoom. "What's exciting now is that the end user gets to be the guinea pigs for all kinds of fantastic and immersive experiences."
Bono said the stadium's tall, augmented reality version of him was doing the same thing he did when he'd stage dive in the early days of U2: break the stage's fourth wall to create a more personal connection with the audience. The technology doesn't require a stadium-size stage to be effective. The New York City-based band Starset had an augmented reality spaceship fly around Hammerstein Ballroom and land onstage.
Not all immersive AR images are as flashy as spaceships, but they still have the power to heighten live entertainment experiences, said Sovanna Mam, the executive producer and founder of Greenfish Labs.
"The goal is not just to use technology for technology's sake, but to make sure that people can use their phones to do something worthwhile that enhances their experience and makes it smoother," he noted.
That could mean an AR-enabled app on each festival-goer's phone that, when opened, points them to the nearest restroom or concession stand. The same tech could also potentially geo-locate friends.
Such experiences also help event sponsors drastically increase user engagement. Verizon previously teamed up with Maroon 5 to give fans the opportunity to do live karaoke at three of their shows. While the band played their first two songs of the show, aspiring singers could film themselves on Snapchat singing along.
Verizon had given away 100 Maroon 5 tickets at those shows. The singalong experience was a way to scale the giveaway's impact and encourage winning fans to share the video and let everyone know that they had the best seats in the house.
The company views AR and VR as great platforms for connecting with non-traditional audiences. (Verizon  has also teamed up with artist Pharrell Williams to open an Innovative Learning Lab in Virginia Beach, which will teach students about AR and VR, as well as other cutting edge tech.)
AR applications can also be used inside concerts like Coachella, where vendors and sponsors could offer coupons, tickets and other prizes for collecting their AR markers.
The implementation of speedier networks will make many of these applications more widely available, said Mam. "The 5G network is going to be a gamechanger," he said. "We're about to see an explosion of VR and AR activations because of 5G."
Those advancements may seem like an intrusion into a live experience traditionally designed to connect people with music. But mobile screens aren't going anywhere, emphasized Cosgrove. That's why the best VR and AR innovators are aiming to create immersive experiences so personalized and realistic you forget they're happening in a mobile app or wearable device.
"We're giving people a new means to experience things," he said. "We're not trying to change an experience, but enhance it. We want to make sure everyone can have a personal experience, and a great time."
For more information, see:
U2 discusses augmented reality
Eminem's augmented reality app
Verizon partners with Maroon 5
For related media inquiries, please contact story.inquiry@one.verizon.com