Real talk about photo-editing apps with your teens
They weren't designed to remove your authenticity.
Full Transparency
Our editorial transparency tool uses blockchain technology to permanently log all changes made to official releases after publication. However, this post is not an official release and therefore not tracked. Visit our learn more for more information.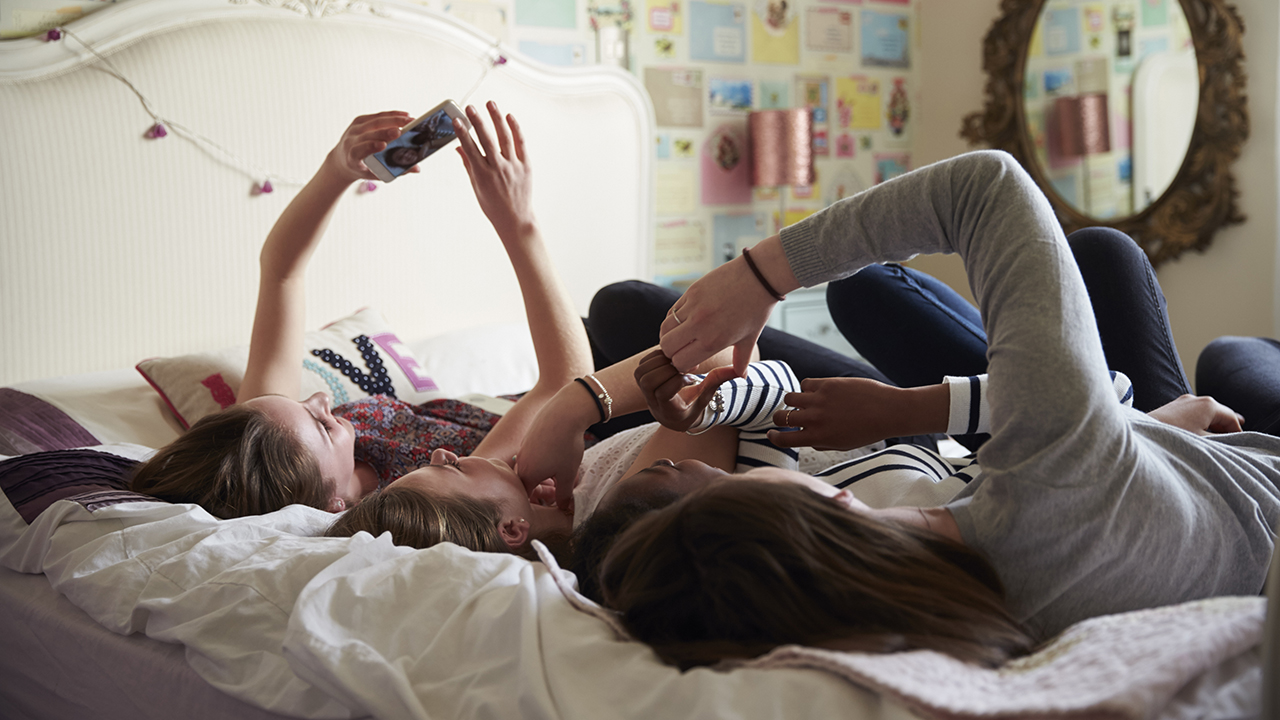 When it comes to selfies, there's a few tricks to get that perfect shot: Use natural lighting, hold the camera high and at an angle, add your favorite filter before publishing on Instagram. But, with more photo-retouching apps and filters becoming available, it's worth taking a second look at what these apps and filters can do, and the kind of pictures your teen posts of themselves online.
What can photo-editing apps do?
Some aspects of photo editing are largely harmless. Some apps allow users to change up some simple things, like the lighting, color and shadows. Some allow users to make more complex, cosmetic changes, like whiten teeth, clear up a few zits, and even change body or face shape. Airbrushed images can give the illusion of perfection—perfect hair, skin or body shape. And one of the newest upgrades to Facetune 2, a popular portrait and selfie editor app, lets users make changes to a portrait in real time, so you can change a person's cosmetic features before they even tap the shutter.
Who uses them?
A lot of people, actually. The early adoption of the photo-retouching app Facetune by celebrities, athletes and social media influencers helped the app reach millions of selfie-takers. In 2017, it was one of Apple's top app downloads.
What can this mean to your teen or preteen?
Everyone who follows celebrity accounts are viewing images of a beauty icon that they likely perceive to be authentic. In reality, though, the pictures aren't real—they're altered in order to reach a higher level of unnatural attraction.
When adolescents see celebrities with perfected physical features, they may not understand that the image has been altered. However, when your child's friends begin to post edited images that remove all blemishes and imperfections, the expectation of perfection begins to encroach on your child's personal world.
Not only do photo-editing apps allow your child to present a falsified image to the world, but it encourages them to critically examine what they want to change about their appearance, often preferring an artificial physical identity over their authentic self.
What we can do as parents?
Like many other issues that arise with emerging technology, the use of photo-editing apps requires a conversation with your child regarding safe and healthy practices. It is important that your child understands that some of the images they see, even of some of their peers, may be edited in some fashion.
It is also a good idea to review the photo-editing apps that your teen uses and discuss the different features available to them. You and your child can decide together which tools foster healthy and artistic choices, and which features may not be a good idea to use on their photos. Engaging in open discussions as to why some editing features are potentially unhealthy not only leads them away from using them now, but it encourages your child to understand why portraying their real self is important going into their adult life.
This article was authored by staff at the Family Online Safety Institute, a nonprofit organization that works to empower parents to confidently navigate the digital world with their kids. It was originally posted on their Good Digital Parenting blog and republished here with permission.