Technology.
Education.
Opportunity.
We're working to address barriers to digital inclusion.
At Verizon, digital inclusion is about ensuring the benefits of technology are realized by all.  Right now, millions of under-resourced students here in the U.S. are lacking the connectivity, technology and skills required for success in today's digital economy. That's why since 2012, we have been working to help foster digital inclusion through a transformative program called Verizon Innovative Learning.
With an innovative STEM-focused curriculum.
All children should have access to new technology and quality STEM education. Through Verizon Innovative Learning, we turn belief into action. Our program provides free technology, free internet access and a next-gen, technology-infused curriculum delivering a new way of learning. We work hand in hand with nonprofit partners and our team of education and technology experts to build and administer STEM-focused programs that create the kinds of transformations that change lives. 
We carefully measure and refine our programs to ensure we're making a difference – and we have. Our programs drive real academic improvements such as increased proficiency in STEM and student engagement as compared to non-Verizon Innovative Learning schools.*
We're inspiring students with tech innovations.
Additionally, we're bringing 5G technology to the classroom where our students and teachers are at the forefront of transformative technology. Our goal is to deploy it in 100 schools by the end of 2021. Things like virtual and augmented reality, advanced low-latency robotics, and more immersive collaboration can turn lesson plans into living, breathing, immersive experiences.
Since 2012, Verizon Innovative Learning has committed a total of $400 million in helping under-resourced communities bridge the digital divide. Technology. Education. Opportunity.
*Source: Westat (2018). Verizon Innovative Learning Schools – First Analysis of Student Administrative Data From Cohort 3 Schools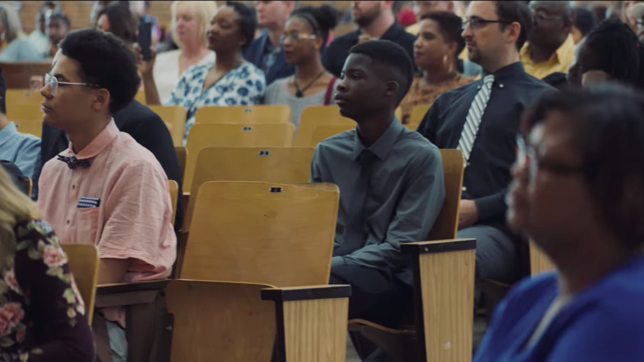 said that Verizon Innovative Learning schools enhanced student engagement.

believe that having the technology makes science more interesting.

believe that having the technology makes math more interesting.
Source: All Verizon Innovative Learning data reported through Q3 2018.
"We're creating thinkers to do jobs that aren't invented yet."

This Teacher Appreciation Week, we celebrate Matthew Heine of Jeremiah Rhodes Middle School.

As schools close due to COVID-19, students shift to online learning

24/7 tech access helps keep Verizon Innovative Learning students engaged and safe.

 

Returning to a Verizon Innovative Learning school in Harlem, three years later

Helpig P.S. 171 increase engagement and academic success

Transforming a Texas school district with technology

Irving Independent School District is the first in the nation to feature Verizon Innovative Learning in all its schools.

At W.E.B. DuBois Academy, it's all about "the pride"

W.E.B. DuBois Academy's students embrace brotherhood, pride, technology and access courtesy of Verizon Innovative Learning.

A Cleveland school is the first to receive Verizon 5G

Entrepreneurship Prep is primed for next level education.
Watch the best of Cleveland.
Pharrell visits the first 5G-powered Verizon Innovative Learning Lab. Our goal is to bring 5G to 100 schools by 2021.
Inspiring stories from our students.
Teachers and students 3D-print protective gear for essential workers

Verizon Innovative Learning resources help schools serve their communities from afar.

Students take cues from United Nations to tackle climate change

Verizon Innovative Learning students across America help advance United Nations' Sustainable Development Goals for a cleaner planet.

Two teachers use tech to transform their classrooms.

Verizon recognizes outstanding teachers for improving test scores, creating leaders and inspiring kids to love school.

One girl's social transformation.

For C.J. Parker, who was bullied for being smart, connecting with girls who love tech and science led to a personal evolution.

It's never too early to start a STEM career.

This summer, students in North Carolina began to make their professional dreams come true.

Opening minds to different kinds of careers.

Hear from students from Tennessee and Virginia as they go hands-on at a NYC STEM academy.

Uplifting each other.

Instead of allowing family issues, social challenges and anxiety to divide them, these girls support each other.

Because we can.

When asked about why they believe they can change the world, the participants all basically had the same response:

"Because we can."

STEM isn't just a boy thing.

"I read somewhere that for every one girl that's in a STEM career, there's like five boys," said sixth grader Danielle Amos. "So to see that there are 50 girls who want to partake in this is just crazy."

It sparked a fire inside of me.

The 3D printing class that Ryan Butler took along with fellow middle schoolers inspired him to envision a career as an electrical engineer. "Now I know about this big huge world of technology."
More schools connected to the future.

More students ready for tomorrow.
See how we're making an impact.
Elevating

"Verizon Innovative Learning takes student learning to another level."

Dimitres Pantelidis, Principal at P.S. 171

 

Motivating

"He became a leader instead of that kid in the classroom. Academically his grades shot up because he feels like he's accomplishing it on his own."

Jean Nicoleau, Chaperone and Teacher

Life-changing

"With the students that were in the [program], I can see a world of difference. They're more confident and stepping up to the plate and taking on leadership positions."

Helen Howell, Instructor

 

Engaging

"The structure is essential, and it's engaging. When the kids engage in the learning environment, they engage elsewhere."

Marilyn Dieppa, Instructor, Florida International University

Encouraging

"That's what I see her getting from this [program]. She's getting that smart is cool; that smart can bring you places." 

Liz Lynch, Instructor, Patrick Henry Community College
Become a Verizon Innovative Learning School