We're working hard to create solutions that reduce our carbon footprint and help our organization run faster, cleaner and better.
We're also working to help our customers reduce their energy use and environmental impact, from recycling events to innovating our packaging to providing solutions that help people cut their energy costs.

Explore our sustainability and energy management efforts here at Verizon and in our communities.
---
Our Footprint
It takes a lot of energy to power our networks around the globe — more than 10 billion kWh of electricity annually. In fact, the electricity that powers our 46,000 cell sites, 120 million square feet of real estate and 200 data centers accounts for 92 percent of our carbon emissions.
That's why for more than a decade, we have focused on improving our overall energy efficiency to reduce both our costs and our environmental footprint.
We have committed to invest more than $100 million in a solar and fuel cell energy project that will help power Verizon facilities across the country.
So far, we've implemented 12.4 megawatts of solar and fuel cells, with another 2.6 megawatts near completion. That surpasses our goal to implement 10 megawatts.
With more than 89 million kilowatt hours of electricity expected in one year, we will have enough electricity to help power our critical data centers, central offices and office buildings across six states.
This effort will also eliminate more than 10,000 metric tons of carbon dioxide — enough to offset the annual CO2 emissions from more than 1 million gallons of gas.
In our building operations, ENERGY STAR® and LEED certification has helped us to significantly reduce energy usage.
We are pursuing ENERGY STAR certification for all eligible Verizon retail stores and LEED certification for 225 of our retail stores.
By the end of 2013, 141 stores were ENERGY STAR certified and 172 stores were LEED certified. We were named ENERGY STAR Partner of the Year in 2013 — the first and only wireless company to win this award.
More than 15,000 employees representing 26 countries are members of the Verizon Green Team.
These passionate employees start and run energy efficiency programs and lead community recycling events. Through our partnership with American Forests, Verizon plants a tree for every new Green Team member.
In 2013, our employees and their neighbors recycled more than 360,000 pounds of used electronics, phones and accessories.
We hold our suppliers to the same high standards by which we operate.
Each year, we conduct a Supplier Sustainability Assessment to evaluate our suppliers' sustainability strategy and CO2 emissions, solid waste management, water use and management, packaging practices, and sustainability in subcontracting.
Our goal was that 40 percent of our supplier spending would be with firms that measure and set public targets to reduce CO2 emissions by the end of 2015.
50 percent of our suppliers now meet this goal and as a result, we've increased our target to 55 percent.
Emissions Reporting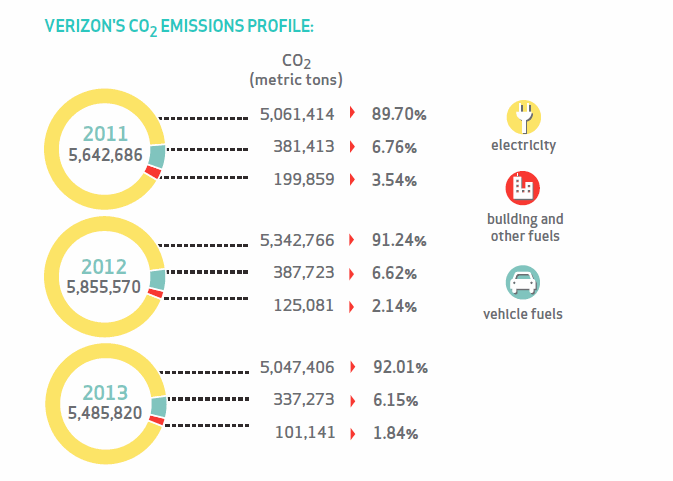 Measuring carbon intensity allows us to assess how we are becoming more energy efficient even as our business expands. All of our energy efficiency strategies support our ultimate goal of cutting our carbon intensity in half by 2020. In 2013, we reduced our carbon intensity by 12.95 percent; since 2009, we have improved our carbon intensity by more than 40.03 percent over our baseline.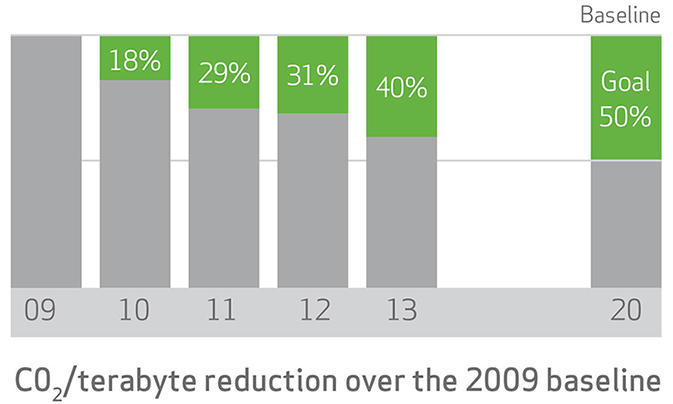 We are committed to continuously improving and refining our measurement and reporting systems. We engaged Ernst & Young to perform an independent review of our 2013 greenhouse gas emissions and carbon intensity reporting. Following Ernst & Young's careful review, we chose a more conservative approach to measuring our network data and adjusted the 2009 baseline figure. The total decrease in carbon intensity from 2009 - 2013 was recalculated and is reflected on the 2013 Carbon Intensity Matrix. Reporting from 2013 forward will reflect these changes.
Product Sustainability
Recycling pays. Our device recycling program allows our customers to trade-in phones, tablets and other wireless devices, regardless of carrier, or purchase date or location. Customers receive a Verizon gift card that they can use toward a purchase or to pay their bill, and business customers receive an account credit.
Last year we achieved a 31 percent device-recycling rate. Our goal is to achieve a 35 percent device-recycling goal by the end of 2015.
We've modified the packaging associated with cellphone accessories - things like chargers, batteries, earphones, etc.
Now all Verizon-branded accessories use paper content that is recycled or comes from responsible sources, reducing packaging volume up to 91 percent. Also, all inks used for this packaging are now soy-based.
Additionally, our ECO Specs label helps customers spot key environmental information at a glance – from recycled material content to the energy efficiency of the device.
We have long used post-consumer recycled papers in our direct mailings to customers. In 2013, the use of these products resulted in annual savings of more than 115 metric tons of greenhouse gases and more than 455 tons of wood.
Our products and services help our customers reduce their environmental footprint. We do this in ways that might surprise you. For instance, did you know that just by providing broadband access, we're able to help customers save time and money by increasing their ability to telecommute?
In 2013, solutions like vehicle telematics, smart buildings and smart meters helped our customers reduce greenhouse gas emissions equivalent to the annual emissions of approximately 3 million cars.
Networkfleet, our telematics product, has proven to significantly improve efficiency of fleet operations.
With information gathered from vehicles via Networkfleet, our fleet managers can streamline routing, promote fuel-efficient and safe driving practices, improve vehicle maintenance, avoid breakdowns and track metrics.
See how Networkfleet has translated to real-world success for these customers:
The City of Ventura, CA achieved the city's goal of reducing overall fuel use by 10%.
Campbell Oil was able to increase its on-time deliveries, improve driver safety, and save significantly on fuel costs.
Roto-Rooter franchisee Hoffman Southwest recovered stolen vehicles, increased revenue through saved labor, reduced vehicle emissions, and increased service calls.
As our cities become more crowded and fuel prices continue to rise, finding efficient solutions to improve our environment is critical.

The goal is to upgrade our waste removal and recycling practices so that everyone, from consumers to manufacturers, moves toward a more sustainable lifestyle.
The Verizon Innovation Program partnered with BigBelly Solar to connect solar-powered, wireless public trashcans that recycle waste, compact trash and then notify an administrator when they're full. Already, hundreds of locations across the country are using this new technology to reduce carbon emissions and to save money.