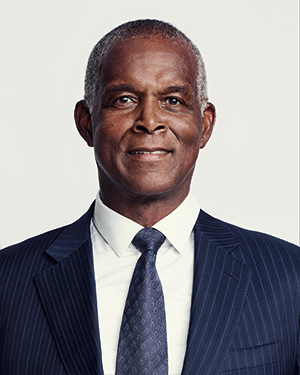 Clarence Otis, Jr. (Lead Director)
Former Chairman and Chief Executive Officer of Darden Restaurants, Inc.
Independent Director since: 2006
Committees:
Audit 
Finance
Human Resources
Key skills and experience:
Leadership: Led Darden Restaurants, Inc., the largest company-owned and operated full-service restaurant company in the world, as CEO for 10 years, achieving sales growth of over 75% during the period. Known as a purpose-driven and values-based leader, with Darden being recognized by Fortune magazine for four consecutive years during his tenure as one of its 100 Best Companies to Work For. Named one of the most influential directors in the board room by the National Association of Corporate Directors in 2019.
Consumer/B2B/retail: Brings deep and valuable insights into consumer services and retail operations gleaned from his experience leading a Fortune 500 company that owned well-known national consumer brands including Olive Garden, LongHorn Steakhouse, Red Lobster and Capital Grille. Further consumer and retail expertise through board position at VF Corporation, which owns well-known national brands including Timberland and North Face.
Financial expertise: Gained substantial financial expertise through, among other roles, investment banking positions of increasing seniority over 12 years, the CFO role at Darden, serving as a director of the Federal Reserve Bank of Atlanta and as trustee or director of mutual funds pursuing a wide array of investment strategies.
Risk management: Acquired significant expertise with financial risk assessment and enterprise risk management during his career in investment banking and at Darden, as well as through his many years of service on the Federal Reserve Bank of Atlanta Board, the audit committees of VF Corporation and Verizon, the Investment & Capital Markets Committee of Travelers and as a trustee of 138 funds within the MFS Mutual Funds complex.
Career highlights:
Darden Restaurants, Inc.​​​​​​

Chairman (2005-2014)
Chief Executive Officer (2004-2014) 
Other executive positions (1995-2014)

Director of the Federal Reserve Bank of Atlanta (2010-2015)
Investment banker and lawyer specializing in securities and finance
Other public company boards:
The Travelers Companies, Inc. (since 2017)
VF Corporation (since 2004)
MFS Mutual Funds complex (since 2017)
Meet Verizon's board members.