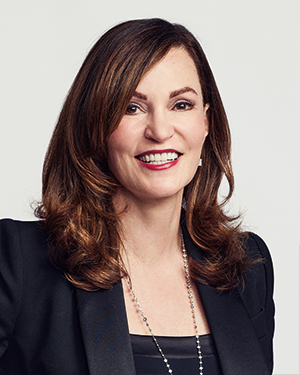 President and Chief Executive Officer of Austin Investment Advisors
Independent Director since: 2020
Committees:
Audit
Finance
Key skills and experience:
Leadership: Seasoned leader who served as CEO of Move Networks, President and COO of DIRECTV, and CFO of Hughes Electronics. Named 2018 Director of the Year - Corporate Leadership and Service by the Forum for Corporate Directors and one of the most influential directors in the board room by the National Association of Corporate Directors in 2022 and 2013. Serves as co-chair of the annual Corporate Governance Conference at Northwestern's Kellogg School of Management.
Cybersecurity: Acquired significant cybersecurity experience through her extensive management and operating roles in a range of technology industries, including service as a director of CrowdStrike, a leader in cloud-delivered endpoint protection.
Financial expertise: Developed a comprehensive background in finance and accounting as a public company audit committee member, CFO of Hughes Electronics and a partner at Deloitte & Touche LLP.
Strategic planning: Oversaw a dramatic turnaround of the business within one year of her arrival at DIRECTV, with cash flow increasing from negative $400 million annually to cash flow positive by $400 million, and revenue increasing by 40%. Overhauled customer service at DIRECTV, resulting in the company winning J.D. Power's award ranking #1 in customer satisfaction.
Career highlights:
President and Chief Executive Officer of Austin Investment Advisors, a private investment and consulting firm (2003-present)
President and Chief Executive Officer of Move Networks, Inc., an IP-based television delivery service (2009-2010)
President and Chief Operating Officer of DIRECTV, Inc., a digital television entertainment service (2001-2003)
Chief Financial Officer and various executive positions at Hughes Electronics Corporation (1993-2001)
Audit Partner and various audit positions at Deloitte & Touche LLP (1983-1993)
Other public company boards:
AbbVie, Inc. (since 2013)
CrowdStrike Holdings, Inc. (since 2018)
Freshworks Inc. (since 2021)
Abbott Laboratories Inc. (2000-April 2022)
Teledyne Technologies Incorporated (2006-2021)
Target Corporation (2002-2020)
Ericsson (2008-2016)
Meet Verizon's
board members.