Why I give back: 5 VTeamers on their most memorable volunteer moments
Citizen Verizon Volunteers Champions from around the globe are moving the world forward, one hour at a time.
Full Transparency
Our editorial transparency tool uses blockchain technology to permanently log all changes made to official releases after publication. However, this post is not an official release and therefore not tracked. Visit our learn more for more information.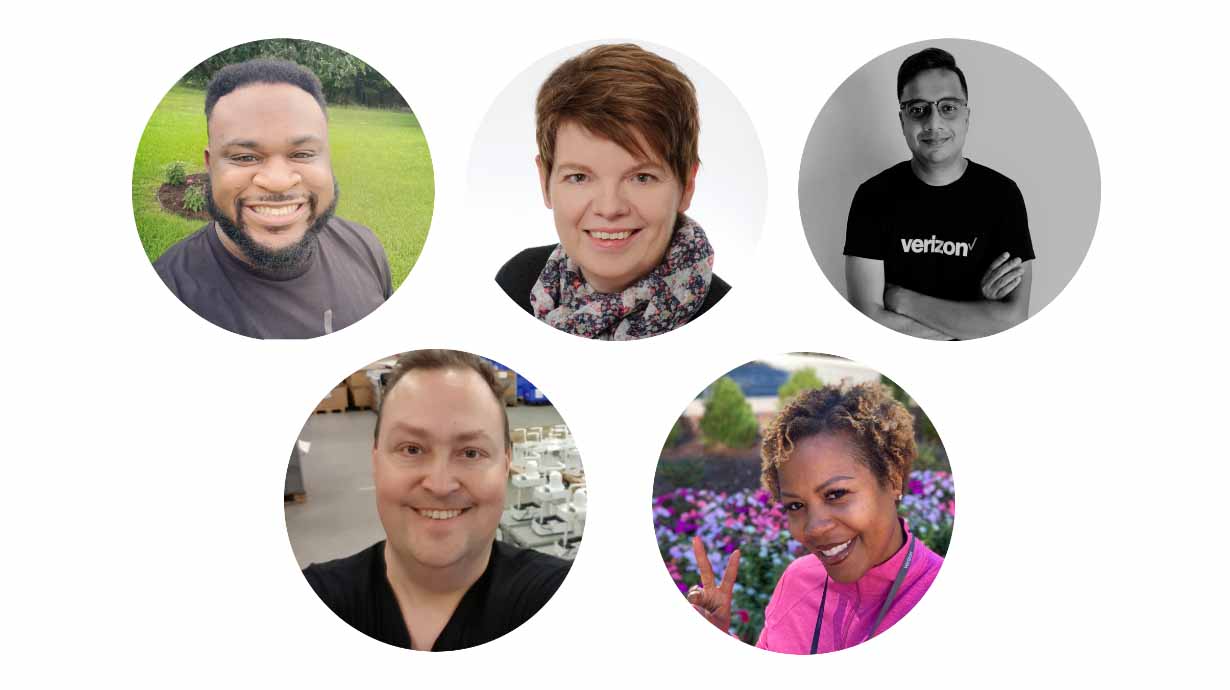 Making the world a better place is an ambitious goal, but for these VTeamers, it's all in a day's work. Through their donations of time and talent, these individuals are expanding digital access to those who need it most, supporting small businesses, protecting the climate and preparing people for the jobs of the future—helping advance Verizon's goal of contributing 2.5 million employee volunteer hours by 2025.
In celebration of Global Volunteer Month, a time when we recognize those with a passion for improving their local and global communities, we're spotlighting five Citizen Verizon Volunteers Champions.
Marcus White: A passion to give more (Chicago)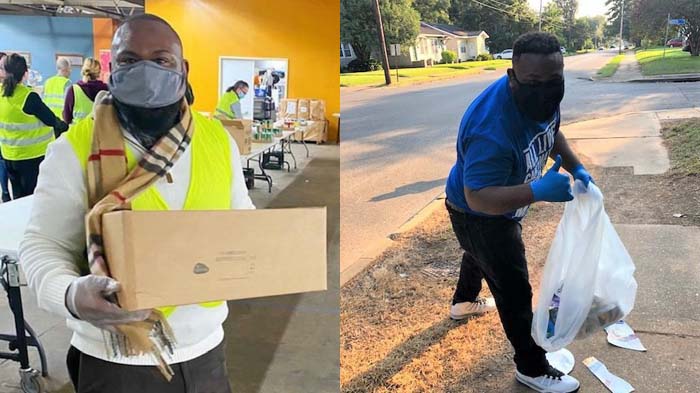 Marcus White packs canned goods at the Food Bank of Northern Indiana for those impacted by COVID-19 (left) and takes part in a local litter pickup for National CleanUp Day (right). Credit: Marcus White
"I've been volunteering for as long as I can remember," says Marcus White, a Verizon consumer district manager based in Chicago. A VTeamer for eight years, he is passionate about participating in digital-inclusion-focused volunteer opportunities that help underrepresented communities and stimulate young minds.
One such experience was an event White coordinated with Litty Ligo. The nonprofit organization helps people living with vitiligo, a skin condition in which pigment loss causes whitish patches, which can lead to social or psychological distress. White's initiative aimed to benefit students inside and outside the vitiligo community, to ensure they had the necessities for a productive school year. It included a STEM supply drive, as well as a panel discussion that White led with the nonprofit's leaders, discussing their personal journeys living with vitiligo. Volunteers also wrote cards of encouragement to young people who have the condition, as it can take a toll on their mental health.
White was moved by the response from the community, as well as the participation from his fellow VTeamers. "It was an amazing event because I helped create awareness about the condition, and I always try to look for a cause where I can educate others," White says. "While promoting this event, my co-workers were signing up and asking me, 'How can I learn more? How can I help?' The opportunity to grow and learn while giving back is important to me."
Ulrike Puschinsky: Fostering community through STEM (Dortmund, Germany)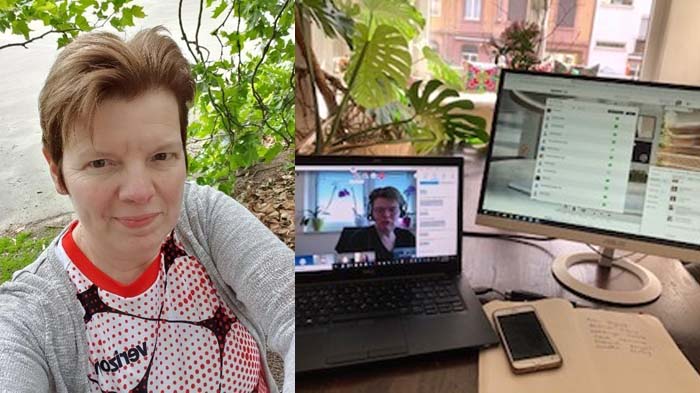 Ulrike Puschinsky participates in a virtual awareness walk for racial justice (left) and virtually introduces preteen and teen girls to STEM professions (right). Credit: Ulrike Puschinsky
The global pandemic impacted everyone in different ways. For Ulrike Puschinsky, a senior accounting manager based in Germany, it inspired her to do more for her community. "If you look around, you have so many neighbors who are struggling," she says. "I wanted to help those who needed it most."
Puschinsky, who has been with Verizon for 25 years, started brainstorming how she could combine her efforts with Citizen Verizon Volunteers. She decided to invite a group of preteen and teenage girls to Verizon's offices in order to introduce them to STEM professions.
"This was one of my best experiences," says Puschinsky, who is passionate about mentoring and inspiring girls. "It was amazing to see how we turned it into a virtual event, which gives us the ability to invite girls from other regions. I realized how we are more united than ever before. This was very powerful for me."
Ravi Baid: Small actions, big impact (Singapore)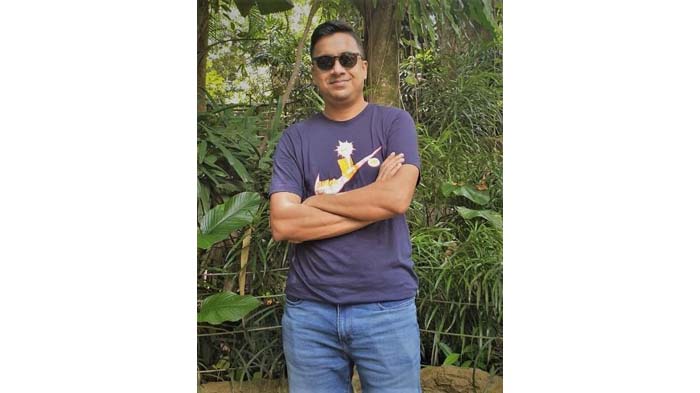 Ravi Baid enjoys volunteer causes that support Verizon's human prosperity and climate change initiatives. Credit: Ravi Baid
Ravi Baid, a Singapore-based senior manager of client services at Verizon, believes the smallest actions can collectively have the biggest impact on our communities—and on the world, too. "I tend to think of the small things I can do," Baid says. "I feel good about it, and they serve as building blocks for my enthusiasm for volunteering."
Baid says he is inspired by causes that support human prosperity and climate change, and also enjoys helping children. In 2021, he participated in an event, through the nonprofit organization Filos, which encouraged students in their studies and career aspirations and allowed them to cultivate their writing skills and creativity through letter writing. VTeamers responded to the students' letters with inspiring words and insight about their career pathways. They later joined an online chat to virtually meet one another.
"The entire Verizon team was pleasantly surprised by the curiosity and tenacity of the kids," Baid says. "The thoughtfulness and maturity displayed through the questions asked during the session turned this into a wonderful learning opportunity for us."
Volunteer efforts make him more humble and thankful, Baid says. "Volunteering—extending a helping hand to the local community—is my way of expressing gratitude," he says. "Citizen Verizon gives me an opportunity to contribute to the greater good!"
Patrick Wulteputte: Combining tech expertise with doing good (Belgium)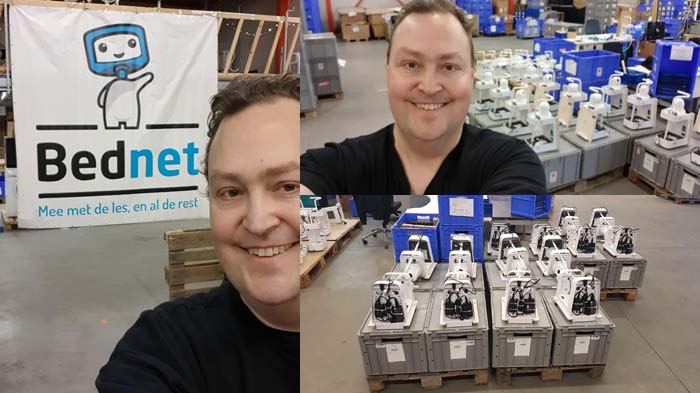 Patrick Wulteputte volunteers at Bednet, performing maintenance and quality assurance processes on digital video communication kits. Credit: Patrick Wulteputte
What inspires volunteerism? "I feel good when I see others are happy because of my contributions," says Patrick Wulteputte, a senior manager on the Verizon Global Engineering Services team, based in Belgium. A 24-year veteran of the company, Wulteputte has been volunteering with Verizon since 2019 and says he's most passionate about "anything that involves technology combined with doing good."
Wulteputte has been doing good on various fronts: He's collected data about birds to protect biodiversity, initiated a litter pickup in his community and contributed to a digital cleanup to reduce online footprint. But he cites his work with Bednet, an organization that provides children who are absent from school due to illness with real-time distance learning using innovative technology, to be his most rewarding.
Working with Bednet was the first in-person volunteer experience he'd had since the COVID-19 pandemic began, which made the interaction with the kids extra special for Wulteputte. "I'm very grateful that through the Citizen Verizon program, we are motivated to focus on society," he says. "It brings you together with other VTeamers and allows you to be inspired and jointly give back to the community."
Lucretia Moore: Harnessing the spirit of 'my brother's keeper' (North Carolina)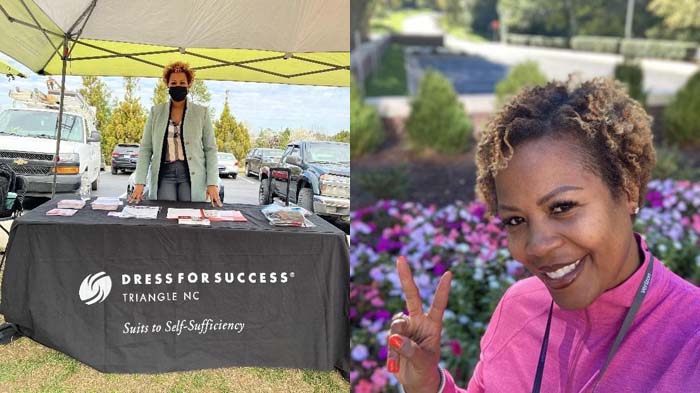 Lucretia Moore volunteers at a Dress for Success event (left) and participates in a COVID-19 breast cancer awareness walk (right). Credit: Lucretia Moore
Lucretia Moore credits her small-town upbringing in North Carolina for her dedication to volunteering. "Everyone kind of shared that responsibility of helping each other," says Moore, a Verizon Business Transformation Manager who is based in Cary, North Carolina. "From there, I got that spirit of [being my] brother's keeper."
Moore, who has been with Verizon for 21 years, has volunteered since she was a college student, but says she hit her stride over the past decade with the Dress for Success program. "I really connected with the organization [and their mission] to help women with economic independence," she says.
The event that impacted her the most, however, was a COVID-19 breast cancer walk that Moore coordinated a few months ago to highlight how the pandemic was specifically impacting this vulnerable community. "Everyone wore pink, and people shared their personal stories and journeys related to breast cancer," she says. "It was special because we got to know each other on a deeper level."
Because she's participated in all types of volunteering, Moore knows her greatest strength is in facilitating volunteer opportunities, such as creating a drive or recruiting other volunteers. "Being able to recognize an opportunity to help, I just think that's so powerful," she says. "At the end of the day, that's what makes the world go around—a helping hand."
Seize the hour, together. Gather your colleagues and find personalized volunteer event suggestions on the Citizen Verizon Volunteers portal today.
I'm very grateful that through the Citizen Verizon program, we are motivated to focus on society. It brings you together with other VTeamers and allows you to be inspired and jointly give back to the community.