5G impact on industry: where 5G stands today and what lies ahead
Full Transparency
Our editorial transparency tool uses blockchain technology to permanently log all changes made to official releases after publication. However, this post is not an official release and therefore not tracked. Visit our learn more for more information.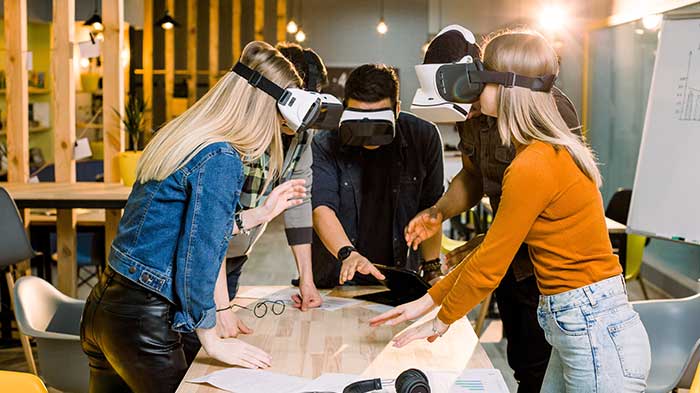 The 5G impact on our world will go far beyond smoother videos and faster app downloads. It will change many aspects of our lives in fundamental ways.
The scale of the 5G business impact may surprise those who haven't been paying much attention to the impending arrival of next-generation wireless service. That's because technology tends to move ahead incrementally, with each generation a bit faster, more functional and reliable than the one that came before it.
But the impact of 5G is much more than old wine in new wineskins. With speeds that could reach as high as 10 Gbps, this next-generation Verizon 5G Ultra Wideband service is expected to be 10 to 100 times faster than 4G. Equally important is that 5G's ultra-low latency is expected to be significantly lower than the latency of 4G LTE networks. Latency is as important as speed to the user experience. 5G Ultra Wideband is also expected to eventually handle 10 to 100 times more connected devices per square kilometer than 4G.
A third critical 5G innovation is its ability to incorporate network slicing, which segments signals into multiple virtualized and independent logical networks that run on the same physical infrastructure. That means that a single 5G signal can carry multiple sub-signals, each dedicated to a device or customer—because each slice is logically separate, the traffic from one does not interfere with that of another.
Put all these advances together, and you can begin to imagine the many ways 5G's impact on industry could be felt over time.
The 5G impact on industry today
There are actually three spectrums that support 5G: low-band, mid-band and millimeter-wave. Each has different advantages and challenges.
Low-band
Low-band networks offer marginal speed improvements over current 4G speeds but have good range and are relatively easy to deploy. They allow 5G service to run simultaneously with 4G LTE on multiple spectrum bands. Verizon currently reaches over 230 million people in the U.S. with low-band 5G.
Mid-band
Mid-band spectrum provides a blend of performance characteristics that make it attractive. It allows for broader coverage than mmWave-based 5G and faster speeds than low-band 5G. Verizon recently paid nearly $53 billion for newly available mid-band spectrum, and expects to make this bandwidth available to 100 million people over the next 12 months, increasing to more than 175 million people by 2024.
Millimeter-wave
When it comes to the 5G impact, and in particular the 5G business impact, the greatest excitement is over 5G millimeter-wave, which operates in a high-band spectrum that has never before been used for consumers until now. For consumers, it means they can experience ultra-fast wireless speeds, up to 4 Gbps in some places under ideal circumstances, giving them the potential to download and stream movies and TV shows in seconds, videoconference and collaborate on the go in near real time, and take advantage of new immersive customer experiences never before available. One test found that Verizon Ultra Wideband users could download a 600MB video in about 34 seconds in Chicago compared to 2.3 minutes on a non-5G service.
But millimeter-wave spectrum has limited coverage and will be focused mainly on urban areas where usage will be highest. Verizon 5G Ultra Wideband is currently available in parts of more than 70 major cities. The good news is that customers will be able to fall back to mid- or low-band service in 5G coverage areas where millimeter-wave isn't available. No matter which 5G type you are on, Verizon has you covered with the most reliable network.
A current 5G use case
Real-world use cases for 5G mmWave are emerging. In the retail industry, Verizon Business, Deloitte and SAP together have developed a 5G-based platform that could allow retailers to gain never-before-seen insights into their operations. For example, near real-time inventory intelligence might use 5G-enabled sensors to identify out-of-stock items, generate automatic replenishment notifications to in-store associates and alert distribution centers to allocate additional inventory. The result could be higher sales, better margins and greater product availability.
The 5G business impact and implications for tomorrow
As coverage and speed improve over the next two to three years, mobile device users should see some notable changes. Bandwidth-intensive applications like virtual and augmented reality could be practical on a large scale. Videos should play smoothly and almost instantly. Fans at a football game should be able to access customized real-time statistics about teams and players by aiming their cameras at the field. Gamers could enjoy more immersive experiences.
The number of connected smart devices is expected to reach nearly 35 billion by 2025. Artificial intelligence (AI) is expected to monitor data streaming from smart cameras, sensors and road monitors to help enhance security and public safety, route vehicles around traffic snarls and improve response times to emergency events. When used with connected vehicles, 5G could help lead to fewer traffic accidents and shorter commuting times.
In schools, 5G can enhance learning in the classroom, enabling students to virtually "visit ends of the solar system, construct and dissect cells, meet underrepresented minority icons from history and more," according to Rose Stuckey Kirk, Verizon's chief corporate social responsibility officer. 
In manufacturing, 5G could free much of the equipment currently tethered to ethernet cables, enabling robots to roam warehouses and vehicle fleets to be orchestrated at a fine level. This could help redesign manufacturing and logistics workflows with big leaps in productivity.
If all of this sounds like fodder for the Jetsons, consider that the number of 5G connections is expected to reach 619 million globally by the end of 2021. Executives who see the potential for transformative 5G business impact are already rolling out pilot projects. The time to get on board is now.