6 Green Careers at Verizon
It takes a team to be green. When it comes to meeting our big sustainability goals, such as cutting carbon intensity by 50 percent, it takes a workforce that's committed to working green and living green.
We've made great progress over the years (shout out to ENERGY STAR® for naming us Partner of the Year two  years in a row!) and we couldn't have done it without our employees. Here are six green jobs at Verizon that remind us why it's so easy (and fun) to be green. 
1. Employee Engagement Leads
Our employee engagement leads rally up employees to take part in recycling events, bike-to-work days, office supply swaps and more. No weird team chants – promise! It's more about spreading awareness and getting people to rethink their everyday choices.
2. Green Operations Leads   
Our green operation leads keep us focused on the strategic activities that matter to our business and our environment. From implementing our paper policy to assessing our suppliers and organizing employee carpooling, these operations leads ensure our business procedures are green end-to-end.
3. Community Engagement Coordinators
You'll find our community engagement coordinators planning and taking part in volunteer events in local communities. Having planned more than 100 events in 2014, these folks know how to throw fun Earth Day volunteer events, green-eating activities and more.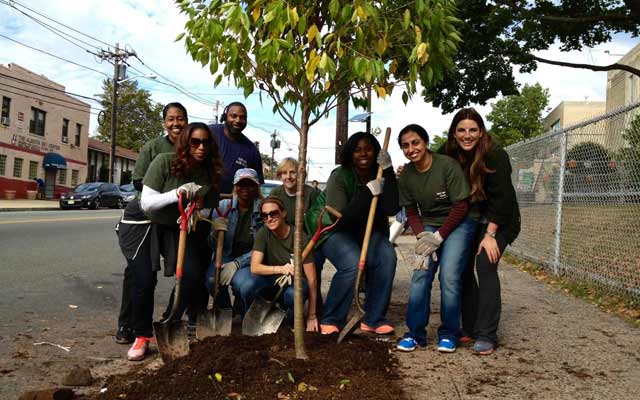 4. Environmental Reporting Specialists
We set the industry's first carbon intensity metric. It goes something like this: CO2 emissions from electricity and fuels divided by terabytes of information on Verizon networks equals carbon intensity. Got that? Don't worry; our environmental reporting specialists do. They're focused on measurable results: recording our carbon emissions, number of trees planted and overall sustainability metrics.
5. Energy Team Leads
Our energy team leads work closely with partners, such as ENERGY STAR® and the U.S. EPA to make sure Verizon's retail stores and corporate buildings are operating efficiently. A testament to their hard work, Verizon leads the wireless industry in ENERGY STAR certifications – 175 certified buildings and counting.
6. Sustainability Manager
The sustainability manager has eyes on all green initiatives at Verizon. It's a mighty task, but a fun one, too. From leading environmental events with the NFL to supporting ENERGY STAR's "Change the World" campaign, Verizon's sustainability manager works closely with partners who share our green vision.
Last, but not least, there's the Verizon Green Team. It's not a job that pays green, but it does give employees the satisfaction of giving back to communities. The Verizon Green Team is an employee-volunteer group that consists of 16,800plus members across 29 different countries. Since the team formed in 2009, they have participated in more than 500 volunteer events, including habitat cleanups, tree plantings and recycling rallies.