Every successful spouse leans on a supportive one.
May 7 is Military Spouse Appreciation Day. Let's thank them for supporting their spouses and their call to duty.
Full Transparency
Our editorial transparency tool uses blockchain technology to permanently log all changes made to official releases after publication. However, this post is not an official release and therefore not tracked. Visit our learn more for more information.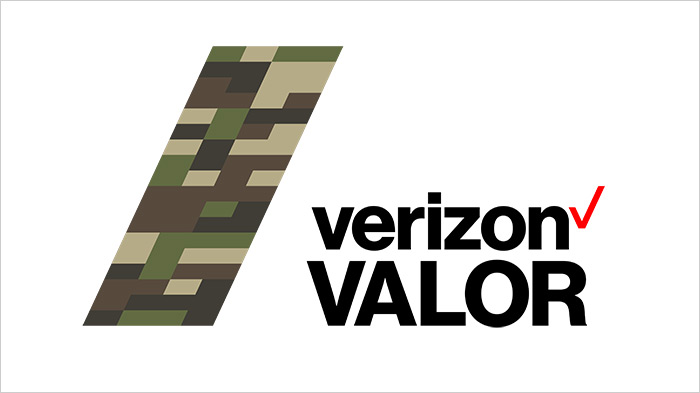 At Verizon, we recognize the value of teamwork and partnership. Our military service members protect our freedom and values daily. But, it's the military spouses who provide the constant support to help our heroes through the most trying of times.
We're committed to hiring these unsung heroes and providing them with all the resources to thrive while their loved ones are deployed. That's one of the many reasons Verizon has been a top 10 Military Friendly Spouse Employer for the past three years.
Heroes and she-roes.
We don't necessarily need a specific day to commemorate our military spouses, as they deserve our gratitude every day. The fact that this day was officially pronounced by President Ronald Reagan in 1984 exemplifies the profound importance of a spouse's commitment to the readiness of their military member. On May 7, we give thanks to all military spouses for their undying strength, compassion and support.
All of our V Team military spouses are amazing men and women who make daily sacrifices. We honor all of them during this Military Appreciation Month, and we're sharing some of their stories. Please take pause and recognize the commitment they make to ensure the family unit moves forward while their spouses serve their country. Then remember to thank them this Military Spouse Appreciation Day.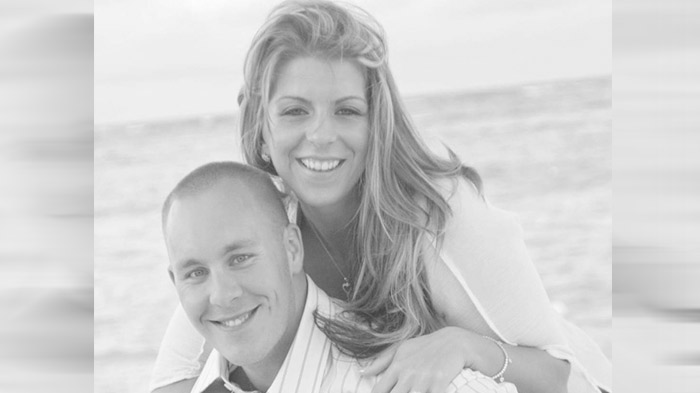 Lori Stiffler - Global Network & Technology (GN&T)
Lori married her husband Chris in July 2010, and shortly thereafter they received notice that Chris would be stationed in Okinawa for the next two years. After much deliberation, Lori remained in New York to continue her career path while Chris fulfilled his responsibilities overseas.
This meant many lonely days for the two, as holidays and important events came and passed and the distance stood between them. They made it through the two years with grit and determination. Soon enough, Chris was discharged from the Marine Corps and the two were reunited. They subsequently relocated to live in Biloxi, Mississippi.
In 2014, Chris was able to relocate back home to New York to begin his career with Verizon, and the couple began to return to normal life. Not long after, a job opportunity with FiOS moved them up to Boston, where they welcomed their son Aidan in 2017. After Chris's great experience on the V Team, Lori decided to apply for a job in operations. Their family has since made one final relocation to New York, where they continue to work with Verizon.
The lessons Lori learned as a military spouse continue to inspire her each day. In her own words: "Things can hit rock bottom and you can still fully succeed if you just hold on to each other and work hard."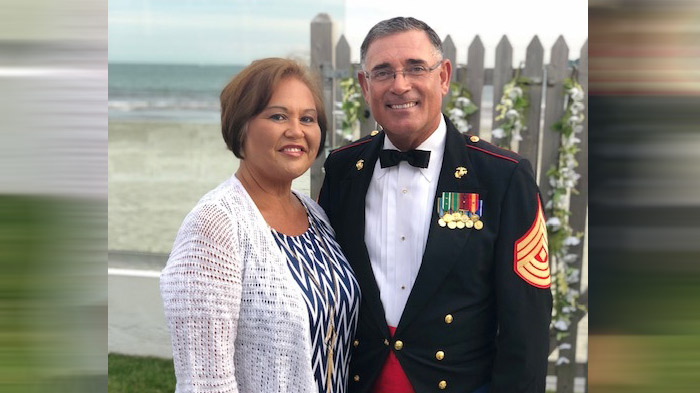 Cori Cabral - Verizon Consumer Group
The life of a military spouse can feel like it moves quickly. In her experience, Cori never really stopped to consider the difficulty of her situation but just took things in stride. She did her best to stay strong and always flexible, or "Semper Gumby" as a Marine might say.
Throughout her journey, Cori learned many valuable lessons and found honor in her role as a military spouse. While her husband was deployed, she took on extra responsibilities, which taught her the hard lesson of patience.
At the time, communication via Skype and email was not yet commonly used. Cori recalls a particularly difficult situation, where she had to send her husband a message through the Red Cross as she gave birth to their second child.
"Life has been ever changing as a military spouse but it is very complimentary to personal growth."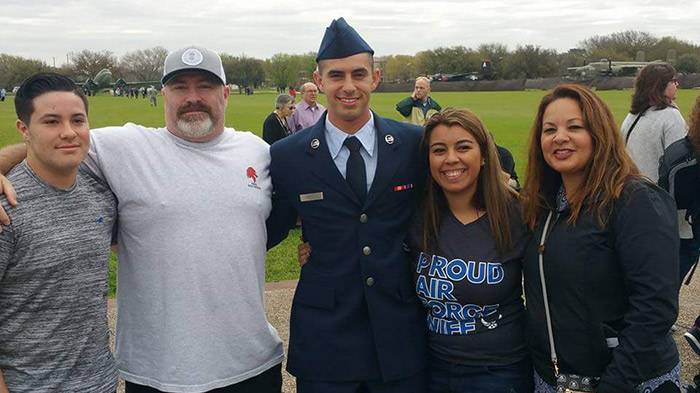 Ofelia Penney - Verizon Consumer Group
Ofelia met her husband Jeremy in high school, and knew immediately that she'd spend the rest of her life with him. Jeremy came from a long line of military — his grandfather, father and uncles had all been service members. They both knew it was only a matter of time before Jeremy would follow in their footsteps.
When her husband joined the Air Force, Ofelia was completely new to military life, but she looked forward to learning and doing her own part to give back to our country. The first few years of their military journey took the couple across several states until they finally settled in Las Vegas where her husband was stationed at a rapid response deployable engineering unit.
It was during this time that Ofelia was introduced to the incredible support system of the military. For any issues, she could easily notify the squadron and a host of helping hands were there for her instantly.
In addition to being a proud military spouse, Ofelia is honored to now call herself a proud Air Force mom. Her oldest son has elected to continue the family tradition, and now serves as a member of the Air Force. Her younger son has his eyes on a similar path, and in a few years, Ofelia hopes to be able to say that all of her boys have served their country.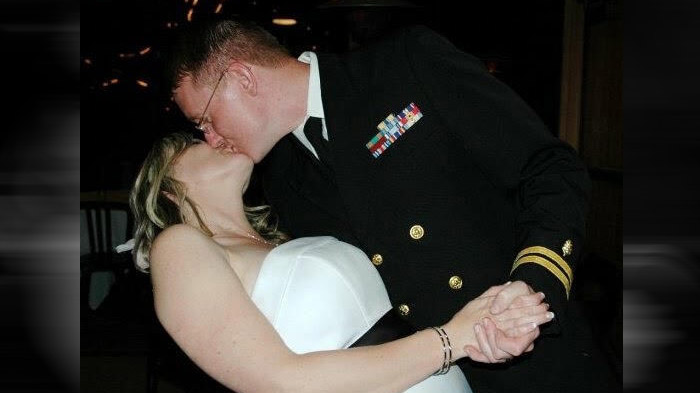 Michelle Brown - Verizon Business Group
Michelle married her favorite sailor in 2010, and shortly after, the couple received orders to move to a new duty station in Washington, D.C. Although she was excited to move after spending her whole life in San Diego, her then employer did not recognize military moves and she had to quit her job.
After arriving in D.C., Michelle learned how difficult it could be to get a job as a military spouse. While many companies were impressed by her resume and interviewing skills, they were hesitant to hire her knowing that her husband could be relocated at any time. Each 'no' she received felt like defeat, but she persevered and managed to find a job as a government contractor.
In 2016, Michelle reached out to a Military Spouse Recruiter at Verizon named Monica O., who became Michelle's immediate advocate. Shortly after, Michelle joined the V Team as a FiOS Field Operations Supervisor in Maryland. Verizon's military support team has continued to assist Michelle throughout her new career journey as a member of the V Team.
"I have been with Verizon for nearly five years now. I'm grateful for the career opportunities, personal growth, fun experiences and the network of wonderful people I have met along the way. Verizon has embraced and celebrated my military spouse status from the moment I applied."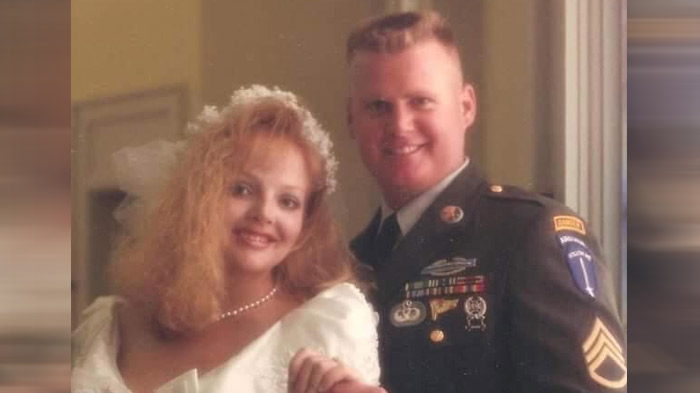 Tonya Farmer - Verizon Consumer Group
Tonya met her husband Mike as a student at the University of North Georgia. Mike was serving as a Ranger Instructor at the mountaineering phase of Army Ranger School — one of the most intense military training programs in existence. At this phase of Mike's career, he had already been through most of his major deployments. However, he did deploy twice more with the Ranger Regiment before he retired, leaving Tonya to cope with the difficult reality of being married to a deployed service member in potentially dangerous circumstances.
As a young mother in an unfamiliar place far away from her own family, Tonya benefitted from the support system that exists between military spouses. She spent countless hours with other military spouses, making care packages for the deployed troops while offering each other shared experiences and a shoulder to lean on. The friendships she made while her husband was in the Army have persisted long after his retirement, and she'll never forget the community that cares for its own so well.
Tonya's oldest son has followed his father's footsteps, and is now a Captain in the Ranger Regiment. He also swore in his younger brother earlier this month. Although Tonya could be worried, she chooses not to let her fear win, and is instead proud of the sacrifice her sons have chosen to make.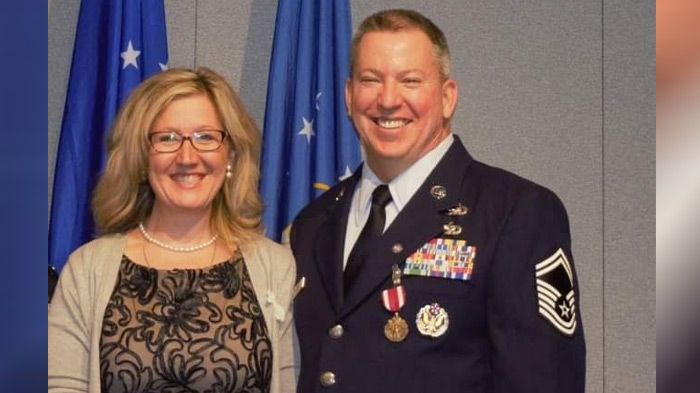 Darcie Cotten - Verizon Business Group
Darcie knows that life as a military spouse requires one to bear the responsibility of being versatile and completely flexible. Born and raised in the military, she fully understood the responsibility that came with marriage as a military spouse. She notes that her husband belongs to his country first. It was his decision to sacrifice and honor the U.S., and she could not be prouder of him and his decision.
"I have been able to travel alongside him for most of his moves, and I'm so grateful that Verizon has allowed me the opportunity to move to new locations due to my husband's career. Verizon has been able to accommodate me by allowing me to move and transfer into new roles in new areas," she shares. "This has resulted in my gaining amazing mentorship from several different Verizon teams that I feel have helped contribute to my success. His career has provided me with the ability to grow that much more because of Verizon's support."
Danielle Diede - Verizon Consumer Group
As a military spouse for 10 years, Danielle has found her home on the V Team for the last eight despite her husband's various deployments.
She fully understood the choices and sacrifices that may seem hard at the moment but rewarding in the end. Despite her husband being on short- and long-term deployments through 2019, Danielle settled into the Pacific Northwest working for Verizon while he remained in California until he retired from the Air Force in September of 2020.
"I've had the pleasure of working on both coasts thanks to Verizon affording me the opportunity to follow my husband's military career, while continuing to pursue opportunities related to my career goals. I couldn't have asked for a better company to work for through all my major life changes as a military spouse. I will be forever grateful for the support I received."
Related Articles