A Call to Action: Make Earth Day Everyday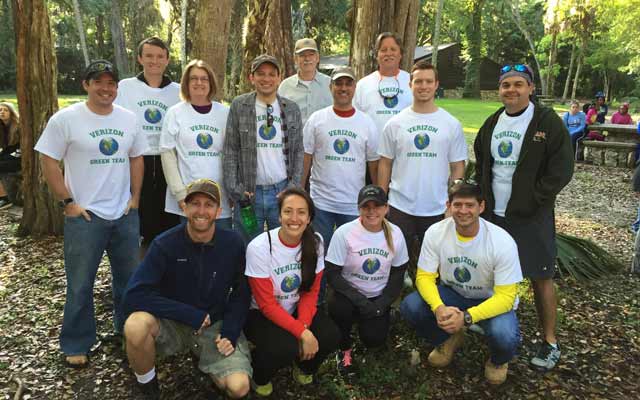 April is Earth Month and April 22 is Earth Day, the birthday of the modern environmental movement that started in 1970.  This is the anniversary to celebrate -- and activate -- environmental awareness. 
But Earth Day is not solely a time for celebrating and expanding environmental awareness; it is also an opportunity for us to make a contribution toward making the world a better place for future generations. My responsibilities as a father of five wonderful children and as the chief sustainability officer at Verizon, keep me energized and motivated to treat every day like Earth Day. To educate, motivate and involve others in what we all need to do to protect and preserve our planet.
All year-round, our company encourages the employee-members of the Verizon Green Team to volunteer in community events focused on improving the environment. To celebrate Earth Day, we have pledged to participate in more than 25 projects in communities where we live and work, to help preserve the beauty of our planet and its resources for future generations. You can register for some of these events below.
Thus far, Verizon Green Team members have participated at three events in honor of Earth Day. You can view some of the fun we've had working alongside community leaders in beautiful places like Little Rock, Arkansas; San Diego, California; and Hillsborough River State Park just outside of Tampa, Florida.

Recently, nearly 7,000 Verizon Green Team members celebrated Earth Hour – turning off lights at their homes across nearly 30 countries, while Verizon darkened nearly 500 building locations around the world.
Verizon will host educational Earth Day events for its employees on April 22 in Lake Mary, Florida; Tulsa, Oklahoma; Basking Ridge, New Jersey; Hanover Maryland; Elgin, South Carolina; Hidden Ridge, Texas; Ashburn, Virginia; and Reading, England. Participants will learn more about an array of sustainability topics including electric vehicles, tree planting, environmental stewardship, how to work green, and how to live greener lifestyles. 
During the days leading up to Earth Day, we will continue to post more blogs about these events and related eco-topics on our new Earth Day page, which was created to build awareness about climate change and the environmental issues of our day.
Get Involved
Share Earth Day fun facts and tips for a greener lifestyle.
Follow @VerizonGreen to learn more about sustainability.
Join the below community sustainability events.