Charcuterie entrepreneurs gain strength through Verizon's free business courses
Monica Nino and Bryan Gonzales, owners of The Board Couple, are using what they've learned through Verizon Small Business Digital Ready to navigate new levels of success.
Full Transparency
Our editorial transparency tool uses blockchain technology to permanently log all changes made to official releases after publication. However, this post is not an official release and therefore not tracked. Visit our learn more for more information.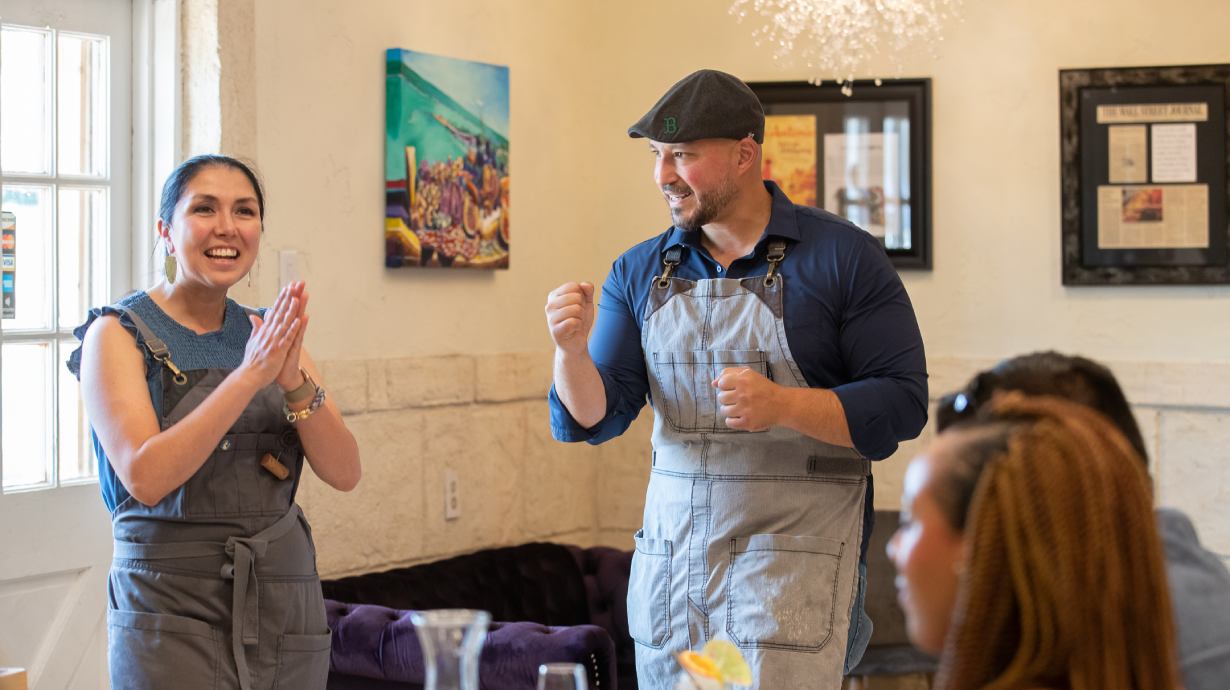 Monica Nino and Bryan Gonzales, owners of The Board Couple premium charcuterie company in San Antonio, Texas were setting up for an event when several appetizers tumbled off a cart and onto the sidewalk. "We only had 30 minutes to spare," recalls Nino. At that moment, Gonzales remembered advice he'd heard in the Selling Your Story course at Verizon Small Business Digital Ready. "This is a great moment to capture on social media," he thought. "People want to buy from a human, they want to make that connection," Nino adds. So Gonzales took a video, posted it to Instagram and wrote, "Oh, no, look at this."
For Gonzales and Nino, recovering from small mistakes and running from event to event is all in a day's work. On a recent Saturday, they delivered handcrafted charcuterie boards to a wedding reception, a tasting workshop and even to a private jet for on-flight snacking. "Our boards have at least nine different types of charcuterie meats and three staple cheeses," says Nino. And those boards, in addition to their grazing tables, culinary classes, wine and gift boxes, have found a wide audience.
But when the pandemic brought an unexpected shift to their original, brick-and-mortar business model—and an uptick in demand for shipping— the couple found themselves without a clear route ahead. "There's been no roadmap for our business," Gonzales says. Seeking inspiration, the couple discovered Verizon Small Business Digital Ready through their local Hispanic Chamber of Commerce. The free online portal, offering courses, live coaching, and networking, was just the help they needed to adapt. "These courses are like drinking from the fire hose — in the best way," says Gonzales.
Scaling up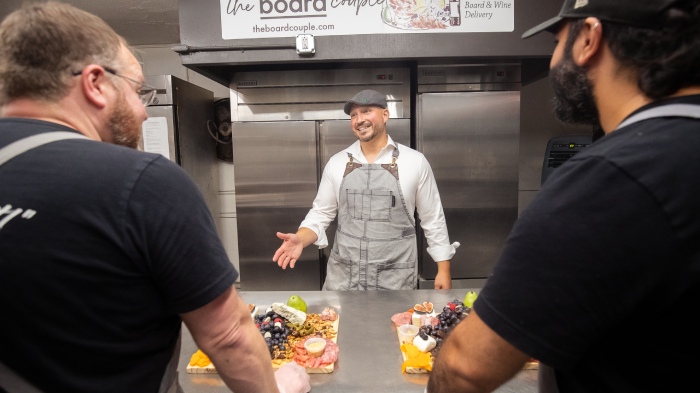 Gonzales and staff get ready to bring out appetizer spreads for a community business meeting at their restaurant. Credit: Michael Cirlos
Through the Track Your Finances and Get Beyond Break Even courses, Nino and Gonzales learned the importance of upgrading their financial management. Before, they relied on a bank account to track their losses and profit. "Now we have integrated new accounting software. It's more professional and honed in where our most profitable margins may be," Gonzales says.
They also hired an outside bookkeeper to help them make savvy, cost-effective purchases."We're trying to curate the boards and keep costs at bay, especially right now," Gonzales says. At the same time, Verizon Small Business Digital Ready inspired them to look at financial statements and figure out ways to scale.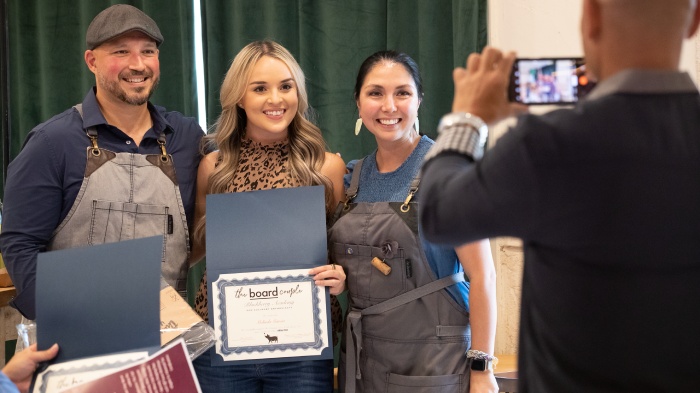 The couple smiles on with a graduate of their Blackberry Academy, a series of fun, hands-on culinary workshops. Credit: Michael Cirlos
Nino says she appreciated the "bite-size" pieces of guidance on SEO and ways to connect authentically on social media. Hence, they turned their sidewalk stumble into a win. That open attitude has helped grow their social media following to 5,000-plus people.
Date night re-imagined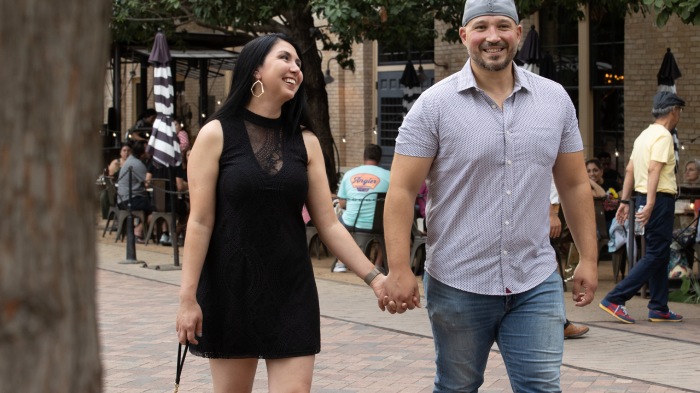 "Food is our love language," the couple says. Credit: Michael Cirlos
In 2018, Nino and Gonzales kept coming up against the same argument: what to make for dinner. The couple solved the problem by creating their own charcuterie boards at home. After posting them on social media, a business idea was born.
Initially focused on a restaurant model, the couple quickly shifted to building their online presence after the pandemic hit. They made other pivots, including breaking down a full board into "lunchables for adults," catering, workshops and shipping nationally.
Discovering superpowers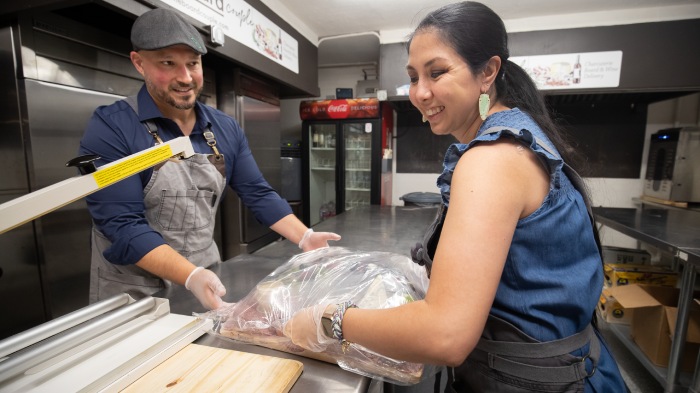 The couple blend local and international flavors, such as north Texas farm honey and Italian blue cheese on branded wood platters. Credit: Michael Cirlos
Fast forward to now, the course Selling with Storytelling: Unlock Your Business Superpower prompted the couple to look within and consider the thing they do uniquely well. "Shipping food was one superpower we unlocked that we didn't know was possible," Gonzales says, as the couple eyes an even bigger national reach. "The course inspired us to figure out what our next superpower will be."
Verizon Small Business Digital Ready provides free personalized courses, live coaching, networking, planning aids, and grant opportunities for eligible small businesses. To sign-up for this program, visit verizon.com/smallbusinessdigitalready