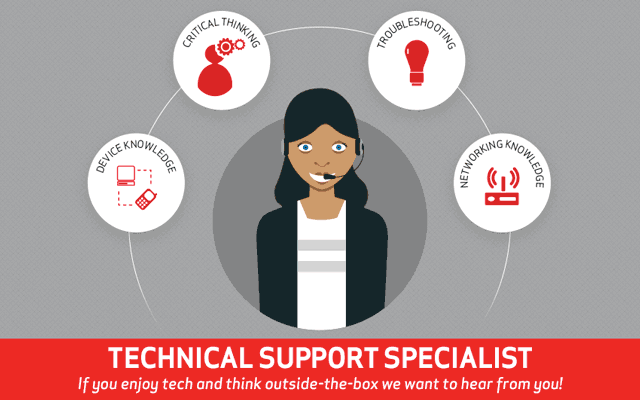 Technical support specialists are master troubleshooters who can solve almost any technical problem for our customers. And because we offer training, this elite customer-service role is attainable with the right skill set -- whether you currently work in customer service at Verizon or if you come from outside the company. Two technical support specialists from our team share what it's like to work in this role and why it was the right career choice for them.
What Sets Technical Support Specialists Apart?
Technical support is a branch of customer service at Verizon that requires a higher level of troubleshooting. These specialists take significantly fewer calls than regular customer-support representatives, allowing more time to concentrate on each customer.

"We're a one-stop shop. Once you get to us, there's no one else for us to transfer you to," says Annette Goins Highsmith, a technical support specialist who started with Verizon in customer service two years before moving to tech support. "We resolve issues with Tier 2 troubleshooting [which diagnoses and resolves more complicated problems]."

Other than award-winning training , how can tech support solve such a variety of issues? It's all about having the right tools. "We can see and report network-level issues that customer care cannot see or report," says Landon James Rish, who became a technical support specialist after working in customer support for several months.
What is More Important – Tech Skills or Soft Skills?
Both Annette and Landon agree that honing soft skills is just as important as technical know-how. Annette strives for a 10 rating every call, even on issues impossible to fix. She says she accomplishes this by showing empathy and avoiding terms like "educate" and "going forward" because she doesn't want to make customers feel like it's their fault. "It's all in the words you choose," Annette says.

Everyone struggles with technology at some point, according to Landon. And it's mainly because people may not deal with it every day. "If we offer a tidbit of info about how to avoid an issue in the future, that will empower customers and leave them with a positive feeling about the company," he says.
How Important is Continuous Development?
We want our people to attain their career goals, so we provide continual training to help make that possible, whether you want to move up in technical support or explore other areas across the business . Annette completed courses that enhanced her skills and knowledge of our ever-changing technology and helped her advance within the department to become a tech expert.
When the opportunity arose to enter tech support, she was apprehensive at first about the change since she didn't consider herself "a technical person." Yet the initial and continual training helped make it a rewarding career move for her and opened doors to a bright future.
Could technical support be right for you, too?