Resources          Return to new BAU          Return to office          Technical support          Ship to Home ordering program          Phishing and other threats          Community          Virtual Volunteering          Immigration
Working from home resources
[Updated 5.18.20]
Working from home has some unique challenges. Here are some resources to help you get set up, stay productive, accountable, connected, and manage work/life boundaries while working from home.
Upskill at home
[New 4.9.20]
Our Learning Portal 2.0 provides ample opportunities to invest in your learning and development year-round, should you have the time and interest. Access curated pathways, plans and content from our partners, including Verizon's own VZLearn, Harvard ManageMentor & Harvard ManageMentor SPARK, LinkedIn Learning and Pluralsight. New to the Learning Portal 2.0? Check out these instructions.
And, if you are looking to prepare for business and technical certifications, you can access Get Certified from Learning Portal 2.0.
Download step-by-step directions on how to get started today.
Returning to our new business as usual (BAU)
[Updated 7.12.21]
Our COVID-19 response strategy has focused on the health and safety of our employees.
We plan to continue with our current RTO certification process, as we continue to welcome additional V Teamers into the office.
Those with access to the office will continue to have access as needed.
As we progress in Work Forward, employees in the hybrid working model who receive their Work Forward Ready badge will gain full office access so they can be onsite in alignment with their hybrid in-office schedule.
What you need to know about our new BAU.
[Updated 7.12.21]
Rotating schedule and group assignment.
[Updated 2.25.21]
Some of our office-based employees working from home were randomly assigned to groups: A, B, C and D. These groups correlate with a weekly rotating schedule. Groups rotate weekly, with each group having access to the office for one week every four weeks.
You can find your group assignment on VZWeb, along with the weekly rotating schedule displayed below. You will not have permission to enter a building unless it is your designated week.
Click here for a 3-month calendar view.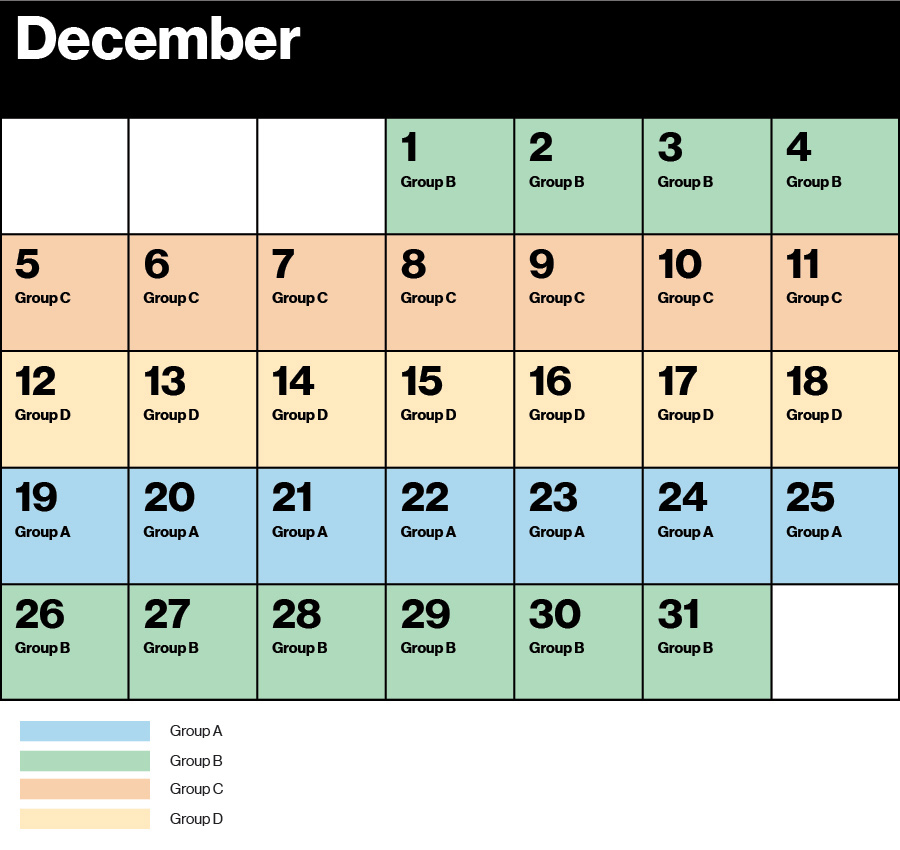 Please note, for those V Teamers participating in Work Forward in a hybrid working model, you will gain full office access once you receive your Work Forward Ready badge and can access the office based on your in-office schedule. Work Forward is being rolled out in phases through October 2021.
Preparing for a rotational schedule.
[Updated 7.19.21]
1. Complete all mandatory training before returning to the office.If you are an employee who is currently accessing or returning to an office, complete mandatory protocol training to support a safe transition and help you navigate the office environment. We recommend completing the training closer to the date of your return to ensure you are up to speed on the latest protocols.
2. Ensure you have access to a thermometer prior to returning to the office. You are required to complete a certification through the RTO tool at or before the beginning of your workday. This process includes taking your temperature to certify it is below the threshold set for your jurisdiction. If you do not have access to a thermometer, please notify your supervisor and order a thermometer through this process.
3. Complete the certification through the RTO tool before or at the beginning of your work day. You are required to complete the RTO certification each day that you plan to access a Verizon location to verify whether you can enter the office based on specific criteria.
Every Friday before your scheduled week in the office, you will receive an email with instructions on how to certify compliance with Verizon and local jurisdiction requirements before you can return to the office. On any day you plan to visit or work outside of the home at a Verizon work location or another location for Verizon, you are required to complete the RTO certification (before or at the beginning of your workday) using the tool and have the confirmation available as needed. You need to complete the self-certification only on the days you intend to access the office.
Mandatory Return to Work training
[Updated 8.4.20]
Before you return to your work location, you must complete the mandatory Return to Work training to ensure you understand and adhere to the on-site protocols that are in place to keep you safe. This 10-min training is required for any V Teamer who is deploying outside their home. Please note, you will not be able to access the Return to Office tool until you complete the training. Please find the training here. Should you have any questions, please email LearningPortalAdministration@one.verizon.com.
Return-to-Office (RTO) tool
[Updated 7.12.21]
We continue to evolve the RTO tool to support our transition to return to the office and help employees navigate the office environment. If you are returning to work as part of Work Forward or otherwise plan to work outside of your home at a Verizon office or another work location, you'll need to certify via the RTO Tool at or before the beginning of your workday.
You can access the RTO tool in several ways:
From your laptop on your VZWeb while connected to the Verizon VPN

On your Verizon-issued mobile device through the Verizon@Work app while connected to the Verizon VPN using Pulse Secure

And on your laptop or mobile device through the link in your reminder email or text message using multi-factor authentication, including your SSO credentials
If needed, you can change your primary location and/or add up to five Verizon locations to visit during the day through the RTO tool before certifying. You can also enter one vendor/customer site per day for certification, until policy allows for additional locations. Note: This is not intended for Field Technicians, who can continue to certify at their primary location. It can, however, be used to switch to an alternate location if the primary location is at capacity.
In addition, if you make a mistake while certifying, you can request a certification reset without requiring your manager's intervention. form to reset your access. Refer to the Access this user guide for instructions on how to request a reset.
Retail employees certification process.
Employees working in retail locations should follow the process outlined in Return to Work training and guidance provided by leadership. This includes:
Completing wellness precheck at home (using a thermometer provided through the retail store)
Coming to store only if healthy
Completing the certification at the store using POS tablets.
More information. See Frequently Asked Questions for more information:
Need help? If you have issues with accessing the tool contact:
Return to Office (RTO) Leader Resources
[Updated 11.2.20]
Exceptions
If you manage a team, you can take action through Manager Self Service (MSS) for RTO Exception requests for unscheduled office visits of your team member(s). You can also request certification resets and access to non-primary locations for your employees through MSS and delegate the submission of exception requests, similar to other MSS delegations. Review the quick user guide for additional details.
Team RTO report
If you manage a team that's returning to the office, you can access your direct team members' groupings under the My Team section on About You. Look for a "Return to Office" tab. You can also export the list into a report. View access and reporting instructions or contact rtosupport@verizon.com with any questions.
RTO Dashboard
The RTO Manager Dashboard is available for people leaders. It provides an at-a-glance view of the daily and historic volumes of employees who are authorized to Return to Office, including totals by category and across various steps in the certification process with drill through reporting. View Manager Dashboard user guide for definitions and quick how-tos.
On-site protocols
[Updated 7.12.21]
We have implemented safety procedures and on-site protocols as necessary in light of prevailing conditions and guidance. Refer to our overview of our on-site protocols.
We are continuing to partner with our Global Real Estate teams to get up-to-date information on availability of onsite amenities. For now, pantries will be opened in July, including microwaves, fridges, and coffee areas. For offices with Starbucks on site, you can get your fix starting July 6.
See information on the requirements for wearing face coverings in Verizon offices.
Need more detail? Check out the onsite protocol FAQ.
Technical support
[Updated 3.16.20]
End-User Support Tech Stops and Walk-Up Stations are closed until further notice. The IT Service Desk continues to offer you technical support online and by phone.
Visit At Your Service first to:
Or call 1.866.899.4872 to speak with an IT Service Desk technician.
Resetting your password
If you are working from home and are locked out of your account or need to create/reset your SPIN, call our Service Desk:
You will be able to use our self-serve feature offered through the IVR to reset your account.
Connecting to VPN
[New 4.6.2020]
As of today, our VPN infrastructure has plenty of capacity to support our employee user base. Our enterprise network engineers are closely monitoring the VPN environment and can move new incoming connections to alternate data centers seamlessly to maintain good experience and troubleshoot any disruptions. 
Please connect to the VPN locations which are the closest geographically to you. If you experience an issue with a particular location, please disconnect and connect to the next closest VPN location. If you continue to experience problems, please contact the IT Service Desk.
Guidance on office furniture and equipment
[New 7.12.21]
Here are some updates on the current Verizon policy as it pertains to providing employees with furniture and equipment during the COVID-19 response period. 
Office equipment. 
Equipment is available for order using the Ship to Home process and includes items such as computer, monitor, keyboard, docking station, mouse, headset, necessary cords and cables, power surge protectors. Please follow the ordering process that's specific to your group and geographic location. You will need to secure approvals (based on the policy statement CPS 103). 
Office furniture.
No one may remove furniture from a Verizon facility without the Business Continuity & Event Management Center (BECM) approval. Work Forward employees designated as either hybrid or work-from-home should consult the Work Forward microsite for information about ordering a desk and/or chair for home. In addition, employee discounts are available to purchase office furniture for personal use from Staples, Herman Miller and Steelcase. To learn more, visit Employee Discounts on About You.
If you have special needs and require additional supplies, please speak with your HR business partner.
Ship to Home Ordering Program for U.S. employees
[Updated 10.25.21]
To better support you while working from home, we are making it easier to order essential IT equipment, office supplies, headsets and Thermometer/face masks through our ordering systems and have them shipped to your residence. Please work closely with your leaders to only order the equipment necessary for performing work from home. These orders require approval per CPS-103 policy.
IT Equipment   |   Office Supplies   |   Headsets   |   Thermometers & Face Masks
IT Equipment
U.S. employees can place orders for IT equipment, through our At Your Service (AYS) catalogs accessible from the Verizon home page. Our supplier partners, SHI & PCM, will fulfill these critical orders and ship them to your home address.
Approved items: Only approved essential IT equipment orders from the list of items below will be processed for Ship To Home. These Items include:
Laptop / Desktop Kit
Thin Client
Monitor (up to 24")
Ethernet Cord
Docking Station
Mouse
Keyboard
Webcams
Note: Wired / wireless headsets are NOT approved for the AYS IT ticket process. Follow the Office Supplies ordering process.
Instructions
Go to At Your Service

Navigate to Desktop/Laptop/Mac Requests tile or the Computer Accessories Tile
To enable Ship to Home, Select Alternative Shipping Address and type in your home address. Failure to select the alternative shipping location will cause your order to be shipped to default Work location
Need help? This Quick Reference Guide provides step-by-step instructions. For support on IT orders through AYS, please reach out to it.procurement.requests@one.verizon.com
Office Supplies
STEP 1: Set up Home Address
The steps below are only required for Wireless (GAPUR) users of the PS/Ariba catalog. Users in 1ERP Ariba, and vSAP/nSAP SRM can skip to Step 2 below.
Email your direct manager to gain his/her email approval to have catalog items shipped to your home address. In your email, list the items you would like to purchase from the approved item list above.

Forward your direct manager's approval to ERP-HelpDesk@Verizon.com, provide your Ship To address.

Once you receive an email confirmation from ERP-Help Desk that your Ship To address has been created, wait overnight for the ordering system to update. Continue to Step 2.
STEP 2: Shop in PS/Ariba, 1ERP Ariba or SRM
Navigate to the catalog ordering system that you use. Staples, KGP and Sencommunications are the only approved catalogs for the approved items listed below.
STAPLES

Legal notepads, 1-subject notebooks & computer paper
3-ring binders, file folders & dividers, envelopes, shipping labels & plastic sheet protectors
Paper clips, post-it notes, rubber bands,
Ballpoint pens and permanent markers
HDMI cables

Sencommunications

USB headset (wireless)
Non-USB headset (wired)

KGP

Thermometer (1 per employee)
Face masks
Please refer to the quick reference guides for step-by-step instructions, based on the ordering system you use.
If you have a Workplace Accommodation request, please work with your HR Business Partner.
If you have questions on the Ship To Home program, please email Procurement.PO.Requests-Inquiries@verizon.com
Headsets
U.S. employees can order from the Sencommunications Catalog only, through the PS/Ariba, 1ERP Ariba and SRM Catalog ordering platforms. Refer to the Office Supplies' Need Help section for Headset QRGs.
Thermometers / Face masks
U.S. employees can order from KGP Catalog only, through the PS/Ariba, 1ERP Ariba and SRM Catalog ordering platforms. Refer to the Office Supplies' Need Help section for Thermometer/Face Mask QRGs.
Ship to Home Ordering Program for International Employees
[Updated 6.3.21]
UK employees (Verizon UK and BlueJeans UK): View the instructions on how to order IT equipment using the SHI UK (only) punchout catalogue.

EMEA employees (Verizon, BlueJeans and Incubed IT): View instructions on how to order IT equipment using the SHI EMEA punchout catalogue.

EMEA and UK employees (Verizon, BlueJeans, Incubed IT): View instructions on how to order office supplies only using the country-specific Lyreco punchout catalogue.

APAC employees (Verizon, BlueJeans): View instructions on how to order IT equipment using Material numbers. Please note: No catalogues are yet available; follow the normal SC/PR creation process for materials and limit line items.

Latin America: for Office Supplies, employees should continue to work with their Global Real Estate partners to identify critical needs. For essential IT equipment, reach out to VZBLATAM@one.verizon.com.

For a thermometer purchase, please expense the item by placing "COVID-19" in the title of expense report with Accounts Payable. The purchase price should not exceed 18 USD.

Verizon Connect employees based outside the U.S. can use this quick reference guide for step-by-step instructions on how to create a 1ERP Purchase Requisition. See this guide for additional ship-to-home program requirements and item details.

EMEA Verizon Connect employees in the UK, Ireland, Germany, Netherlands, and France need to create a 1ERP Purchase Requisition, and those based in Spain, Portugal, Italy, and Poland need to follow the Tech Hub process. For the international procurement support, please reach out to VZC.Indirect.INTL.Purchasing@verizon.com.
Returns
If you need to return an item you have ordered (Laptop, Monitor, and other accessory Equipment), please hold on to your item. We will provide instructions on returns shortly. We will not accept returns on the office supplies listed above.
Beware of phishing and other threats
[Updated 5.21.2020]
Fraudsters leverage events like COVID-19 to spread malware and steal credentials, including passwords and other sensitive information, through phishing.
Our Verizon Corporate Information Security team and other law enforcement agencies want us to be on the lookout for scams.
As a reminder, no Verizon employee should contact you requesting sensitive information like your username, password, DUO token, etc. They would also not reach out to you unsolicited to redirect you to any unfamiliar websites.  As we begin to return to office, you may receive official Verizon emails and text messages with procedures for checking in. Please leverage the knowledge below, to avoid scams.
If you are contacted, by any means, such as phone, text message, social media, or email, do not provide any information. Stay extra vigilant during these unprecedented times.
Security best practices when using online meeting tools (Zoom, WebEx, etc.)
[New 4.14.20]
Follow these security guidelines:
Be on the lookout for emails or meeting invites that claim to be from Zoom or other online meeting tools:
Don't click on links via email, websites, social networks or apps from sources you don't recognize.
Give extra scrutiny to emails/meeting invites that have the external email indicator [E], contain suspicious links or attachments, have misspellings or typos, or are urgent in nature.
Conduct all internal online meetings through our corporate tools only (Cisco WebEx and Google Hangouts Meet).

Use WebEx security features such as waiting rooms and password protection for increased level of access control when needed. To learn more, see Security Best Practices for WebEx Meetings (KB0029615).

Only use external online meeting tools (such as Zoom) for attending meetings organized by those outside of Verizon. For additional information, see I Need to Install Zoom for Video Meetings (KB0029330).

Only share meeting links and details with meeting participants.
Only accept and open meeting invites from expected and trusted sources.
Community
Virtual volunteering
[Updated 3.31.20]
COVID-19 has fundamentally changed the way we live, but it has also caused deeper disruptions for our most vulnerable community members. Many V Teamers have asked, "How can I help?" 
Our Corporate Social Responsibility team is working with our nonprofit partners to curate virtual volunteer experiences that help communities directly impacted by COVID-19. Should you have the time and interest, the first step is creating your profile on our Volunteer Platform and then searching for virtual volunteer opportunities that interest you. New opportunities will be added daily. Remember as socially distanced as we may be, we're all in this together.
Lastly, we also activated our Disaster Relief Incentive Program (DRIP) to honor your charitable contributions. Verizon has selected five organizations that we'll do a 2 for 1 match for every employee donation, so your dollars go even further to help communities rise up and recover.
Immigration/sponsored employees
[Updated 3.18.20]
If you are a Verizon foreign national employee with temporary work authorization and are relocated to an additional (or alternative) worksite(s), here is what you need to know.
Gloves         Face coverings         General safety guidance         Working where COVID-19 is likely present         Product shipments         Social distancing & quarantine         Return to work         COVID-19 Safety Plan
At Work
Gloves
[Updated 4.9.20]
The World Health Organization has indicated that regularly washing your bare hands offers more protection against catching COVID-19 than wearing rubber gloves. You can still pick up COVID-19 contamination on the rubber gloves. If you then touch your face, the contamination goes from your glove to your face and can infect you. For some assignments/locations, gloves may be required and employees must comply with such requirements. 
If you wear gloves, wear nitrile because of allergies; and remove the gloves by inverting and avoiding contact with the outside of the glove. See the safety video for instructions on how to safely remove used gloves.
Disinfecting wipes, hand-sanitizer and hand washing
[New 7.12.21]
Disinfecting wipes and hand sanitizer are available in our offices. Employees are encouraged to use these wipes to sanitize work areas before beginning work and after completing work. After use, wipes must be placed directly in a lined trash can. All work areas will be cleaned on a regular basis by the real estate team. You should continue to wash your hands regularly and thoroughly while at a work location.
Important safety videos:
Face coverings
[Updated 10.14.21]
Employees
Please refer to the Face Coverings Policy for the latest face covering requirements when working outside of your home. In the U.S., Verizon has issued face coverings to employees working outside of the home. When face coverings are to be worn in our workspaces, you must use the company-issued face coverings or coverings similar to surgical face coverings, KN95 or N95-type masks. You may choose to layer two face coverings or wear a KN95 as a face covering.
U.S.-based V Teamers may follow the how to order a thermometer/face mask guide to request KN95s.
Outside of the U.S., V Teamers should source KN95 or surgical type masks from the supplies maintained on site at Verizon facilities.
Face coverings may be reused as long as they are in good condition. Disposable face coverings can be placed in any lined trash can. Cloth face coverings can be laundered in a standard washing machine.
If there is a reason you cannot wear a face covering please contact your supervisor or HR Business Partner.
Retail customers
Customers are required to wear face coverings if they are not fully vaccinated or are in jurisdictions that require face coverings. In jurisdictions that do not require face coverings, it's recommended that customers wear a face covering, even if fully vaccinated.
Guidelines for employees sharing a vehicle
[New 7.12.21]
When riding with someone, do the following:
Maintain pairings of the same employees whenever possible to reduce exposure.

Follow the updated Face Coverings Policy and local regulations.

Avoid using the recirculated air option for the car's ventilation.
Use the car's vents to bring in fresh outside air or lower the vehicle windows when weather permits.
Individuals who are not fully vaccinated must wear a face covering when sharing a vehicle.
Both the driver and the passenger must wear a face covering when social distancing cannot be maintained.
If you are not fully vaccinated, practice social distancing at work centers, in parking lots, and at work sites.
General safety guidance
[Updated 7.12.21]
Clean your hands often with soap and water, especially after going to the bathroom, before eating, and after blowing your nose, coughing, or sneezing.
Put on PPE needed for the job or required by local regulation.
Follow signs or markers related to COVID-19 safety that have been placed in your workplace. Do not shake hands or contact others.
Avoid touching your eyes, face or mouth, even when wearing gloves.
Avoid contact with surfaces unrelated to the work.
Use disinfecting wipes to clean surfaces before contact and tools after use.

Follow the updated Face Covering Policy and local regulations.

If you have to sneeze or cough, cover your face before doing so. If a tissue is available, use a tissue and then throw in trash. If a tissue is not available, use your elbow to cover your face before sneezing or coughing.
For managers, if necessary in light of prevailing conditions and guidance, and where other distancing measures are not practicable:

Stagger lunch breaks and work times.
Limit the number of individuals who can concurrently access common areas, such as restrooms and break rooms.
Limit sharing of tools, equipment, and machinery.
Provide sanitization materials, such as hand sanitizer and sanitizing wipes, to workers and visitors, whenever possible.
Implement frequent sanitization of high-touch areas like restrooms and break rooms.
Working where COVID-19 is likely present
[New 9.3.21]
Our highest priorities are the health and safety of our V Teamers and customers. We continue to monitor COVID-19 developments and adjust business practices and safety procedures.
All work inside locations where COVID-19 is likely present, including testing centers or areas and buildings under quarantine that can be deferred without endangering public safety should be deferred.
If work cannot be deferred, employees at higher risk of severe illness to COVID-19, according to the Centers of Disease Control and Prevention (CDC), or who have household members at higher risk, should not enter these locations.
Before completing work inside areas where COVID-19 is likely present, establish a point of contact at the site. Confirm with your site contact the following:
You will not be entering any area where there are confirmed or potential COVID-19 patients present.

An escort will be available to assist you with social distancing and help you navigate around any areas where there are confirmed or potential COVID-19 patients present.

If there are any facility-specific protective measures you must follow.
If the work cannot be deferred, a National Institute for Occupational Safety and Health (NIOSH)-approved N95 respirator (or other country-specific approving body and appropriate respirator type) will be provided for your use.
If a U.S. employee is using a filtering facepiece respirator, such as an N95 or other NIOSH-approved device, they must be provided a copy of the Voluntary Use of Respiratory Masks safety lesson plan to comply with Appendix D of the OSHA respiratory protection standard. This must be documented in their learning record (Link to SMP).
If conditions change or the employee becomes uncomfortable while onsite, advise them to exit the location immediately and safely and contact their supervisor.
Elder care facilities
Elder care facilities, such as nursing homes and assisted living facilities may have specific entry procedures to protect their occupants. Contact the location to understand any particular requirements prior to proceeding. If the facility has known cases of COVID-19, follow the policies outlined in this document. 
If you become sick while working outside your home.
[New 6.12.20]
If you become sick at work, assuming you are able to do so and get to safety on your own, you should exit the workplace right away using the most direct exit path.

Outside the U.S., where applicable, instead of leaving right way, you should follow any local guidance on the use of a designated quarantine / isolation room.

If you are unable to exit the workplace or if you are in a designated quarantine/isolation room, those on site will use the existing site emergency plan to arrange appropriate medical support and/or transportation.

Local management will contact the Business Continuity and Emergency Management (BCEM) team to initiate any appropriate facility closing/cleaning, communications to and quarantining of individuals.
Those in the workplace should not make contact with any bodily fluids of any individual who became sick. At BCEM's direction, the Global Real Estate team will initiate cleaning of any affected Verizon facility.
If your supervisor is not aware that you became sick, the supervisor should be notified. After confirming that you are safe, your supervisor will work with HR to ensure that your time is coded correctly.

Internationally, this process remains subject to local information/consultation processes, where applicable
Shipments of products from impacted countries
In general, because of the poor survival of these coronaviruses on surfaces, there is a very low risk of spread from products or packaging that are shipped over a period of days or weeks at ambient temperatures. Coronaviruses are generally thought to be spread most often by respiratory droplets. Currently, there is no evidence to support the transmission of COVID-19 associated with imported goods and there have not been any cases of COVID-19 in the United States associated with imported goods.
Social distancing and quarantine
Social distancing
[Updated 7.12.21]
If you are not fully vaccinated, avoid mass gatherings and maintain a distance of approximately 6 feet (or 1.8 meters) from others when possible.
At Verizon facilities, depending on prevailing conditions and guidance, Global Real Estate may post site-specific policies on topics such as:
use of common resources (refrigerators, closets, phones, printers, etc.) 

use of common areas in a facility (e.g., kitchenettes, lobbies, break rooms, wellness rooms, meeting rooms, gyms, copy rooms, beverage/snack areas, canteens, etc.) 

movement within the building (e.g., directing employees to specific restrooms) 
As always, you must abide by any site-specific requirements. 
Outside the U.S., any additional local governmental safety and health guidelines regarding social distancing should also be observed.
Getting tested
[Updated 7.20.21]
Verizon offers two testing options for COVID-19 that are paid for directly by Verizon, no insurance coverage needed:
CVS Employer-Sponsored COVID-19 Testing: Verizon has partnered with CVS to provide COVID-19 testing in a manner that will have your test results shared directly with Verizon. Tests are administered at CVS retail locations. Note, this link is for Verizon employees only.

Clinical Reference Laboratory (CRL): Verizon has partnered with CRL to offer a free at home, saliva based, PCR test. Order a test kit directly from CRL and receive via FedEx overnight shipping. The test kit contains return packaging and a prepaid FedEx overnight shipping label. COVID-19 test results will not be shared with Verizon for test kits ordered using this link. Note you must use your Verizon email address when placing the order.
Additional testing resources
The testing resources below provide you with information on the steps you need to take if you believe you require testing and how to locate a testing site in your area. Please make sure you contact your health care provider prior to visiting the testing site. You can access these testing services using your medical insurance.
Reporting COVID-19 symptoms, exposure, or a new confirmed case
[Updated 4.15.21]
If there is a Verizon employee, contingent worker, contractor, or vendor employee having COVID-19 symptoms, exposure, or confirmation through testing, please use the links below to report it. Reporting a case allows our Case Care Team to connect you with important resources, properly notify those who need to quarantine based on current CDC guidance and their vaccination status, and deep clean the Verizon location if necessary.
To self-report, complete the COVID-19 reporting form:
A supervisor or HRBP may complete the form for an individual if an individual is unable to self-report (for U.S.-based employees only).
Depending upon the details of your case, you may be asked to submit supporting documentation.
Self-quarantine
[Updated 1.26.21]
Remain home and out of the workplace, separate yourself from others and work from home when possible. Monitor your health, remain alert for symptoms, follow directions from your state or local health department,and seek advice by telephone from a healthcare provider if you experience symptoms. Refer to the COVID-19 Related Leave section for additional details.
Recovering from COVID-19 to come back to work
[New 11.10.21]
For those with COVID-19, we'll be with you every step of the way through your recovery to make sure you have access to the care you need. When you're ready to come back to work, we'll be there for you too.
Employees with COVID-19 can return to the workplace once all of the following criteria are met:
If the employee had COVID-19 symptoms:
no fever for at least 24 hours (without the use of medicine that reduces fevers)
other COVID-19 symptoms have improved and
at least 10 days have passed since the employee's symptoms first appeared
If the employee never had COVID-19 symptoms:
10 days have passed since the employee had an initial positive PCR COVID-19 test result.
The COVID-19 Case Care team and/or Sedgwick will provide additional direction regarding individual approval to return to work.
Until the above criteria are met, you are not permitted to report to a Verizon worksite.
Note that this criteria does not apply to persons with severe COVID-19 (defined by the CDC as admitted to a hospital and needing oxygen), with an underlying condition (e.g., immunocompromised) or where the virus persists or reinfection is present. These persons might need to stay home up to 20 days after symptoms first appeared or their first positive viral diagnostic test.
We are closely monitoring CDC and other guidance and will modify these criteria as appropriate.
COVID-19 Safety Plan
[Updated 11.18.21]
Verizon is committed to providing a safe and healthy workplace for all our employees, customers and vendors. A safety plan has been in place since the outset of the COVID-19 pandemic in early 2020 to mitigate the potential for exposure to and transmission of the COVID-19 virus in our workplaces and communities. It provides you with details on our preparedness and response, including health and safety protocols, communications and training. Verizon encourages its employees to report safety hazards, including potential COVID-19 hazards, to their supervisors or the EHS 24-hour hotline at 1.800.386.9639.
Site emergency guidelines during COVID-19
[New 2.10.21]
Emergencies can occur without warning. Use the abbreviated site emergency guidelines for evacuations and shelter-in-place orders during COVID-19 to be prepared to handle and take appropriate remedial actions that can save lives, and reduce injuries and property loss.
Compensation & benefits         Taxes         401(k)         COVID-19 Related Leave         Back-up care         Spending accounts         24/7 NurseLine         Telehealth - Digital healthcare solution         EAP
Compensation and benefits
[Updated 5.18.20]
Where required, outside the U.S., this policy may be subject to local information and consultation processes. 
Employees who are working from home, working on the frontlines in our retail locations, call centers and network locations that remain open will have their base pay and benefits protected. Commission treatment may vary by business unit or sales role and will be communicated separately.
Vacation accrual max now 175% through the end of 2022 (U.S. management only)
[Updated 6.4.21]
It is important to recharge ourselves so we encourage all employees to remember to take time off.
The 150% limit on vacation accrual was increased to 175% in March 2020. This limit is currently viewable in your paid-time-off snapshot and it will remain in effect through the end of 2022.
For our wireline associates, there are no changes and normal carryover rules apply (as defined by each CBA contract).
Holiday leave update for international (non-U.S.) V Teamers
[Updated 4.17.20]
We understand that you may not be able to travel during planned holiday leave because of current restrictions relating to COVID-19. However, taking time off work is important for your overall health and wellbeing, and is therefore strongly encouraged.
That said, we appreciate there may be a need for greater flexibility this year, so we are reviewing arrangements relating to carry-over terms, where applicable, in circumstances where not all annual leave entitlement can be taken during the current holiday year period. Rules may vary by country but we anticipate that any new carry-over arrangements will be limited to exceptional COVID-19 related circumstances where you are unable to take holiday due to illness, or where you are prevented from doing so due to critical work-related projects which need to be completed before the end of the holiday year period. In most cases, however, we would expect our existing carry-over rules to apply.
We strongly recommend that you continue to plan and take your leave, if you have any questions please contact your manager and/or HRBP. 
We will be communicating any changes for your country through About You > Life and Time Off.
Tuition Assistance Program (TAP)
[Updated 4.1.21]
Questions about the impact of COVID-19 on your Tuition Assistance Program (TAP) benefit? Check out the FAQ for answers regarding courses with an end date of 3.1.2020 or later up to 6.30.2021.
Gym payroll deductions
[Updated 5.18.20]
We're suspending gym/Verizon wellness center membership payroll deductions until further notice.
Taxes
2020 Tax Withholding
[New 12.3.2020]
For the 2020 Tax Year, Verizon has taken the position that you will continue to be taxed based on your work location listed on your Verizon work profile. Your state income tax withholding will not change based on a temporary work-at-home assignment or alternate work location. What this means is you will continue to be taxed as you were pre-COVID-19, regardless if you are not working at your normal location during COVID-19.
State and local governments continue to address tax matters stemming from the coronavirus (COVID-19) pandemic in 2020. If you live in a state that supersedes Verizon's 2020 position, you will receive additional communication that will include your state's income tax withholding requirements.
Before making any tax decision, it's recommended that you consult with a tax advisor since personal financial circumstances vary. This information does not represent financial, tax or other advice from Verizon.
401(k) Savings and Retirement Plan
[Updated 1.26.21]
The coronavirus (COVID-19) has created an increasingly unpredictable market, and it's natural to want to react. You probably have questions about your accounts and what to do. No matter what decisions you make, Fidelity NetBenefits® will continue to provide quick access to your plan, balances, account information, and any new updates. 
CARES Act Distributions
[Updated 1.26.21]
The CARES Act withdrawal opportunity expired on December 30, 2020. Under theCARES Act, qualified individuals had an opportunity to withdraw up to $100,000 from their 401(k) plan without being subject to the 10% early withdrawal penalty. In addition, qualified individuals had the option to spread the income tax on the distribution evenly over 3 years. Anyone who took a distribution also has the option to repay the distribution to a qualified retirement plan within a 3-year period.
In January 2021, Fidelity sent a notice to participants who received a CARES Act distribution with tax filing information and distribution repayment instructions.
If you have questions about your CARES Act distribution, call the Verizon Savings Plan 401(k) Service Center at 1.888.457.9333 to speak to a Service Representative. Representatives are available from 8:30 AM to midnight, Eastern Time, on any day the stock market is open.
CARES Act Delay of 401(k) loan repayments
[Updated 1.26.21]
Under the CARES Act, qualified individuals had an opportunity to defer 401(k) Savings Plan loan repayments through December 31, 2020. Re-amortized loan repayments re-started on January 22, 2021.
If you chose to defer your loan repayments
In January 2021, your loan was re-amortized, including accrued interest during the Deferment Period, over the remaining term of the loan plus the length of the Deferment Period.
The repayment amount of the re-amortized loan reflects the remaining outstanding principal balance of the loan (including any past due amount) and the interest rate on the loan including the interest that accrued during the Deferment Period.
Your loan payoff date was be extended for the same duration as the Deferment Period.
Your re-amortized loan repayments re-started on January 22, 2021.
In January 2021, Fidelity sent a notice to participants that had deferred loan repayments until January 2021 letting them know that the loans had been re-amortized and payments would begin.
If you have questions about your loan repayments, please log in to NetBenefits or call the Verizon Savings Plan 401(k) Service Center at 1.888.457.9333 to speak to a Service Representative. Representatives are available from 8:30 AM to midnight ET, on any day the stock market is open.
For more information, see answers to commonly asked questions relative to the CARES Act and qualified retirement savings plans.
COVID-19 Related Leave
[Updated 9.27.21]
We've expanded our work-from-home strategy to include a significant percentage of our V Team and we continue to deploy other working arrangements to support you during this time. However, some of you are unable to work-from-home for health, childcare, or other reasons.
If you find yourself in such a situation, we provide some leave of absence support for when you may need to balance work responsibilities with the realities you are dealing with at home and with health.
The COVID-19 specific leave of absence policy provides 100% of base pay for up to 8 weeks, then reduced to 60% of base pay for up to 18 weeks. If you are medically diagnosed with COVID-19, we will provide 100% of base pay for up to 26 weeks or until you are medically cleared to return to work whichever happens first. Please refer to the scenarios below and follow the appropriate steps.
Commission treatment may vary by business unit or sales role in alignment with existing relief policies as outlined within each roles' Sales Compensation/Incentive Plan.
These leaves coordinate with any available government benefits, including benefits available outside the U.S., where local policies may already provide for equivalent or greater leaves.
As a reminder, unless you receive the prior written approval of your supervisor and Human Resources, you may not engage in any outside employment or self-employment or perform any commercially-related services—with or without compensation—while absent from work on any company-approved leave of absence, including, but not limited to, a paid or unpaid COVID-19 related leave.
Please note: If you work in the field and are not feeling well, do not report to work, follow your organization's protocol for reporting illness, and contact your HR Business Partner for further guidance regarding coding.
Locked out of your account? If you are locked out of your account while trying to apply for a leave, see how to reset your password.
Locate your HRBP
[New 3.24.20]
Forgot the name of your HR Business Partner? Simply type "My HR Business Partner" or "My HRBP" in the search boxes on About You, VZWeb, or the digital Verizon Assistant (the "to do" chatbox).
Backup care reimbursement program
[Updated 6.16.21]
We continue our support of you and your families by extending the back-up/elder care reimbursement program. Effective July 1, 2021, there will be two levels of care.
Areas where caregiving alternatives are available through the Bright Horizons caregiving network
For employees residing in areas where caregiving alternatives are available, we will reinstitute our emergency backup care program through Bright Horizons and offer additional care options through Care.com. These programs provide backup care services when your ordinary care arrangements fall through. Care is available in Bright Horizons, Care.com or affiliated centers, or through certified in-home caregivers. Beginning July 1, 2021, employees will be eligible for up to 80 hours of backup care support through Bright Horizons program or up to 10 days through Care.com for the remainder of 2021. For more information on these programs, go to the About You - Backup Care site.
NOTE: Union represented employees in the MidAtlantic area, please reach out to your local Work Family Committee for caregiving resources offered to you. To access program details, go to the following sites:
MidAtlantic - IBEW - Advisory Council on Career and Life Strategies (ACCLS)
MidAtlantic - CWA - Advisory Council on Family Care (ACFC)
Areas where caregiving alternatives are not available through the Bright Horizons caregiving network
For employees residing in areas where caregiving alternatives are not available through the Bright Horizons network, we will continue to maintain our in house caregiving reimbursement program. This allows employees to leverage their own personal network to find care. For temporary child/elder care services by a caregiver of choice, you will be reimbursed $15 per hour with a maximum payout of $100 per day, per family.
The in-house program will not be available to employees who have caregiving alternatives available through Bright Horizons or Care.com's caregiving network.
Please remember that this program is designed to be used in situations where it is required to complete your work responsibilities. Many employees working from home will experience a certain amount of disruption and interruptions during the day but will still be able to perform their work responsibilities. The backup care benefit is not intended to solve these types of minor disruptions. Instead, it is meant to cover longer periods of time where direct supervision is needed to care for loved ones who would otherwise inhibit an employee from completing their work responsibilities.
Verizon reserves the right to audit claim submissions either during or after the operation of this Emergency Backup Care program.
Prior to submitting a request, please review the program details in the Backup Care Reimbursement Policy and FAQ to ensure your situation meets the program requirements. If you have questions, please email the Backup Care team at vz.backup.care.administration@verizon.com.
Spending accounts
[New 6.22.21]
Recent legislation enacted as part of the Consolidated Appropriations Act provides relief to flexible spending accounts in light of the disruption caused by COVID-19. This notice explains how the new rules apply to your spending account(s) at Verizon.
Grace period extensions
The March 15 grace period deadline has been extended to December 31, giving you more time to use the money in your Health Care Spending Account (HCSA), Limited Purpose Health Care Spending Account, or Dependent Day Care Spending Account (DCSA).
Any balance remaining in your 2020 spending account can be used for eligible expenses through December 31, 2021. You will have until January 31, 2022 to submit claims for reimbursement for these expenses.
Any balance remaining in your 2021 spending account can be used for eligible expenses through December 31, 2022. You will have until January 31, 2023 to submit claims for reimbursement for these expenses.
Please note that the grace period extension for the DCSA could result in tax consequences if you are reimbursed for more than the $5,000 maximum in one year. You should consult with your tax advisor for guidance on your specific situation.
Change to DCSA age limit for 2020 eligible dependents
If you were enrolled in the DCSA in 2020, had an eligible dependent who turned 13 in 2020, and had an unused DCSA balance at the end of 2020, that balance can be used to reimburse the dependent's day care expenses that were incurred during 2020 or 2021 and before the dependent's 14th birthday.
Special provision applicable to new High Deductible Plan (HDP) enrollees in 2021
Enrollees in the HDP are able to establish and fund a Health Savings Account (HSA) while enrolled in that plan. IRS rules prevent funding of this account while there is a remaining balance in an HCSA. Any HDP participant that is otherwise affected by the HCSA grace period extension beyond March 15, 2021 will automatically have that account balance converted to a Limited Purpose HCSA effective March 16, 2021. This limited purpose account functions in a similar fashion to the full HCSA, but only allows reimbursements for dental and/or vision expenses. This conversion will allow HSA funding to take place effective in April 2021. Similarly, any HDP participant that is otherwise affected by the HCSA grace period extension beyond March 15, 2022 will automatically have that account balance converted to a Limited Purpose HCSA effective March 16, 2022.
Personal Protection Equipment is considered an eligible expense
Per recent IRS guidance, personal protection equipment such as masks, face shields, gloves, hand sanitizer and hand sanitizing wipes, purchased on or after January 1, 2020 for the primary purpose of preventing the spread of COVID-19 are considered eligible expenses.
If you aren't feeling well...
[Updated 5.18.20]
As always, if you aren't feeling well from a cold, strep throat, or just know that you are physically unwell…
Stay home if you are sick
Alert your supervisor (via call or whatever electronic means are typically used in your workplace to report absences (text, email, etc.)
Consult your healthcare provider so you can start getting better
Code your time as however illness is treated in your workgroup (if unable to work from home);
Follow your doctor's instructions... if however you are diagnosed with COVID-19 or a physician tells you that you are presumed positive for COVID-19, contact your HRBP and follow the COVID-19 Leave guidelines
Return to work when you are better
Don't get your co-workers sick!
Anthem's 24/7 NurseLine  (U.S. employees only)
[Updated 3.30.20]
Anthem's 24/7 NurseLine provides Anthem members with no-cost, telephonic access to Anthem registered Nurses 24 hours a day, 7 days a week to:
answer health-related questions
assist with symptom triage
provide guidance and treatment decision support
 The NurseLine is available to all members regardless if they are calling regarding COVID-19, or any other illness, condition or symptom. Members may reach the 24/7 NurseLine at 1.866.534.8434. If you are not an Anthem member, please call your insurance carrier's NurseLine.
Telehealth -Digital healthcare solution
[Updated 6.4.21]
Telehealth services continue to be a convenient way to access medical care through the comfort and safety of your own home.
If you are enrolled in the Anthem or UHC plan, you have two ways to access telehealth services:

Directly through your healthcare provider; or

LiveHealth Online (see more information below).

If you are enrolled in an HMO medical plan, reach out to your insurance carrier to see if telehealth services are covered and any applicable cost for these services.
Effective July 1, 2021, telemedicine services delivered through Verizon-sponsored group health plans will be available for a discounted $10 copay per visit. For employees enrolled in an HSA eligible High Deductible Plan, telemedicine charges will be applied against the deductible and coinsurance rather than a copay. Note that telemedicine office visits coded in conjunction with COVID-19 testing will continue to have no cost sharing for as long as that is required in accordance with the Coronavirus Aid, Relief, and Economic Security (CARES) Act.
LiveHealth Online
Download the free LiveHealth Online mobile app (iOS and Android) or go to www.LiveHealth.com.
For assistance, contact LHO's 24/7 customer support line at 1.888.548.3432 or email health@livehealthonline.com.
Virtual Visits
Download the free UnitedHealthcare mobile app (iOS and Android) or go to www.myuhc.com.
For assistance, contact the Virtual Visit Support Team at 1.855.615.8335 or via the secure messaging center within the Virtual Visits page.
WebMD
[New 4.9.20]
WebMD is a trusted source of health information during these times. Access their site for  regularly updated coronavirus information.
Emotional Health
Emotional health is an important part of overall health. Use the Verizon and external resources below to get help in coping with life's changes during this unprecedented time.
Employee Assistance Program (EAP)
[Updated 9.1.20]
EAP is a confidential, free service available to all employees and their family members. EAP provides advice, referrals and information that can help you relieve stress, including face-to-face and telephone counseling. Visit About You for country-specific details.
On the About You EAP page, you can find timely information and resources including:
myStrength, a free app available to all U.S. employees and family members, which can help you manage stress, anxiety, chronic pain, and more. It's safe, secure and personalized and has recently added strategies for coping with this COVID-19 event. Register in EAP for free access.
EAP mindfulness webinars can help you stay centered and focused.
Got a little tension at home? Register for a free 10-minute live mindfulness exercise to help you and your family stay well and balanced. New sessions are added weekly.
EAP webinars for you and your family.
V Team family has access to new, topical personal wellness info with monthly on-demand webinars from our Employee Assistance Program. New on-demand webinars are released every third Tuesday of each month throughout 2021. View more information.
COVID-19 mental health resource hub
[New 4.9.20]
Anthem joined forces with Psych Hub, a free digital hub to help members with the stress resulting from COVID-19. This hub brings together a variety of resources to help cope with social isolation, job loss and mental health issues.
Community support sessions by Modern Health
[New 4.7.20]
While Modern Health is not a Verizon provider, we are familiar with their services. It's offering a series of free Community Support Sessions to help cope with the challenges and uncertainty caused by the COVID-19 coronavirus. 
Parents of children with special needs
[New 4.7.20]
The non-profit Child Mind Institute has digital tools to help families navigate this crisis and provide extra support to parents whose children need specialized care.
Looking for support in Spanish? Access Spanish resources on their site and visit Facebook for Spanish Facebook Lives hosted twice each week.