Readiness is not just an idea, it is an approach that makes businesses more agile, even in the face of unforeseen events.
We're ready for you.
Your questions. Our answers.
For all small business customers (50 lines or less), we have announced:
Waived late fees and no service interruption: We will waive late fees through June 30th for small business customers who let us know they are unable to pay as a result of economic hardship due to the COVID-19 pandemic, and we will not terminate service to those customers.  This policy has been extended from its original end date of May 13, 2020.
To qualify, you must let us know that you are experiencing hardship by completing this short form.
Once you have submitted your hardship form, your account will be protected from late fees and service termination through June 30, 2020. There's no need to contact us to confirm receipt of your form; your account will be updated accordingly. 
You only need to submit the form once. If you have previously submitted it, you don't need to submit again; your account will continue to be protected until June 30, 2020.
15GB free high-speed data: We continue to support customers who may find themselves needing additional data in order to learn, work or keep connected during this challenging time. On March 23, we announced we would automatically be giving 15GB of additional high-speed data for wireless consumers and small business customers from March 25 through April 30, 2020. 
On April  22, we announced we are automatically adding an additional 15GB of 4G LTE data to consumer and small business* shared data plans, hotspots and jetpacks to be used  from May 1 through May 31. There is no action needed as this data will automatically be added to consumer and small business accounts.
* Includes small business customers with 50 lines or less
Small Business Webinar Series: We're inviting our small business customers to register for a new 30-minute webinar series to hear practical advice, insight and tips on how small businesses can survive during these challenging times. Register for the Small Business Webinar Series.
Due to COVID-19, we have been hearing from a lot of customers who are equipping their employees for remote work.  Many of our business customers around the globe are deploying remote working solutions and leveraging collaboration tools and virtual private networks (VPNs) to enable employees to collaborate and access business information without sacrificing security or performance. We are also seeing a big increase in demand for virtual contact centers as companies work to support their own customers' needs by switching their customer service operatives to home working. 
Security is another concern; phishing and other attacks are on the rise as cybercriminals look to exploit the situation. Our team continues to support customers with a comprehensive range of security solutions to protect their employees and their customers, designed to keep them one step ahead of the bad guys. 
Our business continuity planning services ensure customers are business-ready in unforeseen circumstances. Many of our business customers are already outfitted with equipment needed for their employees to work remotely, and we're strongly encouraging all business and government customers to review their continuity plans.  
Here are five steps businesses should take  to be prepared for anything:
●      Prepare your networks for a remote workforce.
●      Implement technology that enables remote collaboration.
●      Prioritize and develop a critical infrastructure plan.
●      Use tools to give customers confidence and access.
●      Secure both physical and network access points.
Our Business Continuity and Event Management (BCEM) framework supports Verizon Business' operational preparedness, mitigation, response and recovery, and has been in play since the start of the COVID-19 crisis. During any crisis or large-scale issue, if and when customers are impacted, we will work with our customers to review available service options on a case-by-case basis. Our BCEM plans are tested and certified annually.
 
Communication is key here. We have a team dedicated to supplier outreach to understand any product availability issues they may have. This team also works with suppliers to ensure that they adhere to the same safety standards as Verizon to help mitigate the spread of coronavirus.
 
As part of our planning and in line with guidance from public health and government bodies on the prevention of the spread of viral infection, we've introduced simple steps for our engineering teams to follow when visiting customer premises. These include pre-dispatch checks, pre-entry checks and strict adherence to social distancing and hygiene protocols. We will continue to review this process as the situation develops.
 
We are seeing limited impacts on inventory around the globe and are working on a case-by-case basis with customers to review available options to meet their needs.
Keeping our critical infrastructure customers connected is a top priority. Our business teams, including technical, service, network operations, security operations, sales, change and order management are all now equipped to work from home, and are supporting customers remotely.
 We are fully engaged with government authorities and industry groups to ensure that we can raise any concerns regarding business continuity and react immediately to further developments. We are also working closely with other carriers, and their dedicated COVID-19 teams if appropriate, to ensure there are no upstream carrier concerns that may impact our ability to provide service.
 Certain providers of vital voice and data services to national security and emergency preparedness organizations in the U.S. may receive priority treatment if they qualify for programs such as the Telecommunications Service Priority (TSP). In the event of TSP designation, Verizon will comply with its legal and regulatory obligations to ensure the beneficiary organizations receive priority attention. 
For more information please refer to: https://www.cisa.gov/telecommunications-service-priority-tsp
 
As a critical infrastructure provider, we've identified employees who will continue to provide business-critical services to our customers, even if movement is restricted due to COVID-19. We continue to work closely with governments and other authorities to ensure they are authorized and able to move freely and access premises as needed.
 
No. We maintain a robust business continuity planning program to ensure critical functions can be sustained through a crisis. Each critical function has a plan that includes one or more recovery strategies that may include moving the work to a geographical diverse location, leveraging work from home capabilities or performing the work remotely.
 
Funding:  We're providing up to $5 million in emergency grants to LISC.org to help support small businesses from underserved communities that are facing immediate financial pressure through a campaign called Pay It Forward Live. The weekly streaming series connects big names in entertainment to small businesses, offering entertainment to those at home and financial support to small businesses. Additionally, we're helping small businesses through our Food for Frontline Healthcare Workers initiative, a local program that brings together multiple New York City restaurants with several area hospitals in an effort to help both the restaurants' workers and hospital staff on the frontline providing care to patients. Meals are being provided seven days a week throughout the month of April, at no cost to the hospitals or their employees. We've also expanded the program to EMS Fund members.
Tools & Resources:  We're partnering with Hello Alice, a platform to provide small businesses access to resources, networks, mentorship and funding, to offer a resource guide for small businesses that want to digitally transform their businesses and adapt to the new norm during the coronavirus crisis. Additionally, Yahoo Small Business is helping small businesses get online with a free one-year subscription to Business Maker which includes a website, domain and business email.     
Mentorships: Through a partnership with Micromentor, Verizon employees are mentoring small businesses as they deal with situations related to COVID-19. Small businesses looking for a mentor can visit Micromentor to sign up.
 
A note from Group CEO-Verizon Business, Tami Erwin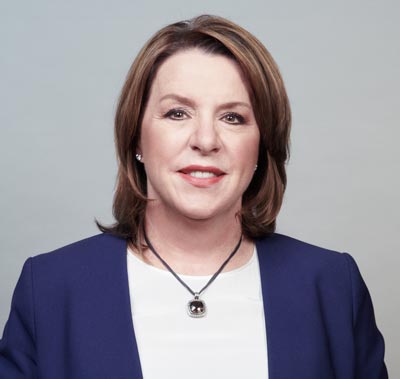 With everything that has taken place over the past few months, I want to take a moment to thank you for trusting Verizon to be your partner of choice. Businesses are made up of connected people, and rest assured we're doubling down as we embrace new ways of working and living.
Verizon's experience and leadership supporting you has never been more important. As we move from reacting to rebounding, we are ready to provide the infrastructure and creative solutions you require.
We also know that now is the time to consider what your business will look like in the future. This includes everything from reimaging your workforce planning and digital infrastructure, to better utilizing collaboration tools, security and increasing your ability to troubleshoot from afar. We've deployed several resources to help you consider your best path forward, including our white paper series, "Return to Business as Unusual," weekly webinars for small businesses and more.
We stand with you as you tackle new challenges and are committed to finding the best solutions possible. We urge you to reach out with your changing needs — big and small. 
I hope all of you are finding ways to take good care of yourselves and your families and your extended network of friends, colleagues and communities.
Stay safe,
Tami