We're here, and we're ready to serve you during this challenging time.
Your questions. Our answers.
Verizon continues to monitor COVID-19 developments and address every matter that touches the well-being of our employees, partners and customers while delivering uninterrupted network services and maintaining the continuity of our operations. We have adopted a series of protocols and safety measures based on recommendations from public health authorities, including the U.S. Centers for Disease Control and Prevention (CDC) and the World Health Organization (WHO). Verizon expects to complete all outstanding orders as safety protocols and government regulations allow. We remain dedicated to partnering with suppliers to support business operations and meet our customer needs.
Verizon is extending its commitment to keep our customers connected through June 30.
This means we will neither terminate service nor charge late fees to our postpaid wireless, residential, and small business customers that notify us of their inability to pay their bills due to disruptions caused by the coronavirus pandemic. Click here for the latest news release.
If our customers are experiencing a hardship, they should visit the appropriate page below:
* includes small businesses with 50 lines or less
Almost anything you can do in a Verizon store or via Customer Service can also be done online.
By app:  Use the My Verizon and My Fios apps on your phone.
Go online:
Ask other customers and tech experts:
Follow Verizon Support on Twitter:   @verizonsuppport  or @vzwsupport
 
Our owned and operated stores will continue to be closed on Sundays. In addition, stores that are open will operate on further reduced hours Monday thru Saturday, 11 AM-4 PM. Also, the number of customers in a store may not exceed the number of employees working at any given time in order to promote social distancing.  
In accordance with CDC recommendations, all customers who visit a Verizon store are required to wear a mask or cloth face covering. 
Beginning May 18, appointments for store visits are no longer required but are recommended for customers visiting Verizon stores that are open. In addition, in-store pick ups are no longer required but are recommended. While we will welcome any in-store transaction, remember our website and My Verizon app are an easy way to manage your account or make a device purchase and upgrade.
Customers can find an up-to-date listing of store hours and locations by visiting: https://www.verizonwireless.com/stores 
Our recently introduced Touchless Retail initiative has introduced more physical and digital elements into our retail stores.  
This includes:
Physical Elements
Social distancing markers: decals will be added to the floor denoting 6' social distancing zones (only one person in this zone at a time). These will also be found outside helping customers waiting in line keep distance between one another

Fewer demo products on display

Safety partitions: clear physical barriers will be installed to protect transactions between customers and reps

Sanitizing stations in high traffic areas: hand sanitizer will be front and center throughout our stores

Shifting of in store furniture to align with social distancing guidelines
Digital Elements
Pre-Visit Prep: before customers visit a store they will be informed about our enhanced safety measures

Preferred Mobile Check-In Process: mobile check-in will now be available through our My Verizon app

Preferred Buy & Checkout: a secure link will be provided through text message to the customer to select their payment method and accept Terms & Conditions from their device 
Keeping our customers connected: Verizon is extending its commitment to keep our customers connected through June 30.
This means we will neither terminate service nor charge late fees to our postpaid wireless, residential, and small business customers that notify us of their inability to pay their bills due to disruptions caused by the coronavirus pandemic. Click here for the latest news release.
If our customers are experiencing a hardship, they should visit the appropriate page below: 
15GB free high-speed data: We continue to support customers who may find themselves needing additional data in order to learn, work or keep connected during this challenging time. On March 23, we announced we would automatically be giving 15GB of additional high-speed data for wireless consumers and small business customers* from March 25 through April 30, 2020. 
On April  22, we announced we are automatically adding an additional 15GB of 4G LTE data to consumer and small business* shared data plans, hotspots and jetpacks to be used  from May 1 through May 31. There is no action needed as this data will automatically be added to consumer and small business accounts. 
* Includes small business customers with 50 lines or less
Lifeline and low-income customers: Current customers who have Lifeline service (low income) as of March 20 will have all billing charges waived for 60 days (two billing cycles) beginning with their March 22, 2020 bills. Verizon will also offer a new affordable internet option for low-income households, starting April 3. Click for the latest news release.
Broadband and Fios customers: Our home broadband plans offer unlimited data for all of your work from home or remote learning needs.
There are no data caps on consumer and small business* Fios and DSL broadband internet plans.
Free international calling: We offered free international calling to select countries impacted by the coronavirus, from March 18 through April 30, available to wireless postpaid customers, small and medium business customers* and landline home phone customers. Unlimited calling included for mobile and landline calls, with the exception of Iran, Latvia, Lithuania and Slovenia provided 300 minutes of free calls per month. March 19 through April 30, wireless prepaid customers also received a total of 300 additional minutes to call select impacted countries. Click to view list of countries. Standard international calling rates now apply.
Waived activation and upgrade fees: Verizon will also waive activation fees on new lines of service and upgrade fees starting March 18 through April 30. This applies to all purchases and service-only activations made through Verizon digital channels, such as verizonwireless.com and the My Verizon app.
Unlimited domestic calling: Through May 31, Verizon will offer unlimited domestic calling to customers on limited-minute plans. Eligible customers will receive a text message to inform them of the offer. No action is necessary; the offer will automatically be added to eligible accounts.
Unlimited Pricing for nurses and teachers now and moving forward: Starting April 23, Verizon is expanding our best wireless unlimited pricing to nurses, who are doing such critical work keeping our friends, family and neighbors cared for, and teachers, who are keeping our students engaged and learning. They join active-duty military, veterans and people who work as first responders who already benefit from this ongoing pricing for their personal accounts and for their families. Fios internet customers can also take advantage of the discounts starting May 7.
Free learning tools and premium TV: Beginning April 1, Fios TV customers who don't currently subscribe to select premium channels will get access to 30 days of programming through their set top box at no additional cost, and with no extra sign-ups, including: SHOWTIME, Epix and Gaiam TV Fit & Yoga and free replays from NBA League Pass and select NHL games from NHL Center Ice. From April 17-20, customers can also watch HBO and Cinemax at no additional cost and from April 17-23 customers can watch Starz at non additional cost.
In April, Verizon wireless and Fios customers will be able to experience up to 60 days of free access to valued educational resources, tools and games at no cost, including Quizlet, Bookful, Chegg, Epic, and Shaw Academy. Click here for the latest news release.
Customers can visit verizon.com/moreathome to learn how to access content as new services become available.
* Includes small business customers with 50 lines or less
To reduce the spread of COVID-19, we are taking precautions to keep our employees and customers safe. Customers may be able to place an order and schedule a technician installation; if this option is not available, customers may be provided with self-install or technician-assisted options. 
Customers can always visit online support to troubleshoot and resolve many account & billing, internet, tv or phone issues. 
Unfortunately, bad actors have been leveraging fears around the coronavirus outbreak to phish for private information or to infect networks with malware. 
You should never click on a link in an email or text from an unfamiliar sender unless you are certain it is legitimate. Verizon does not and will not ask customers for sensitive personal information (like account passwords or credit card numbers) through a phone call, email or text.
Visit our Account Security Center to learn more about how to protect yourself and your account from phishing, fraud, and bad actors. If you believe you've received a phishing attempt, please report it to us at phishing@verizon.com.
Verizon has noticed an increase in COVID-19 related calls. While there are important messages coming from government, schools and health officials, we are also seeing that spammers are using moments of distress to target users with scams. We would like to ensure our customers are aware of ways that Verizon has you protected and ways you can protect yourself. This Robocalls resource page aims to answer all your questions in one place.
Verizon led an initiative to encourage the three major credit reporting bureaus to adopt more consumer-friendly policies to ensure that credit checks for important services like Verizon's no longer impact a consumer's credit score. This means that customers who apply for wireless, TV or internet service can maintain their credit standing with those credit bureaus.
Moving forward, a consumer applying to Verizon for wireless or wireline services will have their Verizon credit check classified by those credit bureaus as a "soft" credit inquiry that does not affect credit scores. This new classification allows consumers to seek essential connectivity services without the need for having a "hard" credit inquiry listed in their credit files at those bureaus.
A note from Group CEO-Verizon Consumer, Ronan Dunne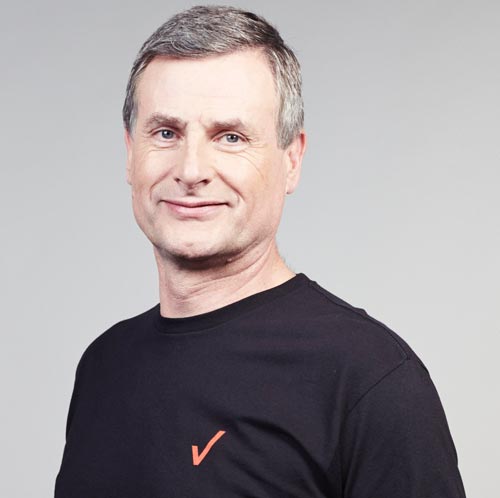 We're here, and we're ready.
Verizon is dedicated to keeping you connected during these challenging times. Our focus — ensuring you have the most reliable network experience possible, every single day — couldn't be more important than it is now. This ongoing crisis creates an environment where you are relying on our services more than ever before.
Right now, 130 million Americans like you depend upon Verizon to help them stay connected to their families, friends, coworkers, teachers and communities. Our first responders, healthcare workers and students are relying on us for enhanced support, too. We thank you for your trust and we promise to earn it every day.
Where you can reach us.
As important as our network is to keeping you connected, there's an equally important network of people behind it. They work outside on towers and utility poles, and in our operation centers and retail stores. This world-wide crisis affects them too, so we've evolved our business practices to protect the health and safety of our employees and customers.
As customer demand for our stores grows, we're  re-opening  some of our locations and will continue to do so, but always with customer and employee safety first. This means following our Touchless Retail protocols which include  a 1:1 customer to rep ratio, the observance of social distancing and a requirement for face coverings for customers and our employees. 
In addition, while appointments are recommended  in our stores, we are no longer requiring them  in order to make a store visit.  As always, you can find the  nearest open store, along with hours of operation, using our Store Locator. We remain ready to serve you for anything you need on Verizon.com  and on the My Verizon app.
As a reminder, most everything you can do in a Verizon store — from purchases to troubleshooting —can also be done using the My Verizon and My Fios apps on your phone, or on Verizon.com.
In this time of uncertainty, you can count on us to keep you informed of our response measures at our Covid-19 response page. 
Ronan