Earth Day spotlight: Middle schoolers invent app to clean up local parks
Community parks and playgrounds have long been a central hangout spot for kids and teens, but they are not without their problems. Graffiti, litter, broken benches and unsafe playground equipment are issues that parks across the country continually face. But a group of middle schoolers from Wyandotte, Michigan set out to find a way to empower communities to play a role in keeping those parks safe, clean and friendly – and everyday folks across the U.S. were behind it.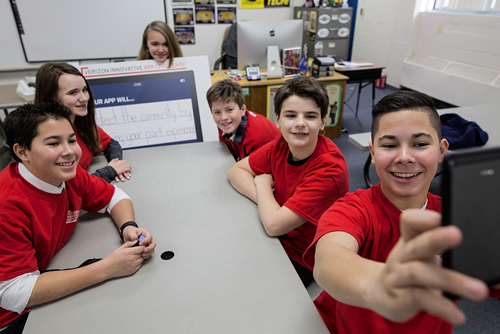 The students, Alec Brovont, Ashton Donaldson, Finn Gomez, Reilly Gomez, McKenzie Harris, and Shelby Harris, propelled their team to be the Fan Favorite winner in this year's Verizon Innovative App Challenge, garnering over 9,000 votes for their app, Protect Our Parks, or POP for short, to become a reality.
POP, which gives people a way to report litter, graffiti or damage directly to park and city officials using a mobile app was the group's way of tackling a community issue and finding a way to help solve it through technology. "We came into the app challenge and knew we wanted to help the community," says Shelby. "We asked: 'What do we do? Where do we hang out? What do we care about?'"
With 23 parks in Wyandotte alone, the group quickly realized one way to help their community -- especially kids their age -- was to create a way for people to help keep those hangout spots safe and clean.
POP is designed with a simple interface where users login, search for their state, city and park and pull up a listing for their location. Users can then take and submit a photo that documents the damage, graffiti, or unsafe playground equipment they've come across and send it to the local park manager, community official or police directly through the app. "There's a lot of litter and graffiti and sometimes there are broken swings," says McKenzie. "We thought this app would be a more efficient way to get in touch with the parks."
And the thousands of people who showed their support by voting for POP as the Fan Favorite seem to agree. In a show of community engagement, the group spread the word about their app, printing out business cards, attending school board and city council meetings, and even getting a local pizza shop to let them tape fliers to every delivery box. They went from store to store at the local mall, asking shop managers for support and earned local news coverage by the Downriver News Herald and Channel 4 Detroit, not to mention social media support from public figures like Tuesdays With Morrie author Mitch Albom and Paralympian, Lex Gillette. "The amount of people who voted and helped us was amazing," says Alec.
In return, as national winners of the app challenge, the students will work with MIT app developers to turn their concept into an actual product. "I've learned that helping our community is the best feeling I've had," says Shelby. "It's the best thing I've done."