The era of the cellular-connected drone has arrived
Full Transparency
Our editorial transparency tool uses blockchain technology to permanently log all changes made to official releases after publication. However, this post is not an official release and therefore not tracked. Visit our learn more for more information.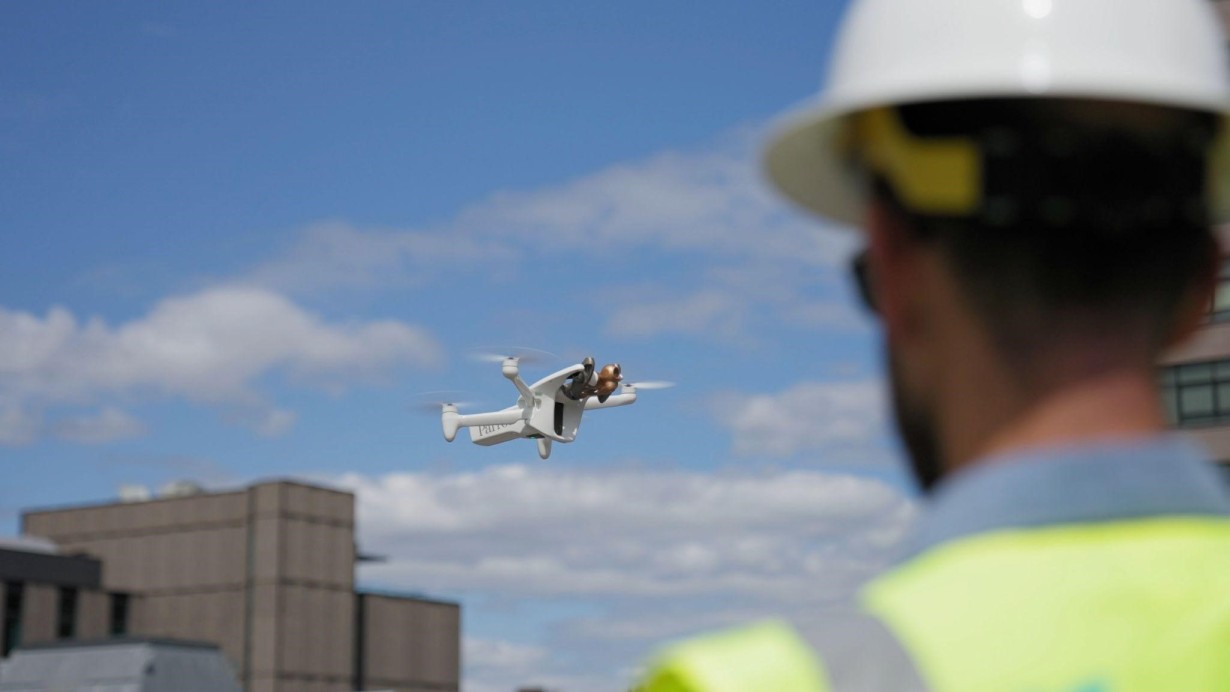 When we founded Skyward, our commercial drone company, back in 2012, we faced a fundamental problem: At the time, it was illegal to actually fly drones for commercial purposes anywhere in the US.
While staking your entire business proposition on something that's banned by law is not normally a best practice, we did it anyway, for a very simple reason. We believed that commercial use of drones would soon become legal, and that it would transform the way entire sectors do business.
Early on, we predicted that this transformation would come about as we connected drones to increasingly powerful wireless communications networks. With such connectivity, drones would be able to do far more than just fly up high and send back a camera feed to the user on the ground below. They could be controlled from anywhere, collect rich data, transmit the results anywhere in the world — and intelligently integrate with all the other drones, helicopters, and planes in the sky.
The legalization part got cleared up soon enough; in 2016, the Federal Aviation Administration (FAA) approved drones for commercial use. Since then, drones have indeed become vital assets in several industries, including energy, construction, surveying, and telecommunications.
But one piece has remained missing — cellular connectivity. Among all those drones that have been buzzing above building sites and inspecting infrastructure in recent years, virtually none of them have been connected to a wireless network. That's all about to change.
Parrot ANAFI Ai: The first 4G LTE drone on the Verizon network
Skyward and our parent company, Verizon, have partnered with the French drone company Parrot to announce Parrot ANAFI Ai — the first off-the-shelf drone with Verizon network connectivity.
This groundbreaking model, which will be available in the US soon in 2021, includes not only a 4G LTE connection, but many other powerful features.
For example, Parrot ANAFI Ai's camera can capture 48-megapixel imagery and 4K ultra high definition video. Its obstacle-avoidance technology is omnidirectional, meaning it can intelligently dodge buildings, people, and other hazards no matter what direction it's flying. It also includes advanced encryption for data storage and transmission, and protection against malware, data breaches, and would-be hackers. All this on a device weighing less than two pounds.
That's the nitty-gritty of it. Now, practically speaking, what does any of this mean for the average business user today, and what will it enable tomorrow — or even further into the future?
Today: 4G LTE connected drones go beyond yesterday's limits
All along, a core value proposition of business drones has been that they can safely go places where people can't. With wireless cellular connectivity, that potential is increased exponentially. This would allow the drone to go much further from the pilot — or even be deployed autonomously with no pilot at all — and remotely gather information with a degree of reliability that was not possible before.
For example, some drone users have run into command-and-control issues in spots where there's too much signal interference for typical drone controller frequencies, like when flying near a telecom tower. With 4G LTE connectivity, Parrot ANAFI Ai will have a seamless backup connection to the controller, offering reliable control even in many of these tricky settings.
That's a significant upgrade over the status quo — and that's just the beginning. 4G LTE connectivity promises to bring mid-flight data upload, faster time to insight, and even the ability to operate beyond visual line of sight (BVLOS). This would allow users to command drones in distant locations — something that is currently allowed only with a hard-to-obtain waiver from the FAA.
To understand what this kind of access could mean, consider one of our clients, Southern Company — an Atlanta-based utility serving about 9 million customers. Southern has 27,000 miles of distribution lines (about 2,000 miles more than the circumference of Earth), and drones make it possible for the company to inspect that vast infrastructure much faster than it could manually and less expensively than it could by helicopter.
But those drones can only traverse a very limited area in any single flight, since an operator has to be on site — and within sight — at all times. BVLOS capability would remove those limitations, radically expanding the range that any single drone, or network of drones, can reliably cover.
The capabilities of a drone connected over 4G LTE are as exciting as they are groundbreaking. But we're looking forward even more to what will be possible when we begin to connect drones to 5G — the fifth generation of wireless networks.
Tomorrow: 5G drones for transformational connectivity
Verizon is investing billions of dollars in 5G infrastructure, and Skyward has already started testing 5G connectivity for drones. The possibilities are huge as drones access the ultra-low latency and massive capacity of these new networks. We look forward to the entirely new capabilities that will be created when drones can transfer enormous amounts of data in near-real time over 5G networks.
The high bandwidth and low latency of 5G will open up the ability to gather data and analyze it in near real time. This is where we start to get into some truly transformational changes, such as routine drone package deliveries and the emergence of autonomous airborne taxis, carrying passengers high above crowded city streets.
In addition, 5G will enable cloud operations at the edge of the network. Such Multi-Access Edge Computing (MEC) will move the bulk of the computing power required for data-intensive operations to reside on the network, not on the drone itself. The drone is free to fly while the network does the "heavy lifting" of data processing — even before the drone lands. It's a development that could make advanced drone technology more affordable and accessible.
Finally, 5G networks are capable of a high degree of network slicing, in which layers of the network are set aside for dedicated applications. This could make drones even more useful, for example, to first responders. With slices of the 5G network dedicated to their specific use cases, emergency response teams might deploy drones to monitor an accident scene or burning building — or one day even transport victims to the hospital.
The future: Universal Traffic Management (UTM) for fully autonomous flights
All of these capabilities represent nothing less than a new era of aviation. They will enable package carriers, airborne cabs, emergency aircraft, and other drones to begin occupying the airspace above and around our major cities. As the number of aircraft multiply in our airspace — small, large, crewed, and uncrewed — we will start to see new systems come into play for monitoring and directing all of this air traffic.
This concept is called Universal Traffic Management (UTM). Think of it as a system of systems — akin to a wireless network or the Internet — for coordinating all types of aircraft. UTM will allow aircraft to detect and avoid each other, enabling companies to deploy multiple drones at once, autonomously and from a remote location — and do so safely. This will be key for enabling dozens or hundreds of aircraft of all sizes to operate within the same airspace.
That future may still seem somewhat remote, but with the arrival of network-connected drones, we are taking a significant step toward making BVLOS flights common. UTM, as yet another step, will enable users to pre-position drones anywhere in the world — and to command and control those aircraft from many miles away, safely and reliably.
Back to today: A connected drone milestone
Parrot ANAFI Ai is a milestone. By blending drone flight technology with network connectivity, it brings us closer to a world in which drone technology attains its thrilling potential. At Skyward, we can't wait to see how our customers will put Parrot ANAFI Ai drones to work.
It's a breakthrough moment — in some ways, not unlike the first cell phone. Cell phones were the first devices to use wireless networks on the ground. At first, they were mostly single-purpose communication devices, but they paved a path for all the ways we use our smartphones today. And that's not to mention the enormous Internet of Things that can now connect to cellular networks, ranging from thermostats to cars.
Similarly, Parrot ANAFI Ai is the first node on an aerial robotics network. While there's only one type of drone connected to the Verizon network today, we expect to see hundreds in the future. It may enable possibilities and use cases we can't even imagine today.
At Skyward, we've envisioned this aerial network for many years. When Skyward was brought into Verizon, we saw the opportunity to connect the sky. Now, that's happening — and we couldn't be more excited.
Interested in the world's first drone powered by Verizon 4G LTE? Learn more about Parrot ANAFI Ai and reserve yours now.