Families that build apps together, win together
Families that build apps together, win together
When it comes to bringing awesome apps to market, family collaboration can be the key to success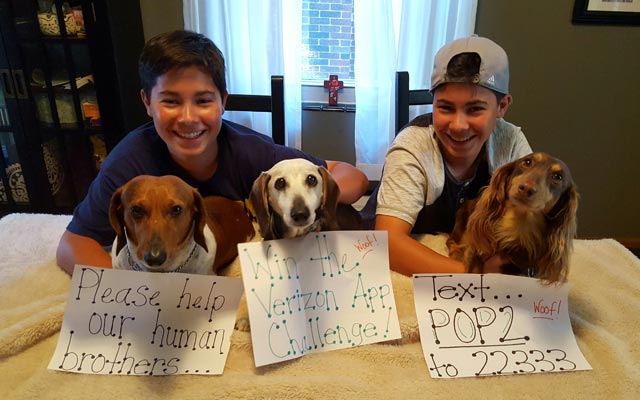 Sometimes, inspiration is looking right at you, or eating breakfast next to you, or nagging you about doing homework, or taking too long getting ready in the morning.
Sometimes, inspiration is family.
For many of the winners of this year's Verizon Innovative Learning app challenge, family was the not-so-secret sauce for victory. Of the nine winning teams this year, families and siblings collaborated to generate ideas, troubleshoot the tech and market their apps — and two were sets of identical twins!
Help a sister out
For Eashana Subramanian, 11, it was her younger sister, Meghana, 10, who inspired the idea for AutBuddy, one of the competition's winning ideas. The mobile app uses customized rewards to help those diagnosed with autism stay focused on daily tasks and communicate better with family members and teachers.
When the call for app ideas came to Eashana's Adventures in Science group, it didn't take her long to see how she could use technology to help her own family.
"She said she thought about the problem we have right in our home and the challenges we face with Meghana," said her mother, Gayathri Subramanian. "A lot of kids these days have been diagnosed with autism. [Eashana] thought the app could benefit her own house and the community."
Meghana was diagnosed with autism before she turned three. Since then, Eashana, a sixth-grader at Rocky Hill Middle School in Clarksburg, Maryland, has learned how crucial structure and routine is to her sister, and to others diagnosed with autism. "I have a connection with my sister and I am able to understand what she wants," Eashana said.
What emerged is AutBuddy, a mobile app where kids diagnosed with autism can express themselves with pictures that describe their emotions, or check off daily tasks that need to be done. At the same time, parents can write notes directly to teachers, giving them real-time updates on their child, such as what they ate and how that might impact their behavior at school. Teachers can also write notes directly to parents.
Meghana's mother, Gayathri, loved the idea that the app might help her communication with Meghana's teachers. And Eashana's mission to create something that might help her sister, as well as the rest of the family, was eye opening for her mother.
"I was surprised and touched," Gayathri said. "Sometimes we don't know the kids' capabilities." She added, "And we didn't know how much the challenges we had been facing impacted Eashana."
Family heartache inspires a solution
Pharm Alarm was another app motivated by a family member struggling with a health issue. The app aims to help families manage the medications of their elderly loved ones with Alzheimer's and dementia.
The idea was borne out of 13-year-old Elli Tilford's experience with her grandfather who passed away last October, the month they started working on the app. Elli's family lives in Kentucky and her grandfather lived in Pennsylvania. With the distance and the illness, her mother was having trouble making sure he was taking all of his medication. So Elli asked her team, "Is there any way we could help dementia patients take their medications?" It turned out that other members in the group had loved ones suffering from Alzheimer's and dementia as well. The topic resonated with everyone.
A family goes all in to bring home the win
Bringing home the win this year for Fan Favorite was an app called Protect Our Parks, where users can report graffiti and other issues about neighborhood parks and recreation areas directly to the city's call and complaint center. The idea raked in nearly 10,000 votes, snagging the title of Fan Favorite, thanks to the creative efforts of Reilly and Finn Gomez. The 13-year-old identical twins convinced their mom to chauffeur them around their city of Wyandotte, Michigan, to get the word out about the app.
And get around they did. With their mom's help, Reilly and Finn crashed the launch event for rapper 50 Cent's new vodka brand, canvassing the line asking people to text in "POP2" to #22333. Then they went before the Wyandotte city council, hoping to curry favor with city officials and gain a few votes from whoever tuned in to the live broadcast of the meeting. Finn used his own money to make business cards to hand out. The twins also sweet-talked two local pizza parlors to attach a flyer onto every pizza they delivered.
Then came the final push: bar hopping. At one point their town, Wyandotte, was in the Guinness Book of World Records for having the most bars and churches per capita. So the Gomez brothers decided to use the bars to their advantage. They had their mom drive them to bar after bar so they could run in, hand out a bunch of flyers, and skedaddle.
"We got to see all the city's bars before we turned 18," Reilly joked. (Mom Jennifer is quick to explain the bar blitz was during the day.)
"My husband would drive. We would open the back door the boys would run out," said their mom, Jennifer Herbert.
"Our family was a big part of this," Reilly said.
In the end their pavement pounding paid off in more ways that winning. Spreading the word about Protect Our Parks helped the brothers get out of their shy comfort zone and talk to people. "We got better at speaking in front of other people. Now I am not afraid," Reilly said.
"All the stuff we did, it greatly improved my public speaking," Finn added. "I definitely feel more confident."
If you have your own bright idea or personal story about how to change the world with a little help from technology, the Verizon Innovative Learning app challenge is open for submissions from August 1 through November 18, 2016. You can submit your idea and if it's chosen, Verizon will help you turn it into a working app.