Green Efforts Get Nod from Northern Virginia Chamber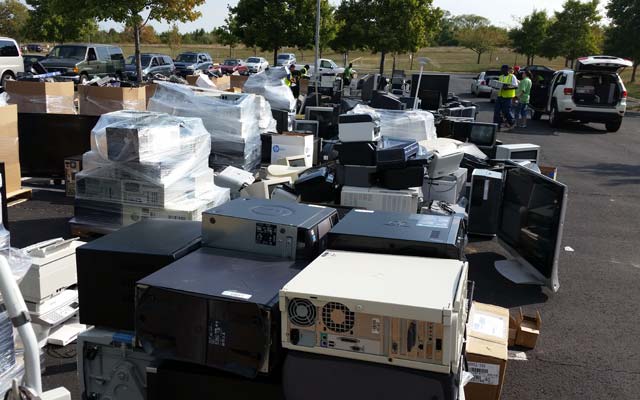 Verizon's sustainability programs have earned an Outstanding Corporate Citizenship Award for Sustainability from the Fairfax County Chamber of Commerce in Virginia.
The chamber award is presented for "environmental leadership and commitment to environmental excellence though outstanding and innovative sustainability practices."
Among Verizon's Green Team activities that snared the chamber award were the annual Recycling Rallies at Verizon's Ashburn campus, which to date have saved more than 191,000 pounds, or more than 95 tons, of electronic waste from Virginia landfills. The company also has been an annual sponsor of the EarthDay@Loudoun Family Festival, which last year was attended by around 6,000 families.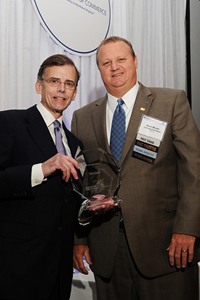 The award was accepted by Verizon State Government Affairs Manager Doug Brammer, who also was recognized with a Chairman's Award for longstanding service to the chamber through his involvement with the chamber's Valor Foundation, which provides post-secondary educational scholarships to children of the community's first-responder Medal of Valor recipients.
A Strong Commitment to Sustainability
Verizon has long focused on energy efficiency and sustainable real estate practices. Since 2009, Verizon has invested $160 million in green energy by building on-site fuel cell and solar energy generating systems at 25 of its facilities across the United States. Verizon also uses 26 solar-assisted cell sites in remote areas in the western United States to help power a portion of the nation's largest and most reliable wireless network serving those areas. 
In 2009, Verizon began certifying Verizon Wireless retail stores in the U.S. Green Building Council's LEED program (Leadership in Energy and Environmental Design). LEED certification means that a building is designed, constructed and operated to ensure energy savings, emissions reductions and improved environmental quality. By the end of 2014, 230 of the company's retail stores had earned LEED certification. In addition, Verizon also seeks ENERGY STAR status certification for all eligible retail stores that meet the U.S. Environmental Protection Agency's standards for energy efficiency and reduction of greenhouse gas emissions. By the end of 2014, ENERGY STAR® certification had been received for 177 Verizon retail stores.