How the Internet of Things can create congestion-free cities
Verizon's Intelligent Traffic Management solution is already changing the way cities plan their streets.
Full Transparency
More of our content is being permanently logged via blockchain technology starting [10.23.2020].
Traffic in cities is inescapable. Put a high volume of cars, trucks and buses on a severely space-constrained footprint and jams are bound to happen. All that congestion also contributes to unhealthy levels of carbon emissions, noise and stress. But it doesn't have to be this way.
Technologies being developed and piloted today can help alleviate congestion by taking data about regular traffic patterns and turning it into reduced travel time.
Verizon's Intelligent Traffic Management (ITM) is a data-driven traffic congestion solution that helps move people and vehicles through cities more efficiently. This Internet of Things (IoT) technology will empower city agencies to make measurably smarter decisions with limited resources. It's a cloud-based traffic management portfolio that gives city planners real-time data about the volume of commuters and robust insight into how streets are used. Verizon has already deployed this technology in Boston and Kansas City, and will continue to roll it out in more partner cities across the country.
The proliferation of IoT sensors, coupled with 4G network connectivity, has also given city planners a keener understanding of traffic patterns and infrastructure load. IoT sensors strategically placed throughout cities can arm government agencies with accurate, actionable data in near-real time. By harnessing this information, cities can work to ease commutes for everyone who shares the road.
"What we're doing is we're using sensors that are deployed in the pavement and using cameras that are deployed on traffic lights to help detect the people and vehicles that are on roads and use that data to help optimize the flow of traffic around cities," Sean Harrington, Verizon's VP of City Solutions, says. 
It's about making the lives of people in these cities a little bit easier. By taking away some of the time they spend in their cars and by reducing the number of accidents they face on the road.
Sean Harrington, VP City Solutions at Verizon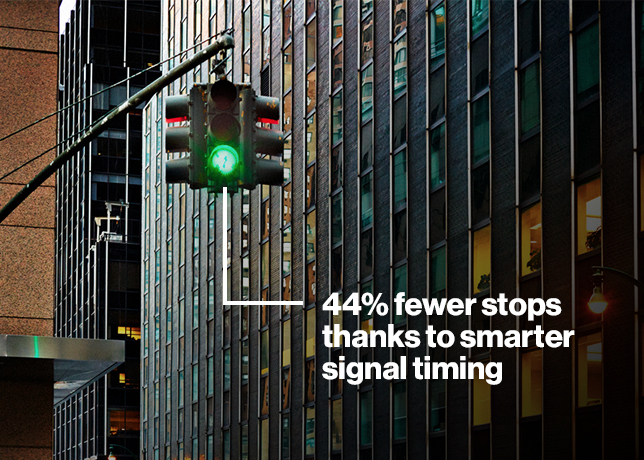 Here's a look at the 4 key elements of ITM and how it can make city traffic move more quickly and efficiently:
1. IoT sensors
Small sensors can solve big problems. By deploying sensors throughout cities, ITM can collect data on any number of issues — from which streets receive the heaviest usage to which arteries have inefficient traffic lighting patterns.
"We put sensors either in the ground or in the air to help us find and identify problems — and then help people go be more intelligent about how we would solve them," says David Tucker, Verizon Product Director for Traffic Management/Data Services. "Those sensors allow us to adapt traffic signals so that we can create better flow-through."
2. Real-time data
This isn't old-fashioned traffic monitoring, which has typically taken the form of biannual, weeks-long studies of 1 or 2 problematic city intersections. The IoT sensors collect anonymized, aggregated data in real time — from all over the city — that planners can then harness to make smart planning and resource decisions.
"City planners just don't know in real time what's causing congestion and they can't look holistically across the city," Tucker says. "They just don't have that information available."
Imagine 3 signals causing traffic to back up on a thoroughfare. Meanwhile, side streets are practically empty. Many city planners currently lack that degree of visibility — a blind spot that prevents them from potentially changing signal timing on the fly. ITM provides a solution, consistently feeding data back to decision-makers.
"We provide them with information that allows them to dynamically control signal timing or to change that as part of an ongoing plan," Tucker says.
3. More data, more often
It's not just real-time data capture, though. ITM opens a trove of traffic data to city planners that can be regularly referenced for more nuanced thinking around streets. This means weekly check-ups instead of annual or bi-annual check-ins.
"You can look back on a more frequent basis," Tucker explains. "So rather than looking at this once every year, or two years, or three years, we can look at it on a monthly or weekly basis to understand where problems have occurred."
4. Predictive road maintenance
Roads have it rough. Keeping them in good repair starts with understanding when, where and how streets endure wear and tear.
"Knowing how many vehicles have gone through areas and knowing the type or size of those vehicles allows city planners to do more predictive road maintenance," Tucker explains. IoT sensors can be installed in the pavement that will detect the frequency and type of vehicles passing above. This allows cities to manage roads proactively — before potholes and cracks appear.
The benefits of a data-driven city
"It's about making the lives of people in these cities a little bit easier," Harrington explains. "By taking away some of the time they spend in their cars and by reducing the number of accidents they face on the road." ITM works to alleviate congestion by implementing data-driven solutions, which in turn helps reduce emissions, noise and — yes — stress.
"The data helps city managers and planners better understand how to provide facilities for the citizens, which will then improve or reduce commute times and CO2 emissions," Tucker says. "To make it easier to commute within your cities. That's why we're in this — to help improve our citizens' lives."
How can sensors embedded in roads help save the Earth? Find out how. 
For related media inquiries, please contact story.inquiry@one.verizon.com