Internet Week and the Ever Connected Lifestyle
Internet Week and the Ever Connected Lifestyle
Erica Swallow: This sponsored article was written by Erica Swallow, a New York City-based tech and lifestyle writer, technology entrepreneur, and MIT Sloan MBA candidate. Erica's articles on entrepreneurship and startups have appeared in Forbes, Mashable
Over the past week, the New York tech scene celebrated its sixth annual Internet Week, which this year emphasized how technology is disrupting every sector of business, including media, finance, education, health care, food and fashion.
Many of the festivities, from panels and keynotes to parties and Meetups, showcased the ever evolving and connected lifestyle that New York's early adopters live and demand.
For starters, the 17th Annual Webby Awards—one of the week's most anticipated and star-studded events, which honors excellence on the Internet—is a great indicator of what digital services consumers and the Webby Awards' 1,000+ judging body find important. What seems to be telling is that two of the top six Webby winners—Dropbox and HBO Go—help people stream media on the go and between devices, enabling them to live a connected lifestyle. Netflix and Hulu also took home Webbys for their media streaming and web TV prowess, respectively, even more indication that media technology plays a prominent role during Internet Week.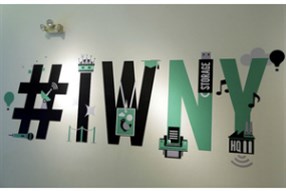 Voter love for Dropbox, HBO Go, Netflix and Hulu at the Webbys aligns with consumer research in the media space, which shows that 49% of U.S. adults watch or stream movies or TV shows from services like Netflix or Hulu, according to Verizon's 2012 Borderless Lifestyles survey. Nearly half the American adult population? That's a healthy chunk.
In other Internet Week events, the presence of the connected lifestyle was felt, too. At the Webutante Ball, the headliner party of the week, attendees snapped shots in the Bosco photo booth and then automatically shared them via Facebook, Twitter and email on the photo booth's iPad-equipped kiosk.
Speaking of tablet devices, there was also much talk about second-screen experiences and the growing number of devices that individuals are toting around. We've got cell phones, laptops, e-readers, and tablets, some of us toting one of each around on any given day.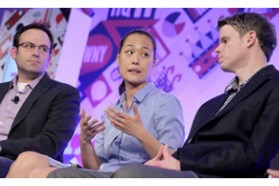 Our multi-device consumption habits are affecting industries across the board, too. Taking the stage at the Metropolitan Pavilion, which acted as Internet Week Headquarters during the festivities, Forbes' J.J. Colao, Ansible Mobile's JiYoung Kim, eMarketer's Noah Elkin, and Carat's Jason Newport discussed the future of cross-device advertising in the world of multiple device usage. Another group of panelists talked about how consumer mobility is affecting the world of publishing and whether mobile-first publishing is the future and which players are aligned to win, given the current landscape.
This year's list of Time Inc.'s 10 NYC Startups to Watch also honors a couple startups that further human connectedness. One of the 10 startups, Klooff, even helps people stay connected with each other over their pets with its mobile app that acts as the ultimate social network for pet lovers. A quick glance at Klooff's Facebook Page, which stands strong with 204,000 Likes, gives insight into just how excited pet lovers are to share photos of their dressed-to-the-canines pups and purrrfectly pretty kitties. Has there ever been a sweeter, fluffier reason to be super digitally connected? I think not.
Internet Week 2013, with its more than 200 events city-wide, has again knocked the socks off of its geektastic event goers, proving once again that New York's tech scene is strong and ripe for innovation and that as consumers we will continue to get more connected as technology evolves. Here's to another year of disruptive innovation!
All images, including the #IWNY, panel, and lanyards photos, are courtesy of Insider Images/Andrew Kelly for Internet Week NY.