Ushering in the next-gen of health care with the Internet of Medical Things and 5G
Whether you are a hospital inpatient or an at-risk patient far from a clinic, new devices and sensors could revolutionize the care you receive while also lowering healthcare costs.
Full Transparency
Our editorial transparency tool uses blockchain technology to permanently log all changes made to official releases after publication. However, this post is not an official release and therefore not tracked. Visit our learn more for more information.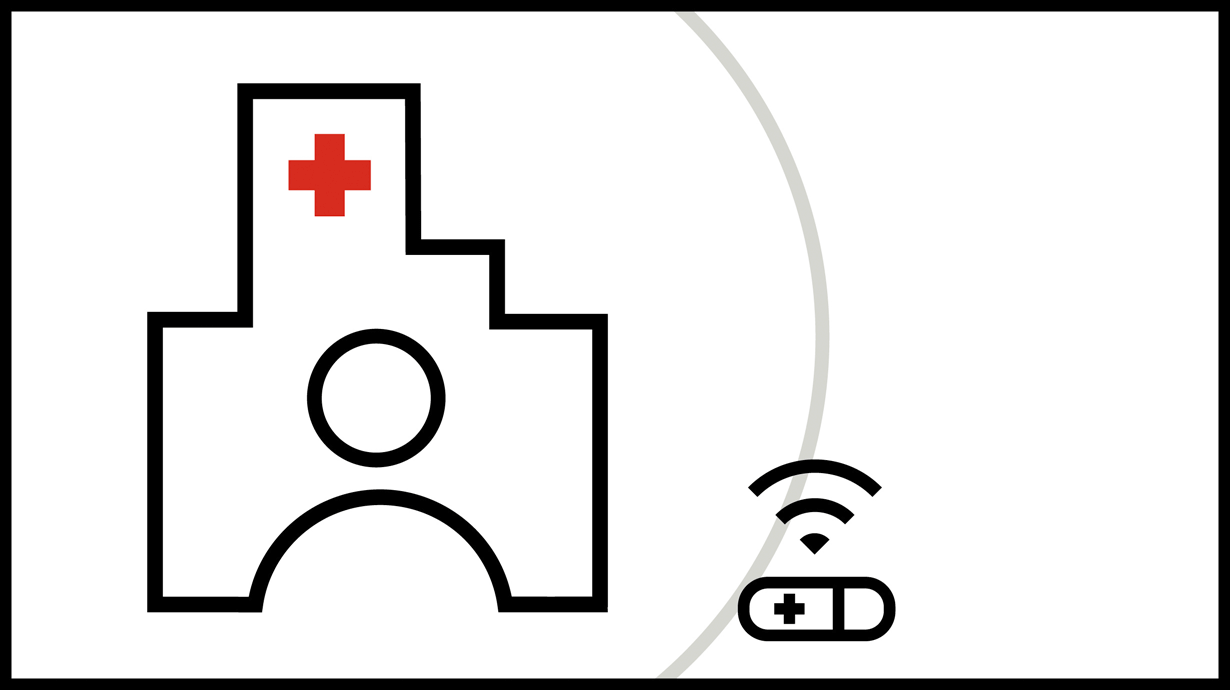 You may have heard of the Internet of Things, or IoT for short, but are you familiar with the IoMT — the Internet of Medical Things?
The Internet of Things is a summary term representing the millions, and soon billions, of devices that are being connected to the Internet, like smart refrigerators, Wi-Fi-enabled fitness trackers and even connected vehicles.
The Internet of Medical Things represents a significant subcategory encompassing everything health care–related. And it's 5G that could make much of the IoMT frontier possible. Thanks to 5G, the developers of these devices now can take advantage of the data transfer speeds required for the real-time solutions physicians need and for connecting IoMT devices to each other and to the managed servers and databases that keep track of them.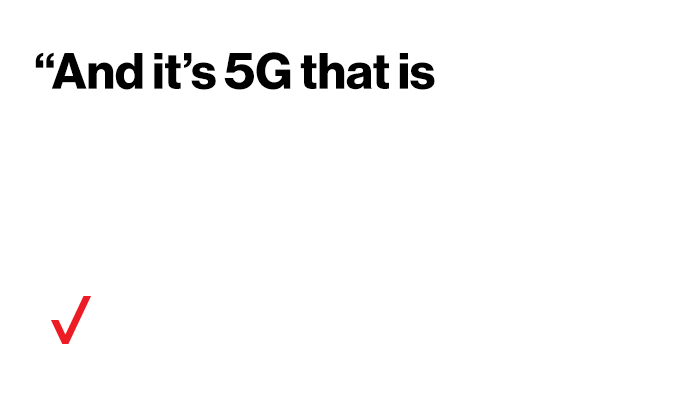 IoMT in the Hospital
We all receive a plastic bracelet when we're admitted to the hospital, whether it's in the emergency room, or for a scheduled procedure. It includes identification information like our name, birthdate, blood type and so on. But your next bracelet could be more like a smartwatch. Besides helping to identify you, it could be associated with your medical records, help identify your physical location in the hospital (tracking how long you've been in, say, the ER waiting room) and potentially even monitor your vital signs. And this bracelet could be connected to a private 5G network within the hospital, providing the connectivity benefits of 5G while securely transmitting your information.
That's just the beginning. Just as a smartwatch adds new features every year, the IoMT devices within the hospital could become more sophisticated over time. Beyond basic vital signs, that bracelet might monitor your oxygen level, take an electrocardiogram automatically, and alert the nurses if you've fallen. Your bracelet could become a nurse's assistant to do basic tests and keep a close eye on you.
With an integrated device such as this bracelet, the savings of staff time could grow dramatically. Given that there is a huge nursing shortage looming — the World Health Organization predicts that there will be a shortage of 18 million health workers by 2030 — being able to reduce the need for nurses and other health care staff without cutting back on care would be a huge boon to hospitals.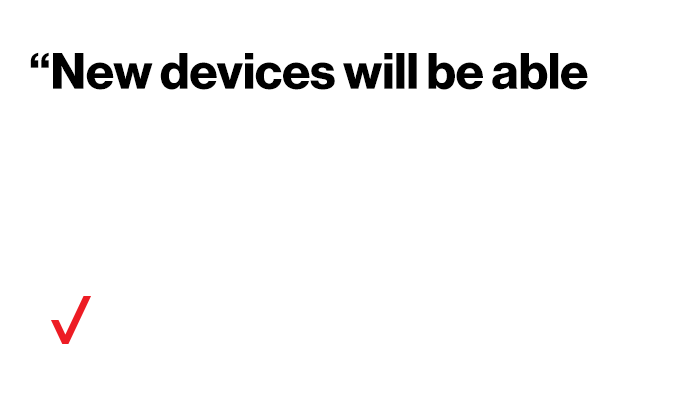 Other new devices may be able to help doctors diagnose more problems without doing invasive tests. For example, some traditional procedures like an endoscopy can now be done in a much less invasive way using pills that have small cameras embedded in them. When a patient swallows the pill, it transmits images to a video recorder in the exam room. The camera-equipped pill can see parts of the gastrointestinal tract, for example, colon polyps in patients with evidence of gastrointestinal bleeding that may be missed during a routine endoscopy.
With 5G integration, these camera-equipped pills could potentially offer higher resolution imaging and be used outside a hospital or clinic setting while still transmitting images to a physician in near real time. There could potentially be significant cost savings by replacing resource-intensive invasive procedures with non-invasive technology.
IoMT at Home
Wouldn't it be great if your doctor could monitor your vital signs at home just like while you were in the hospital? That ability is just getting started. And this is really where 5G could change everything. Connectivity and fast data transmission are the hallmarks of 5G and could fast-track remote care monitoring (RCM) devices. And communicating medical information in a timely and reliable manner can mean life or death. Suppose a patient has a chronic kidney disease, and careful blood monitoring could prevent kidney failure. A 5G-connected RCM device could send an alert to both the patient and their doctor if their blood pressure spikes or glucose levels rise and immediate care is needed.
Or perhaps a patient has just been discharged from the hospital after a mild heart attack, and very close monitoring for any arrhythmia is extremely important. An RCM device could monitor their heartbeat and transmit that data to their doctor's phone. The doctor could keep watch on you whether you are 20 or 500 miles away.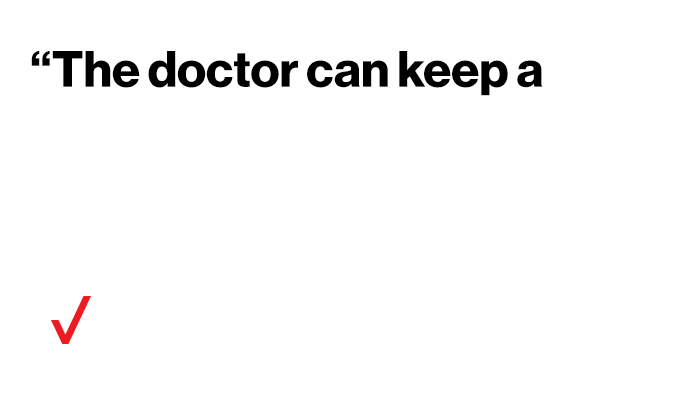 These types of RCMs already exist for diabetes patients who need minute-by-minute glucose monitoring. Smart pills are already in use — oral medications equipped with ingestible sensors that, when activated by stomach acids, transmit messages to a smartphone app and, if you choose, your doctor. These smart pills could potentially also let doctors know that patients with dementia or mental health problems are taking their medication.
To put the potential savings of home care into perspective, consider that the average cost of staying in a hospital in the U.S. is $4,000 per day. And the average total hospital visit is five days, or $20,000. If a doctor could keep a patient out of the hospital, or the hospital could discharge a patient two days early, but still monitor them and provide a high level of care while they're at home, that could add up to significant savings for the patient. Because of the combined power of IoMT and 5G, this scenario is becoming increasingly possible and is poised to have a dramatic impact on our healthcare.
Investing in Innovation with IoMT and 5G
The IoMT was already in super drive before COVID-19 arrived — 500,000 medical technologies were either deployed or in development in 2018. But the coronavirus has drawn even greater attention to the ways technology can transform health care to make it better and more efficient. Investment in health care technology this year has broken records. In the first six months of 2020, $9.1 billion was invested, a 19% increase over all of 2019.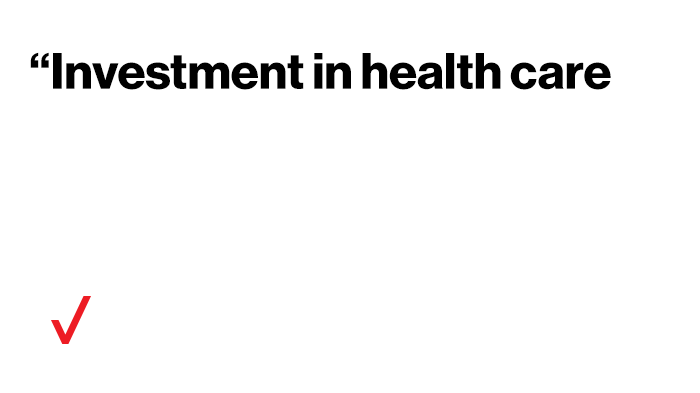 The mainstream is now completely rethinking how we administer health care, not so much by choice but out of sheer necessity. When there are some cities in our country running out of hospital beds, and not always enough staff to tend to patients in need, we're forced to look for alternatives. Luckily, developers and researchers are already thinking about how to make health care more efficient through technology, and 5G could deliver the network needed to turn their ideas into real solutions.
Know someone who could benefit from health care helped by the IoMT? Share this story.
Achieving even small efficiencies through technology can cumulatively amount to large savings: Reducing the time a nurse spends taking vital signs by one hour per day, for instance, or shortening a hospital stay by 24 or 48 hours. We knew the 5G network combined with IoMT could bring these positive changes to health care, but now we know how much we need it to transform a health care system being tested in ways we could never have imagined.