Link to Verizon Visual 411, Find and Contact Businesses, Score Money-Saving Coupons - and Get a Chance to Win $2,500!
Link to Verizon Visual 411, Find and Contact Businesses, Score Money-Saving Coupons - and Get a Chance to Win $2,500!
Limited-Time Sweepstakes Offers a Grand Prize of $2,500, Plus Other Awards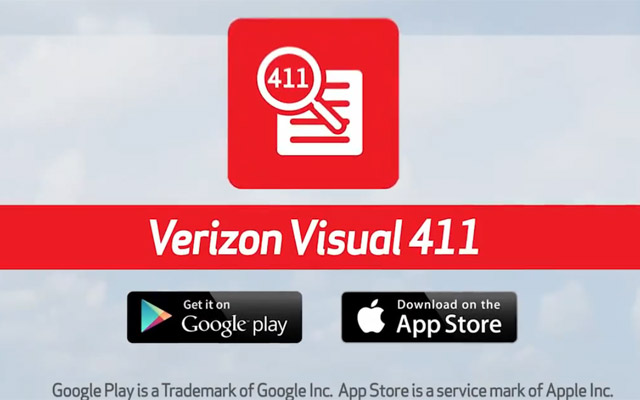 NEW YORK – Verizon is sponsoring its second annual sweepstakes offering 13 prizes ranging up to $2,500 when consumers use Visual 411, Verizon's free business directory service. Accessible from PCs, laptops, tablets, smartphones and FiOS TV, Visual 411 is an exciting app that delivers money-saving coupons, business phone numbers, addresses, directions, weather, traffic and more.
Customers can enter the sweepstakes, beginning now and running through Jan. 19, 2014, by visiting the official registration site, vz411.com, to answer a daily question about the new Visual 411 business search app. Answers, right or wrong, will result in a qualified entry, and consumers can visit the site each day to provide another answer and receive a new entry. Consumers are limited to one entry per day, though there is no limit to using the service. A random drawing will be held on or about Jan. 21. Eligible entrants will have the opportunity to win $2,500 as the grand prize. Four $250 prizes and eight $25 prizes will also be awarded. 
Official rules for the Verizon Visual 411 sweepstakes can be viewed here.
About Visual 411
Verizon Visual 411 is a multichannel, integrated approach to providing free directory services across multiple screens (TV, mobile phone, laptop, tablet and TV). With one click, consumers can look up business addresses and phone numbers; find coupons featuring special offers; and get maps and directions, weather forecasts, traffic reports and more. Visual 411 also allows consumers to share this information directly from the app via email, SMS, Twitter, Facebook and Google Plus. Businesses also benefit from the additional exposure.
"We are excited to highlight the next evolution of Verizon Visual 411 while also encouraging more consumers to familiarize themselves with the site," said Sandy O'Brien, executive director, Verizon consumer and mass business markets. "We have added even more coupons and new functionality so users can benefit by getting great deals, directions, traffic, weather and more. The value and benefit of accessing relevant local search information from one source really does resonate with consumers."
Verizon's Visual 411 was launched just over one year ago. During the past 12 months, the site has seen daily visits increase nearly 300 percent and has delivered thousands of coupons for a variety of businesses and promotions. Consumers have also routinely used the site for directions to businesses, contact information and more. To learn more about Verizon Visual 411, consumers can visit www.verizon.com/visual411; download Verizon Visual 411 from Google Play or the AppStore; text "JOIN" to 463648 from their mobile phone; or launch the Visual 411 widget on FiOS TV.
To learn more about Visual 411, view the videos at http://youtu.be/xE-HjuQWDbs and http://youtu.be/uzO_dL0mnbM.
Verizon Communications Inc. (NYSE, Nasdaq: VZ), headquartered in New York, is a global leader in delivering broadband and other wireless and wireline communications services to consumer, business, government and wholesale customers. Verizon Wireless operates America's most reliable wireless network, with more than 101 million retail connections nationwide. Verizon also provides converged communications, information and entertainment services over America's most advanced fiber-optic network, and delivers integrated business solutions to customers in more than 150 countries. A Dow 30 company with nearly $116 billion in 2012 revenues, Verizon employs a diverse workforce of 178,300.  For more information, visit www.verizon.com.
####