Live Stream Your Wedding Affordably Thanks to Technology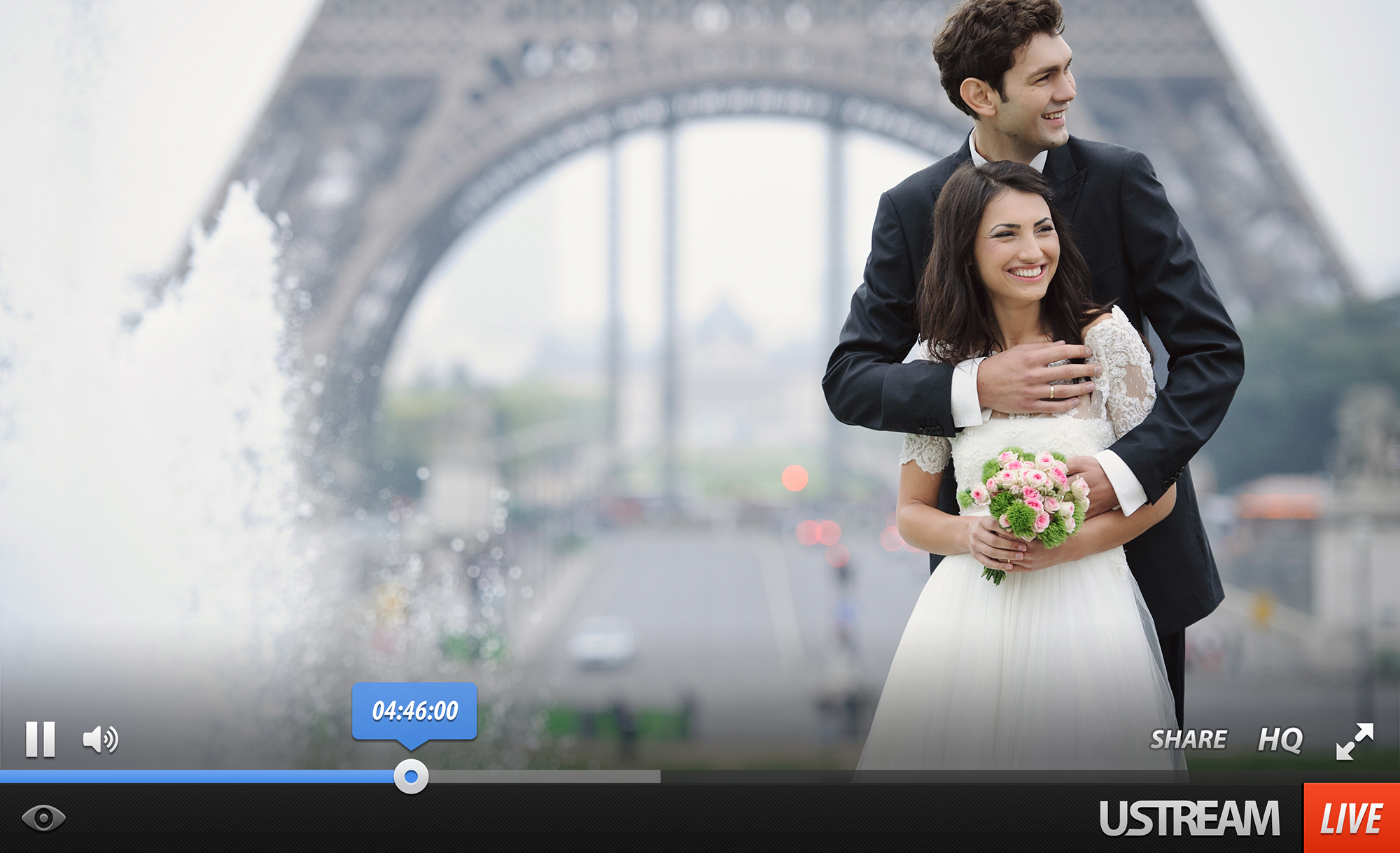 Is your wedding budget too teeny to fly in the sheep-herding cousins from Australia for the big event? Ustream.tv has a solution that's growing in popularity. You can live stream your wedding for the largest audience possible from a smartphone or laptop. After all, technology and wedding planning are the perfect couple.
How popular is this very affordable service? Last year, nearly 20,000 weddings were broadcast over Ustream.tv. So your sheep herder cousins Down Under are now covered for sharing your wedding dance and cake-eating moments.
Here's how it works:
People can stream for free (with ads), or buy plans for $99. A number of plans are available, and a friend or relative can film with mobile devices, laptop webcams, tablets or integrated cameras.
Some people may opt for premium packages, but with everyone looking for a way to cut costs, the company says their options offer flexibility for those who want to spend more time making a memory than paying for a memory.
Videos can also be stored in the Ustream cloud for $15 a month or downloaded to computers.
What do people do with their video savings when they whittle costs? They may use it to pay for exotic destination weddings and honeymoons. According to Ustream.tv officials, two of the most popular locales outside the U.S. for weddings are India and Australia. The most popular months for filming and broadcasting are June, July and August.
A couple of other interesting stats about live streaming your wedding:
About 60% of users keep their videos public.
About 40% of those viewing videos are viewing from mobile devices.
There are plenty of apps out there to help keep you organized for your upcoming nuptials (including bridesmaid apps), so keep your smartphone nearby when it comes to planning and collaborating with relatives and guests.
According to GeekSugar.com, don't forget another cheap and simple option for a smaller wedding share. Skype is a great free option if you are including just one other person. To include more people, sign up for Skype Premium ($10 per month), which allows group chats with up to 10 people.
Remember, weddings aren't cheap. According to TheKnot.com's annual survey of nearly 13,000 brides, couples spent $220 per guest on food and entertainment in 2013 (up nearly 8% from 2012).
Now, who's ready to do the polka, the electric slide or the chicken dance and live stream your wedding?
For more Verizon Wireless news, subscribe via RSS feeds in the right rail.