Love & boba tea: A Texas couple grows their business and community
With a grant, and new skills learned through Verizon Small Business Digital Ready, Jaja Chen and Devin Li amp up their mission to bridge cultures—one boba tea and dumpling at a time.
Full Transparency
Our editorial transparency tool uses blockchain technology to permanently log all changes made to official releases after publication. However, this post is not an official release and therefore not tracked. Visit our learn more for more information.
On a beautiful Saturday morning, Jaja Chen, co-owner of Cha Community, is serving up cups of boba tea, pan-fried dumplings and conversation from her food truck at the Waco Downtown Farmers Market in Waco, Texas. Her husband, Devin Li, joins in the fun, working alongside his wife and business partner with upbeat energy and a smile to match hers.
Only months ago, however, this entrepreneurial couple was facing a mighty challenge. Inflation in construction costs threatened to derail the opening of the second brick-and-mortar location of Cha Community. To help overcome the setback, Chen signed-up for Verizon Small Business Digital Ready, tapped into the courses there, and applied for a $10,000 grant available to eligible businesses. A month later she was notified that she had received the grant—and had enough funding to continue with the opening. "We got the grant at the end of December. It was such an honor—and truly a merry, merry Christmas," Chen says.
Getting beyond breaking even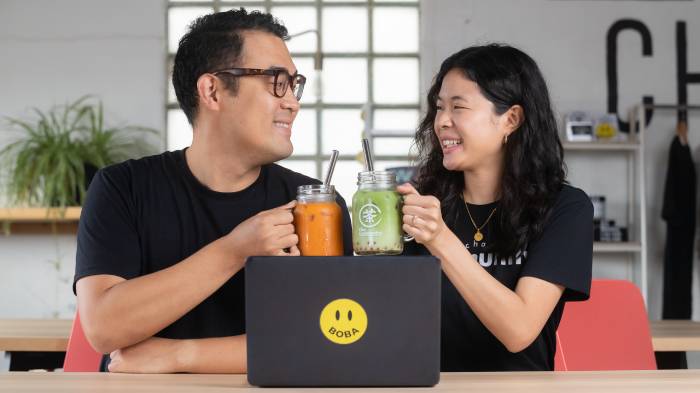 In less than four years, Chen and Li have gone from a Saturday pop-up tent at the farmers market to a mobile tea truck, two brick-and-mortar locations, and a catering service. Credit: Micahel Cirlos
With the grant money, Chen and Li were able to offset the rising costs of labor and materials. But Chen also found, to her surprise, that the knowledge she gained from the free personalized courses at Verizon Small Business Digital Ready was just as valuable as the grant.
"The courses challenged me as a business owner," says Chen. One course, for example, pushes small business owners to reconsider their prices. "I realized we had to increase our price point to keep our business profitable," Chen says. She also identified top areas in which to reduce costs, and modified the company's website to increase search engine optimization and make ordering online easier. All of which helped take Cha Community go from breaking even to profitability.
'Be the change'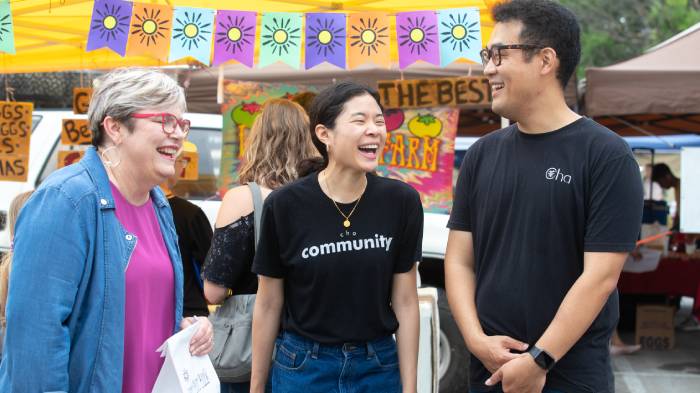 Chen and Li run into Dr. Robin McDurhan, CEO of Waco Transformation, and a customer of Cha Community. The couple's shared experience of immigration, and yearning to belong, inspired them to focus on community building. Credit: Michael Cirlos
Chen was born in Oklahoma and immigrated to Taiwan at age 13, before moving back to the states for college. Li was born in China, and moved to America at age 13. In 2012, the two met and fell in love at Baylor University in Waco, and got married in 2015. Later, while pursuing their careers, the couple started to feel a cultural disconnect in social settings. They would be asked where they were really from, where their real home was, or get comments on how their English language skills were so good 'for an international student.' Chen says she saw the need to create a cultural bridge in their city. "Instead of waiting for change to happen and hoping for it, we needed to be the change we wanted to see in our community," she says.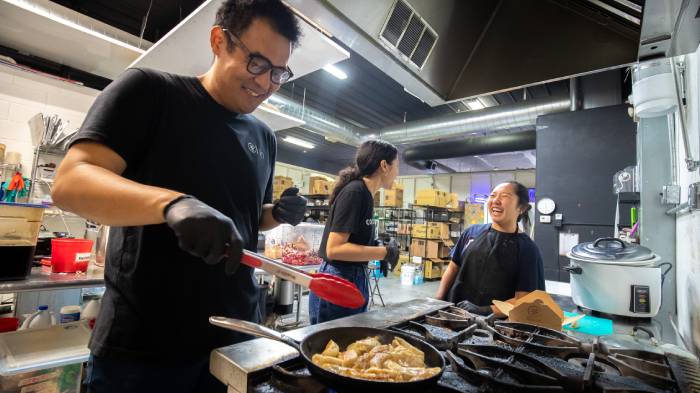 Chen and Li's dumpling making workshops at local nonprofits were a hit—and soon they opened their first storefront. Credit: Michael Cirlos
The business would be the beginning of that bridge. The couple began Cha Community with homemade boba tea recipes they whipped up in their kitchen and served from a tent at the farmer's market. "Cha is Chinese for tea," Chen explains. Soon, they started hosting Dumpling Night Workshops at local nonprofits, to help build a more inclusive community in Waco.
In just three years, the business had grown beyond the workshops and market, and the couple opened a restaurant in downtown Waco in 2020. Today, Cha Community comprises a food truck, catering service and two brick-and-mortar locations. Their diverse staff of 25 employees speak a total of seven languages, and are majority women and people of color.
Looking and loving ahead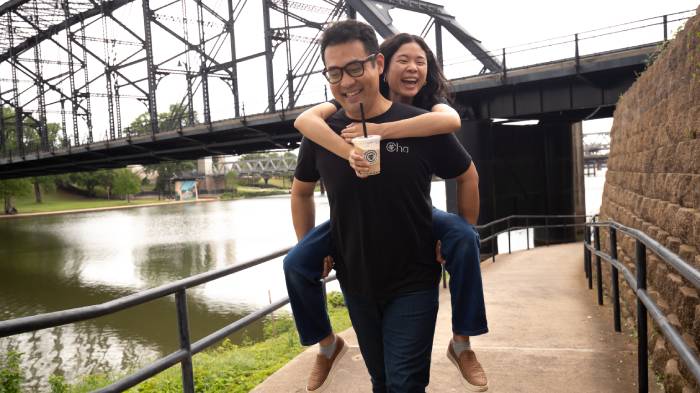 "Our relationship is built on authenticity, simplicity, mutual trust, and collaboration," Chen says. "We have learned to work together." Credit: Michael Cirlos
After so much growth, Chen says she'll continue to chart the company's course using insights from Verizon Small Business Digital Ready. Since catering and events are Cha Community's strongest area, Chen and Li decided their next move will be a marketing campaign to promote them. "The courses stopped us from wasting time," Chen says. "I already had some of these business skills, but the courses helped me to put things into action."
Verizon Small Business Digital Ready provides free personalized courses, live coaching, networking, planning aids, and grant opportunities for eligible small businesses. To sign-up for this program, click here.