Make Your Pick: Mayweather vs. Maidana II
Make Your Pick: Mayweather vs. Maidana II
Ding! Ding! Predict The Outcome And Win With Verizon FiOS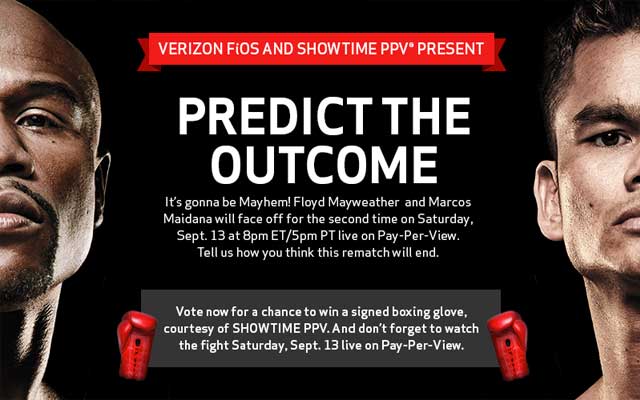 This Saturday, Showtime PPV takes you ringside at the MGM Grand in Las Vegas, as an undefeated Floyd Mayweather Jr. squares off against Marcos Maidana for the second time in six months. The evening's card begins at 8:00 p.m. EST, but Verizon FiOS has fans weighing in on the evening's outcome right now on Facebook.
Through the "Predict The Outcome" app on the official Verizon FiOS Facebook Page, fans are able to predict eight different outcomes for Saturday's match in Vegas. By making your prediction you're automatically entered for a chance to win a pair of autographed boxing gloves courtesy of Showtime PPV.  It's that simple.
In the fighters' first meeting, they went the distance with Mayweather Jr. being ultimately declared the statistical winner of the bout by majority-decision over Maidana. Boxing pundits see Maidana, as the biggest challenge of Mayweather's career. Now it's your chance to lend your expert opinion, by submitting your vote!
Order the 'Mayweather vs. Maidana II' with your remote or online today!