New Jersey Community Leaders Gather Sept. 18 at Saint Peter's University for Sustainability and Small Business Summit
New Jersey Community Leaders Gather Sept. 18 at Saint Peter's University for Sustainability and Small Business Summit
Panel Discussions to Focus on Sustainability Strategies for Small Businesses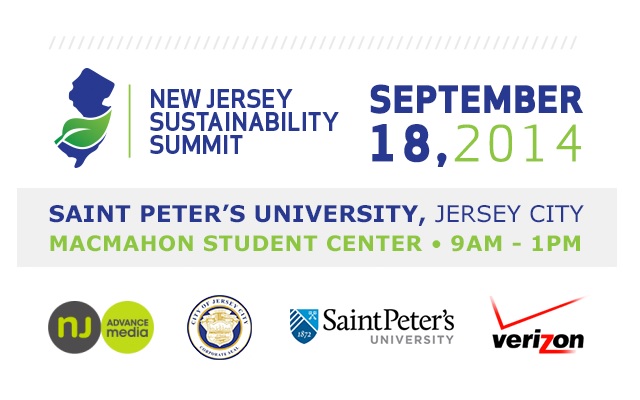 Watch 

LIVE

 beginning at 9:00 a.m. EST: http://vz.to/GreenBizSummitLive 
JERSEY CITY, N.J. – More than 200 small business owners and community leaders from across northern New Jersey will gather tomorrow (Sept. 18) at Saint Peter's University's Mac Mahon Student Center for a Sustainability and Small Business Summit, featuring a series of panel discussions with industry experts to educate small-business owners on how to make sustainability a part of their business strategy, reducing costs and increasing profits.
Verizon is partnering with the city of Jersey City, the New Jersey Technology Council and NJ.com to host the event, which will feature discussions with executives from Verizon, PSE&G, the New Jersey Chamber of Commerce and other leading private and public organizations. Summit panelists will equip the audience with information on how to identify available resources, utilize innovative tools, foster new partnerships and share best practices among their peers.
"Profitability and sustainability are not mutually exclusive," said James Gowen, Verizon's chief sustainability officer and a featured panelist at the summit. "In an increasingly competitive marketplace, going green can help a small business gain an economic advantage.  This summit will put the spotlight on how small businesses can save money, increase profits and reach their full potential, both economically and environmentally."
The event, which runs from 9 a.m. to 1 p.m., features the following speakers/panels:
Opening Speaker:


Vivian Brady-Phillips, Jersey City deputy mayor

The Art of Sustainability: Doing well while doing good -- a discussion of how small businesses can save money and increase profits while reducing their impact on the environment. Panelists will share best practices in reducing energy and water use, improving logistics and minimizing waste


Dr. Eugene Cornacchia, president, Saint Peter's University
Pam Mount, owner, Terhune Orchards
Dan Kennedy, assistant commissioner, Water Resource Management, New Jersey Department of Environment 
Joseph Prusik, manager, asset management renewables, PSE&G

Tools To Go Green: Panelists will provide the audience with information on how to identify available resources, utilize sustainable technologies and foster private and public partnerships to achieve sustainability goals.


Adam Zellner, president, Greener by Design
Mayor Chris Bollwage, Elizabeth, New Jersey
Paul VanGelder, vice president for power and energy market development, CHA Inc.
Ed Kuroka, program manager, NJ Small Business Development Center

Colloquy: 'A Leadership Perspective on Sustainability in Small Business'


Randall Solomon, co-founder of Sustainable Jersey and senior Adviser, The College of New Jersey
James Gowen, chief sustainability officer and vice president of supply chain operations, Verizon
Tom Bracken, president, New Jersey Chamber of Commerce 
Jeana Wirtenberg, co-founder and senior adviser, Institute for Sustainable Enterprise
Sustainability is a key initiative for Verizon in New Jersey, where it has invested more than $34 million in green energy over the last two years and hosted free electronic recycling rallies. Verizon's green energy projects in New Jersey are improving its business operations while reducing its carbon intensity.