No Matter What Color You Pick, Electric Vehicles Are Green
No Matter What Color You Pick, Electric Vehicles Are Green
By John Dorn, Verizon Green Team member, Irving, Texas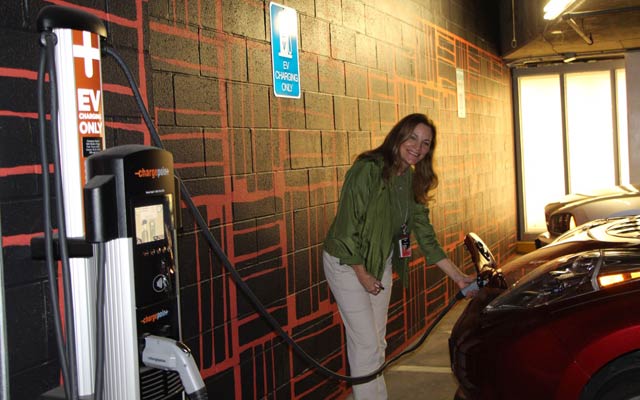 As a Verizon Green Team member, I am always thinking about ways to work green and live green. That mindset travels with me during my commute to our Irving, Texas, campus, where I am seeing more Verizon employees switching to hybrids and electric vehicles. 
Upgrading to a cleaner vehicle has its green perks and rewards, especially at Verizon. In Irving -- and at many other Verizon campuses – Verizon has dedicated "EV Parking Only" spaces for our green-driving employees and guests. Those spots also provide an electric-vehicle charging station installed by ChargePoint.
During our recent Earth Day celebration in Irving, Verizon's chief sustainability officer, James Gowen, presented ChargePoint with Verizon's Supplier Environmental Excellence Award.
"Verizon is committed to reducing its impact on the environment and encouraging our employees, customers, communities and suppliers to do the same," said Gowen. "Installing electric-vehicle charging stations helps motivate and reward employees who choose to adopt more environmentally friendly transportation options."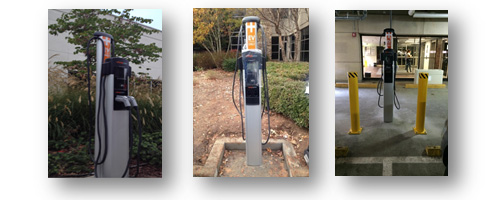 The EV charging station in Irving was installed after Verizon and 13 other companies were the first to join the U.S. Department of Energy's Workplace Charging Challenge. The goal of the program is to increase the number of U.S. employers offering workplace charging by tenfold over the next five years. Verizon encourages green commuting by enabling our employees to charge their electric vehicles at multiple work locations. By working with ChargePoint, we have installed EV charging stations at the following Verizon campuses:
| | |
| --- | --- |
| Irving, Texas | Tulsa, Oklahoma |
| Lake Mary, Florida | Temple Terrace, Florida |
| Alpharetta, Georgia | Basking Ridge, New Jersey |
| Little Rock, Arkansas | San Jose, California |
It is energizing to see the electric-vehicle charging program in action. It keeps me thinking about my next commuting vehicle and my green-driving options.