Offering the benefit of parenthood
How Verizon's Adoption Assistance Program helped one V teamer expand his family.
Full Transparency
More of our content is being permanently logged via blockchain technology starting [10.23.2020].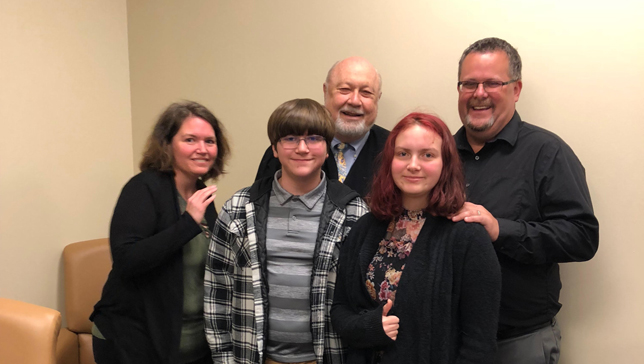 While anyone can be a father, it takes a special person to be a dad. At Verizon, we understand that all families are unique. V teamer Kevin O. shares how Verizon's Adoption Assistance Program helped him grow his family by two.
Completing the puzzle.
For Kevin, adopting the step children he  always considered his own made his family complete. With Verizon's Adoption Assistance Program, he could afford the costs officially to adopt his stepchildren. He shares, "Adoptions can be  expensive, even in my case where I was adopting within my family. Verizon gave me the blessing to accomplish this without putting a hardship on us."
A game (name) changing moment.
Our name defines us. Sharing his last name with  his stepchildren was Kevin's dream. He points out the importance of this saying, "I have never used the term stepchild and they have never called me their stepfather.  I have always been Dad. There was always a reminder though because they had a different name." Because of benefits like legal, travel, and medical coverage, Kevin adopted his children and they adopted his last name.
What's in a name?  In this case, it's everything.  It's being 100% a part of something and not feeling like anyone sees you differently.  It's about being one. Several members of my Verizon family knew that this was in process and my team, supervisor, and leaders were so excited and supportive.  It's another reason I love my job.
Balancing work and fatherhood.
Becoming Dad was a natural step for Kevin. The benefits of adoption assistance coupled with the ongoing support of his team made the process seamless. Kevin says, " There were so many variables and things that could go wrong.  All that was before I actually put in for Adoption Assistance. It gave me a huge piece of mind."." Verizon offers the Adoption Assistance Program as part of our continuing effort to help employees achieve a better balance between work and family life. For Kevin and his family, this benefit was priceless.
Learn more about Verizon's Adoption Assistance.