Patrick takes pride in his family.
A family of love, laughs and adventures.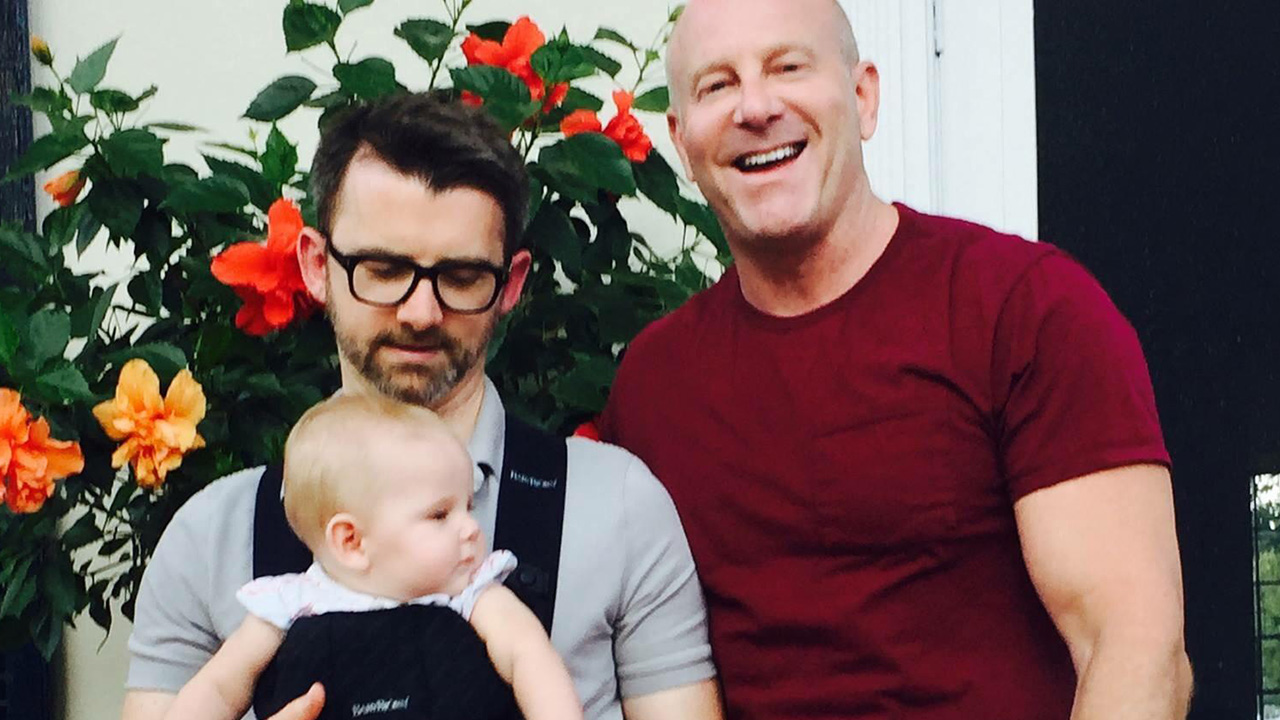 Patrick Flaherty, of our Legal team, met his husband J.B. nearly eight years ago. It didn't take long for them to realize they had something special, and the only thing missing was children of their own.
Their journey was often one filled with disappointment and frustration, but that's all behind them now.
Good things come to those who wait.
Patrick and J.B. never expected their desire to become parents to be as stressful and costly as it was. Throughout their experience, they had used four egg donors, three surrogates, three fertility clinics, and dealt with the sadness of several miscarriages. Even while on an emergency work assignment three years ago, Patrick moved mountains to fly to Las Vegas and back for a quick procedure.
Everything Patrick and J.B. endured was worth it when they welcomed their daughter Nora on February 22, 2017. Two years later, with the same surrogate, they welcomed Ronan on February 28th. Patrick recalls the harrowing ride in an Ohio blizzard to meet his son; arriving to the hospital within one hour of Ronan's birth. Even the doctor arrived just 20 minutes before the delivery.
Changing up the routine.
Patrick has modified his work schedule in order to spend quality time with Nora and Ronan. Early mornings are for family breakfasts and walks with the stroller to the dry cleaner. He's fortunate to have a short commute to his Washington D.C. office, because after a long day, he's still able to see Nora before her bedtime.
Patrick and J.B. are grateful for our parental leave benefit; affording paid leave time to care for and bond with the babies for a few weeks. Due to his commitment to a smooth Verizon 2.0 transition, Patrick came back to work early after the birth of Ronan. He has a few more weeks he'll use in the future, and he's looking forward to having that time with his babies, and Sophie of course. J.B. and Patrick appreciate the help they get with the kids from their good friends.
A challenge and a blessing.
As if parenting an infant and a toddler isn't already a handful, Sophie the 8-year old labrador retriever keeps the two dads busier than they'd care to be. But they wouldn't trade it in for the world because Sophie helps create great family moments too.
When Patrick and J.B. turn their backs for a moment, Nora slips away. They know the first place to check -- Sophie's crate. They can't help but laugh at the cuteness, but don't find it very funny when Sophie steals Nora's food.
Already an international traveler.
Patrick is originally from Ireland and tries to visit with his family as often as possible. Nora has already traveled to Ireland three times. And when she's back on U.S. soil, she Facetimes and What's App's with her relatives across the pond...with the help of her dads of course.
Traveling with a baby has been a learning experience. Due to TSA restrictions, you cannot bring milk through security. They learned the hard way that milk isn't served on a plane. Who knew? Each time they travel, they learn something new that helps them for the next trip. They'll be real pros by the time Ronan travels abroad.
Due to varying state laws, having a child via a surrogate is challenging. There are many forms to fill out requiring modifications, like crossing out 'her' and adding 'him.' I found myself getting frustrated because it seemed like everyone around me had kids. But it all worked out and J.B. and I are very happy.
Congratulations on your beautiful family Patrick and J.B. Enjoy making memories -- Happy Father's Day!