A Practical Road Map for Sustainable Value Creation
A Practical Road Map for Sustainable Value Creation
Guest Contributors: Sumit Banerjee and Robert McNamara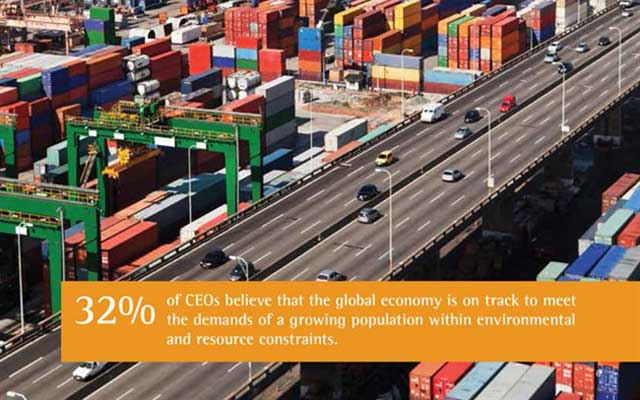 Guest bloggers Sumit Banerjee (Managing Director, Management Consulting Communications Industry Practice) and Robert McNamara (North America Sustainability Services Practice Lead) from Accenture write about sustainable value creation -- a framework organizations can use to align their corporate goals to societal impact.
How can an organization's products or services generate profitable growth and make a positive difference to society? Sustainable Value Creation (SVC) is a concept that holds great promise, alleging that companies can identify new sources of competitive advantage while simultaneously addressing fundamental societal needs and creating shareholder value.
The concept of SVC is quickly becoming a strategic priority for C-Suite executives in leading global companies, appealing particularly to leaders who are interested in driving quantifiable benefits from sustainability gains while transforming their businesses in an impactful way.
At Accenture, we believe that there are three approaches organizations can take to realize competitive advantage through SVC: through their products and services; through a holistic approach; or through value-chain operations.
A products and services focused approach could entail finding new applications for existing core capabilities, identifying new products or services, or even creating entirely new markets. A holistic approach requires revaluating the economic ecosystem in which the organization operates. For example, a pharmaceutical company might expand its approach beyond drug development to raising awareness of a chronic disease, thus addressing a societal problem in addition to identifying a potential new market. Societal benefit can also be gained by making changes to the supply chain that can result in value-added differentiation or disruption. There are examples of some large consumer goods and products companies already doing this with success.
These SVC approaches can be applied through a three-step framework.
Identify the societal objectives that the organization's products or services impact.
Identify the metrics relevant to each societal objective.
Quantify the relationship between the societal benefits and the organization's products or services.
Here are some examples of how to utilize the framework in three industries: health care, economic development, and energy.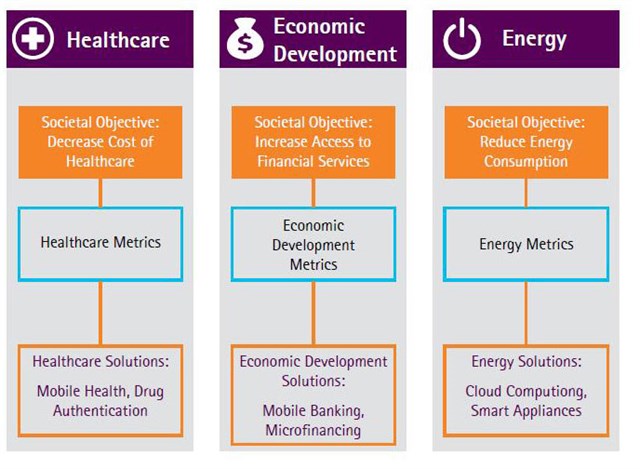 Having a reliable methodology like this in place to evaluate and implement SVC helps quantify how both business and societal objectives can be achieved at the same time, and may bring some surprising opportunities to light.
But how might this look in practice?
Let's consider the case of reduced energy consumption -- an increasingly important societal goal. Many tech companies today offer hosting for cloud-based software solutions. This service centralizes and optimizes software hosting for clients and can significantly reduce the energy required to host the software. In this instance, a cloud-based solution achieves the societal benefit of reduced energy consumption while also driving organizational innovation.  
Accenture believes that organizations that build and maintain social capital may be better equipped to deliver high performance. A SVC framework can help pinpoint the opportunities to create that capital. Even more importantly, it can help organizations explain to stakeholders (including shareholders) the relevance of pursuing sustainable value creation, and also offers a means to quantify and track performance.
While the benefits of SVC have been widely documented, examples of global companies fully implementing the approach and achieving broad success are rather limited. Practically speaking, advancing a SVC agenda can require a new executive mind-set, and can therefore be challenging to initiate.   
Nonetheless, an increasing number of leading companies are making strides toward integrating SVC into their business strategies in an effort to drive profitable growth and develop products and services that address core economic, environmental and social issues. 
Verizon is one such company. Having embraced the idea of Shared Value Creation at the C-Suite level, Verizon announced in its 2011 Annual Report that it would pursue a "Shared Success" strategy to grow its business while addressing a range of fundamental social needs. As part of this initiative, Accenture teamed with Verizon to help identify metrics that would quantify the societal impact of Verizon's existing products, and thereby determine progress against objectives.
Our analysis focused on the impact of Verizon's solutions on health care objectives. Through interviews with Verizon's product managers supplemented by our own research, we established a framework that included "Shared Success" metrics linking Verizon's solutions to a reduction in US health care costs, specifically via two solutions, with the first being mobile health (m-health). 
The m-health solution helps people with chronic disease conditions such as heart disease or diabetes communicate remotely with health care providers.  For example, patients can self-administer blood tests at home and share results with doctors or nurses. This reduces regular visits thereby lowering costs.  Furthermore, it facilitates preventive health care. The second solution targets the identification and prevention of fraud in the health care system.  The cost of health care fraud is staggering (estimated at many billions of dollars). By preventing even a small portion of this fraud from occurring, Verizon drives a significant cost reduction benefit.
Enabling Verizon to quantify the value of its technology to the communities it serves and connecting that to data on business performance measures (such as revenue and market share) is a very important step toward helping the company achieve its stated objectives.
Verizon offers a great example of Sustainable Value Creation in practice and delivering benefits. We believe that organizations that use this framework to embed the principles of SVC into their core business and strategy can possibly achieve added profitability, while unlocking the innovation potential of their businesses. The next step will be to share insights more widely within and across sectors.
To find out more about how Accenture can help you chart a course toward high performance, visit www.accenture.com/sustainability. To read the recent UN Global Compact–Accenture CEO Study on Sustainability visit http://www.accenture.com/ungcstudy.
Please also join our on-going conversation about sustainability, business and policy by following us on Twitter @ActSustainably and on Facebook at www.facebook.com/accenturesustainabilityservices.