Building a Legacy of Good
Building a Legacy of Good
By Trisa Thompson, vice president of corporate responsibility, and David Lear, executive director of sustainability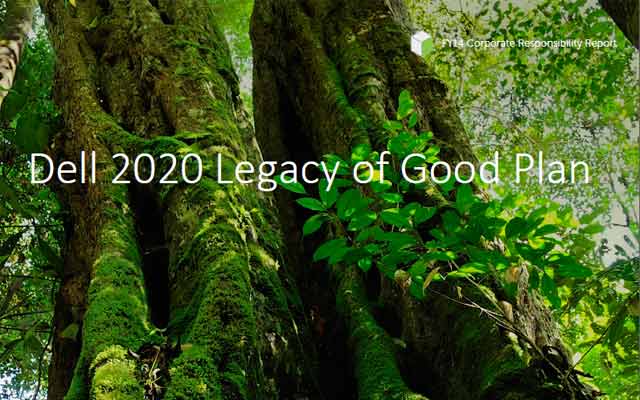 Verizon has pledged that by 2015 it will focus 40 percent of its overall supplier spending on partners with public GHG reduction targets. With a notable focus on climate change, Dell is one of the first suppliers meeting Verizon's GHG criteria. In this blog, Dell executives Thompson and Lear share Dell's approach to addressing sustainability. 
It is clear from speaking with our customers that sustainability issues are beginning to take on new dimensions related to operations, employees, brand and bottom line. Beyond reporting, many companies – like Verizon and Dell – have publicly stated sustainability goals across a wide variety of social and environmental topics. These goals often extend beyond an organization's traditional borders, looking up and down its value chain for ways to create and drive value while at the same time "doing good."
None of us can do this in a vacuum. The challenges facing the world today require collaboration and partnership among people with a shared vision of what could be.
It is with this spirit in mind that Dell launched its 2020 Legacy of Good Plan in October. It brings into focus the strategies that define our commitment to put technology and expertise to work where they can do the most good for people and the planet. The plan lays out several goals designed to help our customers improve energy efficiency, reduce emissions associated with their supply chain and minimize their waste. For example, by 2020 Dell will:
Reduce the energy intensity of the Dell product portfolio by 80 percent.
Reduce greenhouse gas emissions from our facilities and logistics operations by 50 percent.
Recover 2 billion pounds of used electronics.
Ensure waste-free packaging (100 percent recyclable/compostable and 100 percent sourced from sustainable materials).
All of these goals help our customers minimize their footprint and reduce their environmental impact. Similarly, the plan contains goals related to our own footprint.
But what if we could do more? At Dell, we've always believed technology comes with a promise of advancement, of fulfillment of hopes and dreams, and of betterment for everyone it touches. Technology bears the power to help us all do more. We ask ourselves and others: what if we could make that "more" go even further? Shouldn't technology be able to help everyone do more good?
That's where our 10x20 goal comes in.

We want to work with customers to demonstrate how the ripple effect on our technology – from our customers, to their customers, to the communities it affects – will be 10 times greater than what it takes to create and use it. To us, this is more than just reducing the energy you need to run the technology or the footprint that technology leaves. It is about the big benefits technology can enable.
Consider remote work and telepresence solutions: while some of the carbon burden may shift to the remote worker, we believe the efforts technology can enable will lead to greater productivity, reduced overall emissions, less traffic congestion, and better quality of life. Our goal is to measure the net positive effect that is created.
If you are interested in how you can join the group working toward measuring "the good" or want to learn more about the Legacy of Good Plan, please visit Dell.com/2020.