Full Transparency
More of our content is being permanently logged via blockchain technology starting [10.23.2020].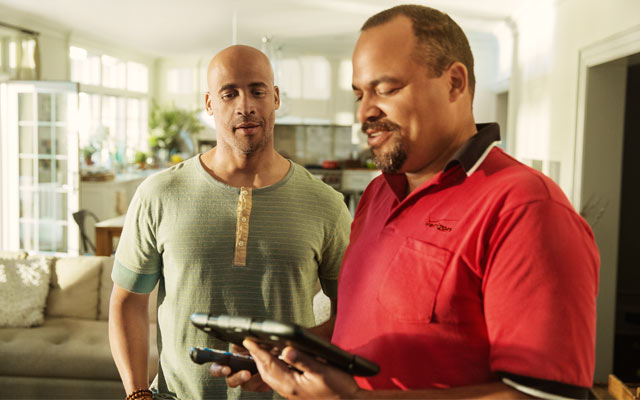 In a world of constant distraction, where data abounds, it's more important than ever to stay focused on what's important.
We have a credo at Verizon that states, "We have work because our customers value our high-quality communications services."
When I look at the financial results we announced today, it's clear that people value our highest-quality services. Nearly 60 percent of FiOS Internet customers enjoy Quantum speeds, which provide data speeds from 50 megabits per second to as high as 500 Mbps. Even at the base of 50 Mbps, that's three times faster than the national average. In the fourth quarter alone, we welcomed another 145,000 FiOS Internet and 116,000 FiOS video customers.
Our industry and our company are at the center of a connected world. Their work -- connecting customers to what they love, every day -- has helped Verizon post 10 consecutive quarters of revenue growth in excess of 4 percent, year over year. To think that a decade ago when we first rolled out FiOS, there were many naysayers who underestimated the needs of today's connected consumer and businesses.
Today, 77 percent of our group's revenues come from FiOS, which is yet another reminder that we have work because of our customers. It's that customer focus that guides us and that has led to significant launches in 2014 that our customers loved. Here are just a few examples:
The Fastest Home Router – We launched the FiOS Quantum Gateway Router, a sleek new router that offers the fastest in-home Wi-Fi speeds of any other provider. Customers will receive free, over-the-air upgrades like enhanced parental controls and guest Wi-Fi. A great router is quickly becoming essential for parties [do you mean individuals or consumers] and small businesses.
SpeedMatch – We believe the Internet is about sharing, so upload activity on the Internet – sharing photos, videos, etc. – will double by 2016. To help our customers do what they want, we introduced SpeedMatch. Simply put, you should be able to upload as fast as you download, and we don't think you should have to pay for that. It's something none of our competitors offers.
Earn Valuable Points – Another way we thanked our customers was the launch of My Rewards+, a loyalty program. If you haven't done so already, do yourself a favor—join now. You'll get valuable points that you can use at great retailers for what you're already doing.  
Watch What You Love Anywhere – We ended the year with 64 out-of-home channels and 168 in-home channels with a FiOS Mobile app  that lets you watch anything from news to live sports to movies on your mobile device, in your home and on the go. And keep your eyes open for a ton more channels to come in the near future.
Another line in our credo, "Our best was good for today, but tomorrow we'll do better," applies here. We started working on what's next way before the ball dropped on 2015, and we can't wait to share what's next.
And it's not going unnoticed around the industry. FiOS Internet was rated #1 in customer satisfaction, value and reliability according to the 2014 American Customer Satisfaction Index and has been the recipient of PC Magazine's "Readers' Choice Award" for 9 years running. Additionally, PC Magazine found that FiOS delivered the fastest connections in the country in 2014.
Stay tuned.