Secrets from a sales recruiter: Brittany Simmons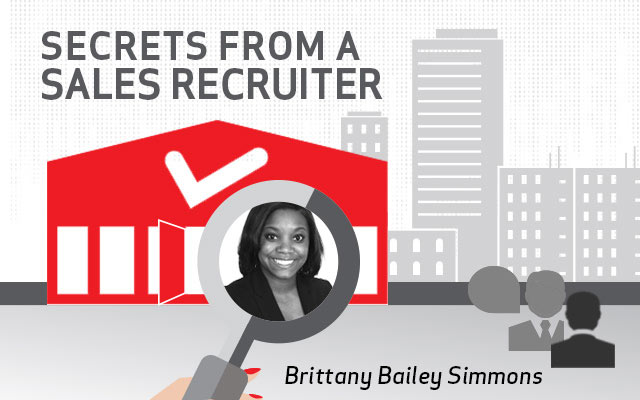 You're up on the wireless market and know Verizon's products (and our competition's). New developments in the technology field don't intimidate you; they challenge and excite you. If that describes you, you're someone we'd like to talk to. So check out recruiting secrets from Brittany Simmons, who is on our talent acquisition team, to help you stand out while pursuing a successful sales career at Verizon.
"Here's something candidates may not be aware of: You don't have to come from the technology industry to succeed in our stores. We look for transferable skill sets from any industry. One candidate we interviewed was a server at a steakhouse and was responsible for upselling wine each night. This made us confident he could sell cutting-edge Verizon products just as well."- Brittany Simmons
Present a hop-to-it attitude but not a job-hopper history. When we scan your résumé, we'll see you've worked at least six months in your current sales-oriented position. Of course, if you've built up your tech and wireless experience at employers we keep our eye on, we prefer that. However, this is not a hard-set rule. If you are able to showcase your sales skills -- in any industry, and especially if you've grown into different roles within an organization -- that is a huge eye-catcher. That kind of commitment suggests you'll probably have the same commitment to growing your career with us.
Show you can sell any great product or service. If you've succeeded in a commission-driven environment, you've got the drive to close a sale. Make that a bullet point on your résumé.
Show off language skills. Do you  speak more than one language? Candidates often don't realize that's added value in serving the diverse customer base that frequents our retail locations.
There's more than one way to join our sales team. Don't want a direct selling role but looking to work in a sales environment? Go for a position as a retail operations specialist, which will give you the chance to work behind the scenes in merchandising and storage while helping customers by troubleshooting hardware issues and answering questions. Learn about different sales careers at Verizon.
Come back for more insights in the next installment of our "Secrets From a Sales Recruiter."