It actually is easy being green.
Moving the world forward for all on Earth Day
Full Transparency
Our editorial transparency tool uses blockchain technology to permanently log all changes made to official releases after publication. However, this post is not an official release and therefore not tracked. Visit our learn more for more information.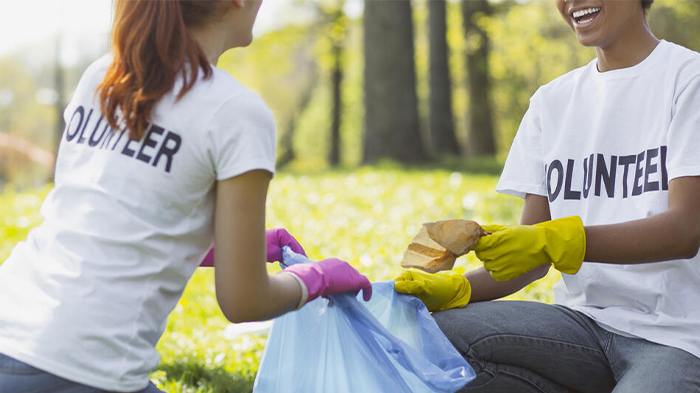 "To leave the world better than you found it, sometimes you have to pick up other people's trash." —Bill Nye
Earth Day is April 22 – the perfect opportunity to celebrate this lovely planet we call home. It's a time to get outside and volunteer to create a cleaner, greener world. By supporting climate protection efforts, a Citizen Verizon pillar, we have been able to fully allocate nearly $4 billion in net proceeds to renewable energy, energy efficiency, green buildings, and biodiversity and conservation. In 2023, $500,000 in funding will be awarded to four entrepreneurs and/or start-ups that demonstrate proven climate-tech solutions that are ready to scale and are focused on at-risk communities. This is very exciting because by enabling progress and innovation against climate change we are helping ensure all people thrive.
April is Global Volunteer Month, and Verizon set a goal to reach 60,000 committed volunteer hours by the end of the month. We are more than halfway there; to date, over 12,000 V Teamers have committed 31,500 hours to volunteer this month at over 600 events from our Citizen Verizon Volunteer Portal. We are on pace to crush this goal and need to keep the momentum going. The celebration of Earth Day this weekend is just the way to do it.
Here are some fun ways you and your family can make a difference for our planet.
Join the Five Cans Challenge. Did you know that making a can from recycled aluminum saves more than 90% of the energy required to make a new can? Now imagine what you could do with five recycled cans or more. This activity is a great way to turn a small effort into a big impact.
Clean up your community. No matter where you are, you can join this virtual cleanup challenge using Litterati, a mobile app available for both iPhone and Android devices that tracks litter collection by photographing, uploading and tagging each piece. You will be picking up litter and disposing of it before it contaminates rivers while also providing important data about the location and type of litter in your community and waterways.
Donate used shoes for the planet. Every year in the U.S., we toss 300 million pairs of shoes into the trash. That is the equivalent weight of nearly 24,000 elephants that wind up in landfills. Instead of tossing them out, you can donate them to Soles4Souls, helping the planet and changing someone's life
Looking for more ways to seize the hour and move the world forward? Subscribe to the Citizen Verizon Volunteers newsletter to receive monthly event suggestions directly to your inbox.
No matter what activity you choose to join, we want to hear about it. Post in the comments section below or tag us on social media @InsideVerizon on Instagram, Linkedin, or Twitter. #VTeam #ForwardTogether
Related articles:
The Million Trees Challenge begins now >
Tree-mendous device trade-in event >