Technology coaches lead the way to help districts transition to distance learning
Verizon Innovative Learning's tech-focused professional development sets up entire districts for success during pandemic.
Full Transparency
Our editorial transparency tool uses blockchain technology to permanently log all changes made to official releases after publication. However, this post is not an official release and therefore not tracked. Visit our learn more for more information.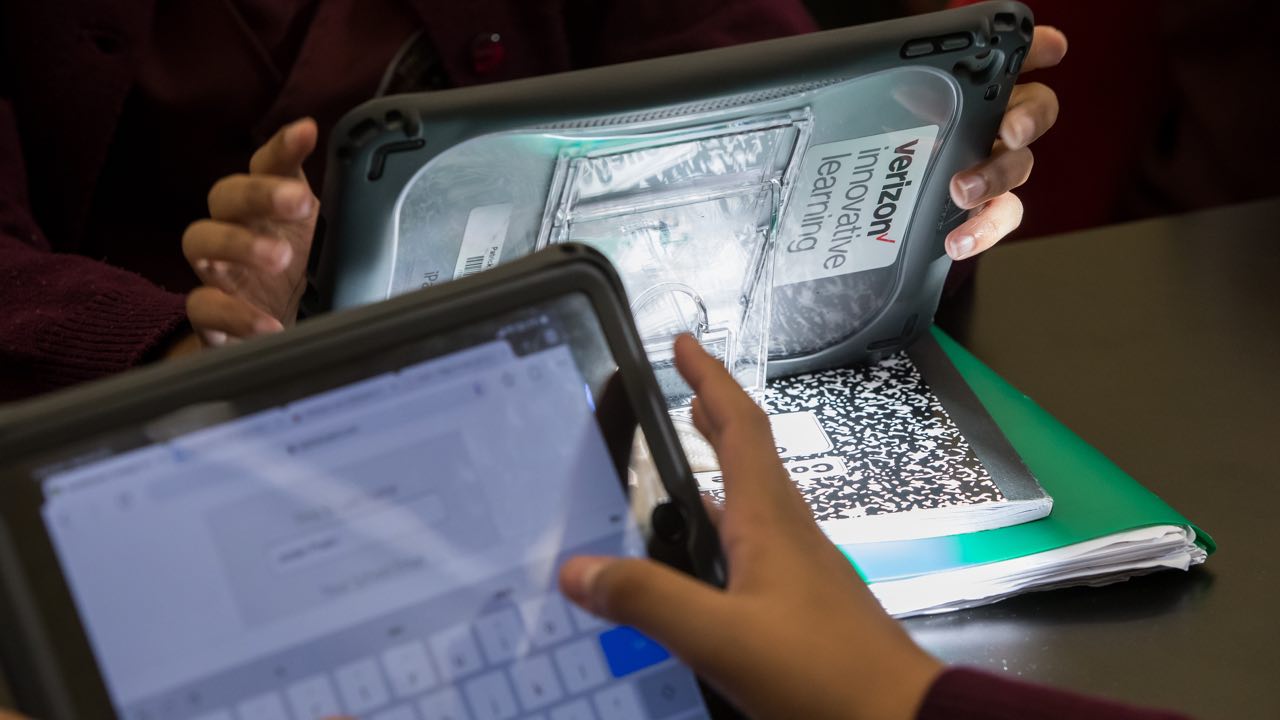 In early March 2020, Danielle McClary, a Verizon Innovative Learning coach in rural Polk County, Tennessee, got a call from her district's administrators. There was a real possibility that schools would soon close and switch over online classes to slow the spread of the COVID-19 pandemic, they said. Did she have any ideas for how to support teachers on the fly as they traded brick-and-mortar for virtual classrooms?
It was a hefty ask, but one for which McClary was well-prepared, having spent the past three years steeped in the culture of cutting-edge digital instruction as a result of a partnership with Verizon Innovative Learning. Recognizing that millions of American middle-school students lack the basic hardware and connectivity that are prerequisites for success in the digital age, Verizon advances its mission of digital inclusion by equipping students with devices and the data access they need to use them at school and at home.
Verizon Innovative Learning also provides teachers with extensive training in the technique and philosophy of unlocking student potential via tech, and provides a stipend for a full-time learning coach to provide in-school support for teachers as they integrate technology into instruction. For McClary, who previously taught history in Polk County's Chilhowee Middle School, the experience was so transformative that at the beginning of the 2019-2020 school year, she devoted 100 percent of her time to coaching her colleagues at Chilhowee and Copper Basin High School (which houses grades seven through 12), both of which participate in the Verizon Innovative Learning program.
Scaling up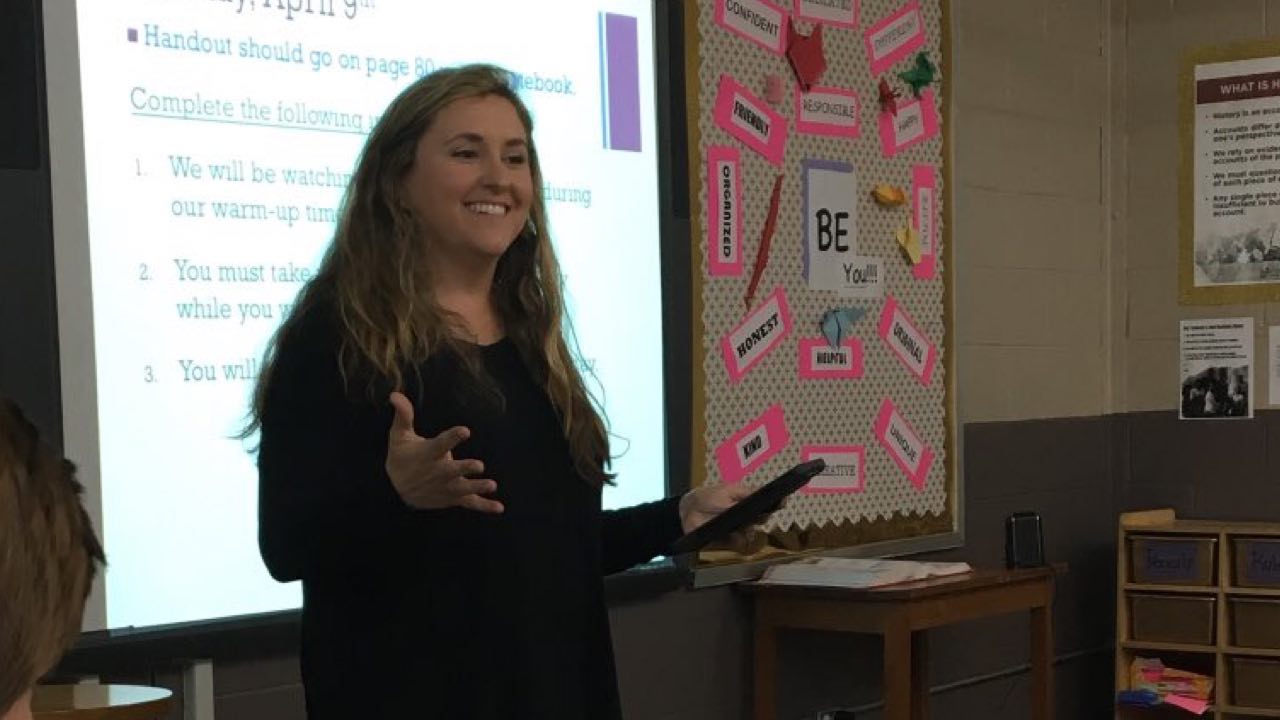 Danielle McClary uses tech to teach a lesson in the classroom before the pandemic. (credit: Courtesy of Danielle McClary)
McClary wasted no time. Drawing on her VILS training, she spearheaded the effort to prepare teachers across the entire district—many of whom were less than comfortable with digital tools—to meet the challenges of engaging with students virtually. The Polk County-native launched a monthly tech newsletter in the fall; in March she extended that concept to include a comprehensive compilation of resources and tool tutorials. She also connected her tech-savvy middle school teachers with other educators in the district's three elementary schools and two high schools for mentoring and started hosting all-district "tech talks" twice a week.
McClary credits Verizon with getting the district through those crucial early days. "If someone wasn't in this Verizon Innovative Learning coach role, what in the world would we have done?" she says. "We've got nothing but positive feedback from all of our teachers. They've just been really thankful for it."
Shoring up skills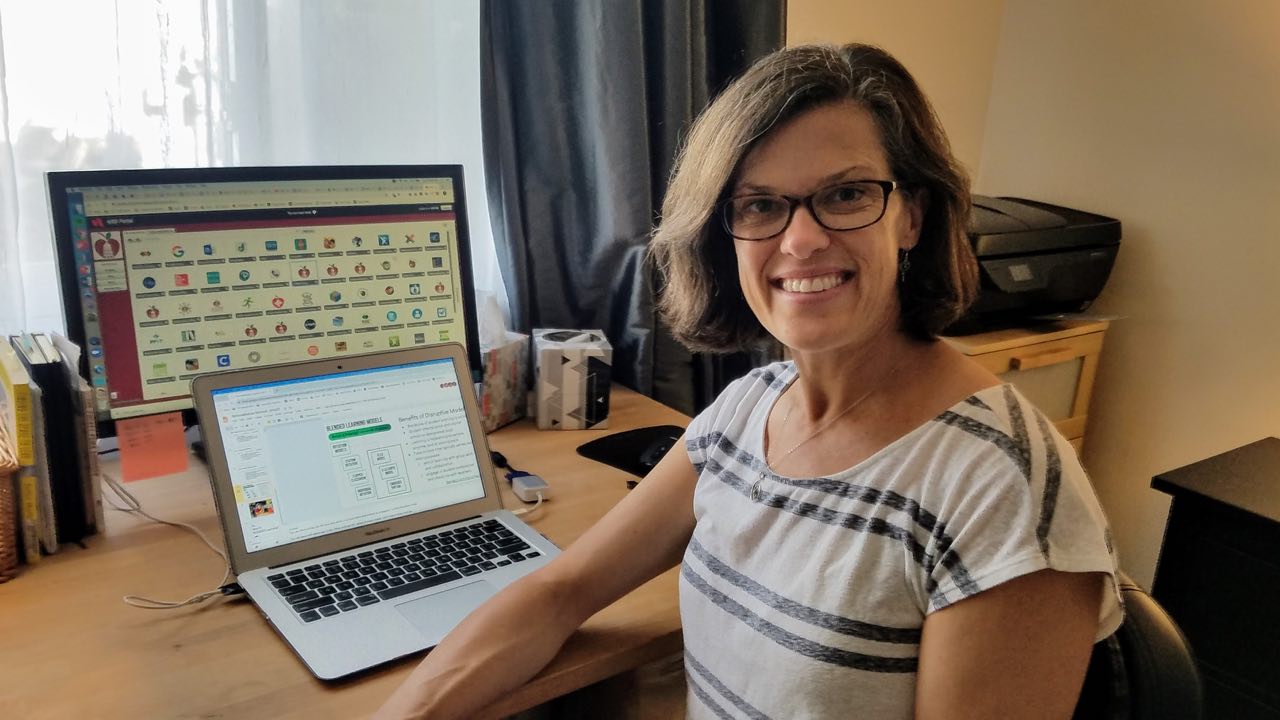 Sharon Laidlaw works from her home office. (credit: Courtesy of Sharon Laidlaw)
This spillover effect—Verizon Innovative Learning coaches lending expertise to their broader districts as they turn to distance learning—is not limited to Polk County. At the start of the pandemic, Sharon Laidlaw was tapped to lead Austin Independent School District's communication regarding tech for distance learning for coaches and the broader technology department. The Texas district had its work cut out for it: while five of its schools are Verizon Innovative Learning partners where every student has their own device and data access, the district is home to 130 schools educating 81,000 students. "Overwhelmingly, our teachers at Verizon Innovative Learning schools have said, 'Thank God we've already been learning how to do this,'" Laidlaw says. "It was a very easy transition for them. But for a lot of our other teachers, this has been overwhelming."
Laidlaw and her team are working hard to bring them up to speed, providing professional development sessions and one-on-one guidance. While it's been a difficult undertaking, Laidlaw can already see how this process will positively impact her district post pandemic. "This was a really good opportunity to sort of pause and help teachers see new ways of doing things that could reach their students," she says. "I've had so many teachers say to me, 'This is the time that I've needed all year long. I finally have the actual time and mental space to learn this stuff I've always wanted to learn.'"
Ahead of the game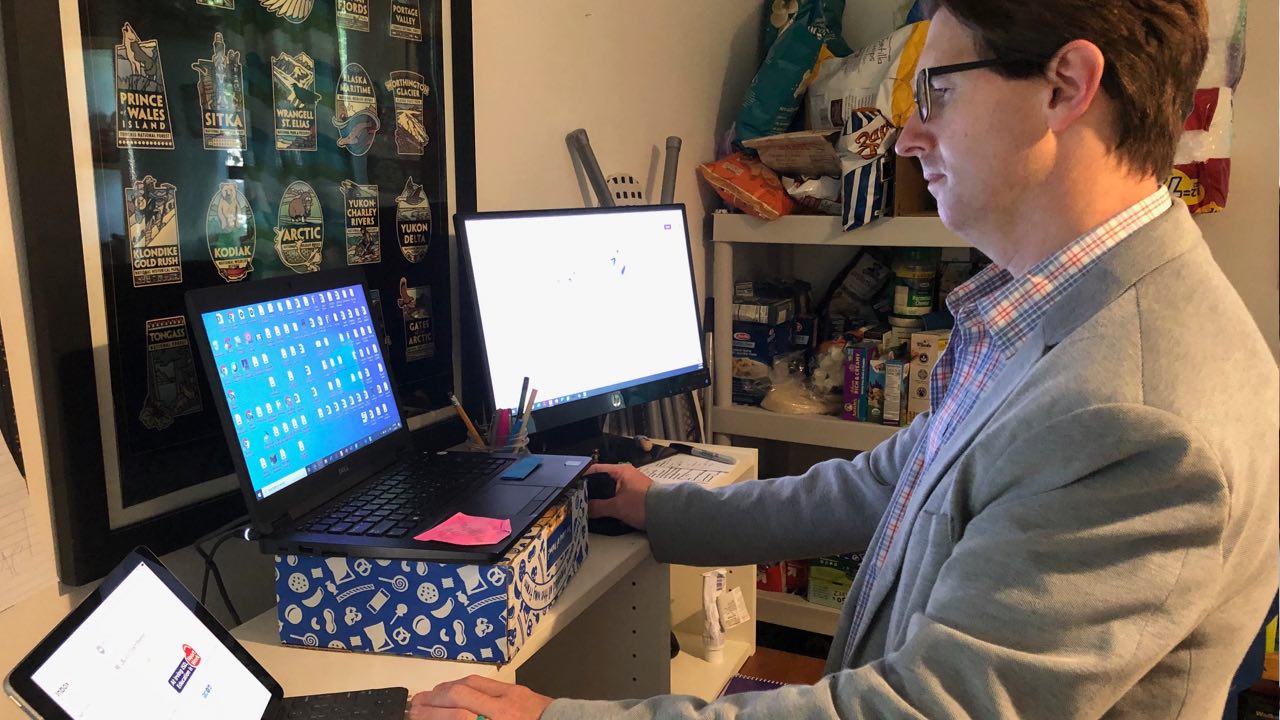 James Tiggeman directs traffic via his office setup at home. (credit: Courtesy of James Tiggeman)
James Tiggeman saw the same thing play out in the Irving Independent School District, where he serves as the digital learning coordinator. When the pandemic hit the Texas district, the digital readiness of the Verizon Innovative Learning schools didn't just subtract from the burden of assigning equipment and training teachers—it added a cadre of well-trained experts prepared to share their knowledge with their colleagues at other campuses in the district.
"We were ahead of the game," says Tiggeman, whose district enjoys the distinction of having every single middle school participating in the program. "We've been using distance learning tools for years. We had the knowledge, skills and teacher training. It wasn't a shock to continue using them. That was a huge advantage."
Irving ISD's digital teams used spring break to get devices into the hands of students, and Tiggeman and his colleagues—including fellow coaches, librarians and teachers—rolled out courses to fill gaps in the knowledge of the district's staff. In the first five weeks of distance learning, they offered more than 100 sessions, delivering critical training to some 5,000 participants.
Sharing the love
Just as they were eager to help their districts in the early days of the pandemic, McClary, Laidlaw and Tiggeman are poised to draw on their training long term. "We're a small rural district," McClary says. "We don't have deep pockets. Being a Verizon Innovative Learning coach, I've been able to share the love and provide support to all of our schools. That's our ultimate goal, to improve all of our schools for all of our kids. I'm thankful I'm in a position where I'm able to help."