They Served Our Country, So We're Proud to Serve Them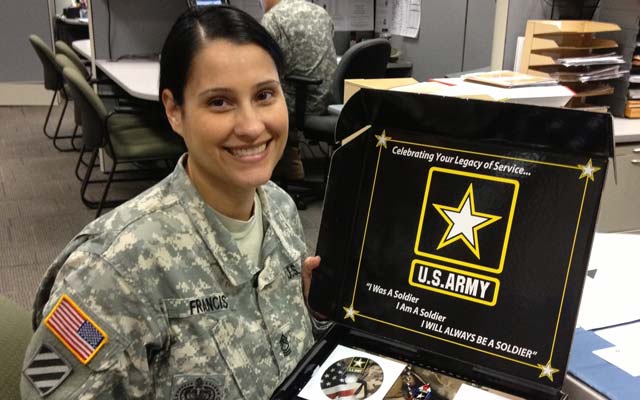 Their leadership skills shone in the armed forces. We recognize those skills and want to help them rise through our ranks.  
When you're a member of the U.S. armed forces, you're a leader. You approach every mission with focus and determination. You seek out innovative solutions to challenging problems. You have a steadfast desire to get the job done, whether you're collaborating with team members or working independently.
"You look for key words like 'leadership, development, performance.' You take the things that you do in your military career and focus them toward the corporate workplace."
Leadership is an integral part of the Verizon culture, too. We recognize that employees with these invaluable skills are key to our success. We're here to help those leaders find the best civilian careers through our educational programs, hiring events and other employment solutions targeted specifically at veterans and transitioning service members.
Verizon's training and culture are remarkably aligned with the training and culture of the armed forces. What service members call "missions," we call "projects." In fact, about 85 percent of military careers have a direct civilian counterpart with us—and we can help find that perfect match.
Leadership That Translates From Regiment to the 'Real World'
Josephine Francis knows about leadership. For 20 years, she held various leadership roles in the US Army—including drill sergeant, advanced training instructor and platoon sergeant—in locations as Iraq, Korea and Tonga. When this first sergeant was preparing to retire in 2013, she was concerned that those leadership skills wouldn't necessarily translate to the "real world."
"I had researched Verizon as a possible employer, but I didn't think I would qualify for any of the positions," says Josephine. A Verizon talent acquisition manager contacted her after noticing her LinkedIn profile and helped convince Josephine that those leadership skills were exactly what the company was looking for.
"I was surprised that even the interview I had with Verizon was very similar to military panels I've appeared in front of," says Josephine, who now manages a team of 30 technicians as a Verizon Field Manager. "The process was comfortable to me because it came so naturally. And the guidance and help I've received along the way from my teammates has made the transition awesome."
We Understand the Challenges our Service Members Face
David Simpson also shares how Verizon helped him face a challenging job market, and how his military expertise and training led to a fulfilling career with us. The lieutenant in the Army Reserves attended a virtual career fair on Veterans Day and chatted with an online Verizon careers counselor, who laid out the opportunities that would best line up with David's abilities.
"It is a struggle [for veterans], because they have trouble relating their military experience to the workplace," David explained during a Fox & Friends segment focused on military personnel seeking civilian careers. "You look for key words like 'leadership, development, performance.' You take the things that you do in your military career and focus them toward the corporate workplace." In David's case, his unique skill set led to a new career as a Verizon Sales Supervisor, and he's since been notified that he's set to be promoted to captain in the Army Reserves.
The discipline, initiative and drive to succeed are just as important to us at a switch site and in the boardroom as they are in the barracks. We couldn't say it better than Josephine Francis: "Leadership is leadership, in any environment."