Transitional Training for America's Finest
Transitional Training for America's Finest
We Recognize the Tremendous Value that Members of our Military Can Offer—and Consider it an Honor to Provide Programs that Ease the Transition to Civilian Life as Verizon Employees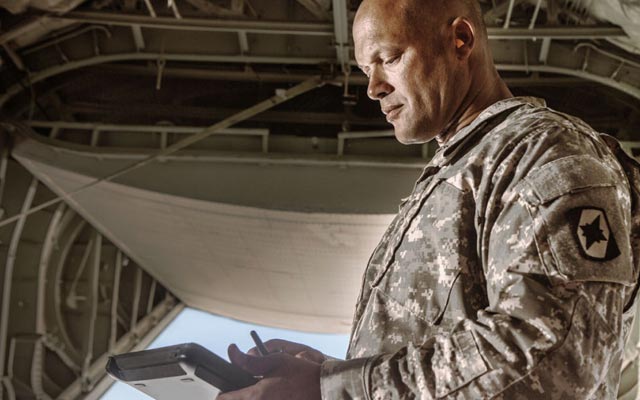 Leadership. Tenacity. A hunger to learn and outperform. The same traits that you exemplified on the front lines for America's armed forces directly transfer to a new career with Verizon. We recognize your unique expertise and training, and are committed to setting you on the path to a rewarding career that best matches your particular skill set.
Just ask Adam Momeyer, who—thanks to the support and flexibility from Verizon—combined his busy Army Reserve schedule with a rapidly advancing career with us. He's now a Customer Service Supervisor and in the "Emerging Leaders" program supported by the Verizon Foundation. Or check withn Josephine Francis, who retired from the US Army in 2013 and immediately translated her leadership and operations skills into becoming a Verizon Field Manager.
Recruitment, Training and Support is our Mission
Verizon considers it an honor and a duty to serve our military personnel and veterans just as they've served our nation. Our company has been named one of the most veteran-friendly firms by U.S. Veterans Magazine and ranked third on the 2014 Top 100 Military Friendly Employers list. We're committed to recruiting, training and hiring service members and military veterans through educational programs, career events and other targeted employment solutions.
Use our online Military Skill Matcher to determine which Verizon career best aligns with your military experience and training—then focus your career quest by searching for opportunities at specific base locations. The Hiring Our Heroes app, created with the US Chamber of Commerce Foundation, is a mobile one-stop solution that transitioning service members, veterans and their spouses can use during their career search. The app features a "personal branding" resumé engine, a network of mentors who will support and inspire you, and listings of employment workshops and hiring fairs that will bring you face-to-face with the best people and resources to guide you.
Verizon considers it an honor and a duty to serve our military personnel and veterans just as they've served our nation.
Your Technical Skills + Team Support = In-the-field Success
If you have a knack for technology, wireless devices or network engineering, our highly specialized Cell Tech Military Program may be your conduit to a new career. This hands-on experience offers you comprehensive training alongside our Network Operations team, enhancing your technical skills and giving you the resources you need to grow. After you complete the five-week program, you'll support one of our cell or switch sites.
We know how hard you trained during your military tenure and how valuable your experience is. As a member of the Verizon family, you'll take pride knowing you're working for a company whose dedication to technology and innovation bolsters safety protocols, enhances homeland security and safeguards our nation.