Tips of the Trade: Making the Most of a Conference Call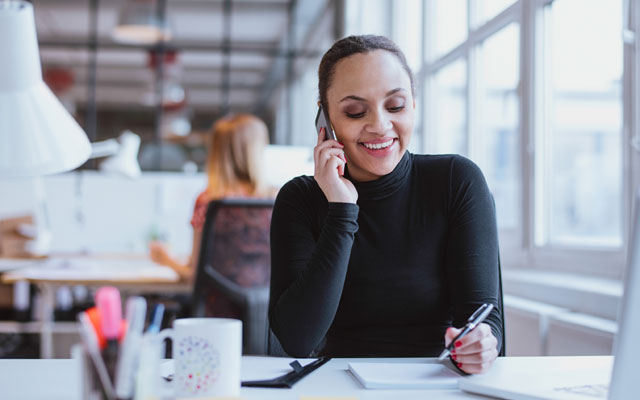 Kate Wallace is a human resources intern at Verizon. she is also a rising senior at Stonehill College, where she is studying marketing and economics. Kate looks forward to sharing her many tips, tricks, and secrets to success surrounding her internship.

All interns experience a conference call at least once. It begins after dialing a multitude of numbers into the phone and being met with an automated voice telling you to introduce yourself. After hearing the playback of you reciting your name, you think, "Wow, do I seriously sound like that on the phone?" Put on your happy voice and be ready to actively participate in the call because your perspective is appreciated. Here are a few tips on how to make conference calls your favorite part of the day.
Introduce yourself. When you dial in to the call be sure to say "Hi it's (name)" rather than leaving the other participants to wonder who you are.  If you enter the conversation with a chipper and, of course, professional demeanor, other participants are far more likely to ask for your opinion and take that same opinion to heart.    
Speak up if feedback is wanted. You were invited to participate. You never know who might like your opinion and turn it into something big.  What's the worst that can happen? You get politely declined and try again next time. I know it can be intimidating to speak up, but no one can see your face turn red when you decide to say something, so why not? Be bold.
Etiquette is key. Remember, even though conference calls may sometimes seem less formal than face-to-face meetings, proper businesslike behavior is necessary. You're not talking to your mom about what's for dinner that night; you are listening and discussing important business ideas that impact the company. Keep the "like" and "um" to a minimum and mute the line if you need to have a separate conversation with an officemate.  
Keep your focus. Being away from your computer and all other electronic devices with just a pen and paper really allows you to focus in on the call. You never want to be that person that has no idea what is going on when you are asked for feedback, so make sure you take notes and write down questions, thoughts and ideas while you listen.
Prepare in advance. Do a little research on the company or person you'll be talking to before the call. You'll be more prepared, get more out of the experience and be able to add more insight.