Verizon Innovative Learning coach secures $1M in resources to support Dallas school district
Pierre-Carly LaFaille credits the program's professional development component with preparing her for the task
Full Transparency
Our editorial transparency tool uses blockchain technology to permanently log all changes made to official releases after publication. However, this post is not an official release and therefore not tracked. Visit our learn more for more information.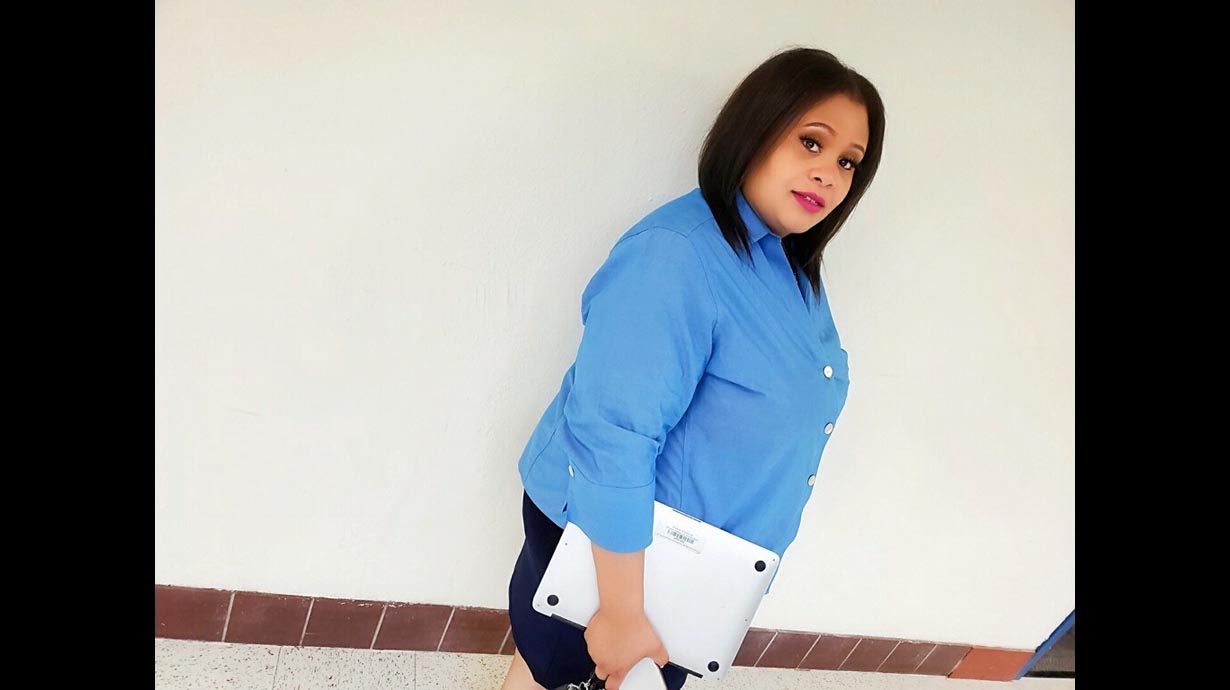 Many educators treat spring break as a much-needed pause in the middle of a semester. But last year, just days into the COVID-19 pandemic, Pierre-Carly LaFaille gave up her vacation in exchange for an intense — and self-generated — work project. The plan: to ensure that her academic community would be ready for the pivot to remote learning.
"Spring break was when everything happened, when we all went home and knew we weren't coming back. So I created a hotline and made a phone number for families to call with questions, technology issues, anything regarding virtual learning," says LaFaille, who is the Verizon Innovative Learning coach and director of technology at William Hawley Atwell Law Academy in Dallas, Texas. "The hotline became like a mental health line too, because some of the parents were scared. 'How am I going to teach my kids at home? How is that going to work?' they'd ask me. I ended up training parents."
Such dedication is remarkable — yet in LaFaille's case, it is not unexpected. In the three years she has been at Atwell, she has made going above and beyond the norm. That includes working with all of the teachers to bring technology into their pedagogy, managing her school's 1,800 one-to-one and shared devices, and her most notable achievement: securing $1 million in monetary donations and licenses so the entire 230-school district could access interactive learning resources like Discovery Education for free.
Leveraging professional development
When LaFaille joined the staff at Atwell in 2018, she had no idea she would go on to raise $1 million for the district. But she did know she was in for a challenge. At the time, it had an F grade in local district assessments and had been designated a high priority campus, due to its academic struggles. Plus about 98 percent of the student body at the Title I school lived in a lower socioeconomic bracket. Instead of feeling daunted by these realities, she saw it as a challenge that could be tackled successfully because Atwell had just become a Verizon Innovative Learning school. It's a key program under Citizen Verizon, the company's responsible business plan to help move the work forward for all. Through the partnership with non-profit Digital Promise, the program provided the school free devices for every student and teacher, in-school and at-home data access, and professional development to help teachers integrate the technology into the classroom.
LaFaille says the program not only exposed her to the three apps that she later secured free access to for educator- and student-use at her school, but the professional development provided by Verizon Innovative Learning — including lessons on negotiation and managing data sharing agreements and donations — was crucial to executing her plan. "We'd had a Verizon donation for movie tickets, and I had to be trained on how to obtain donations for a campus. That's how I learned how to submit paperwork and go through that process," she says.
Tech-focused pedagogy drives this professional development, and it's an important component of Verizon Innovative Learning, with programs like Teacher Training Pathways providing free training in digital skills, digital coaching and remote learning for any K-12 educators who are interested nationwide.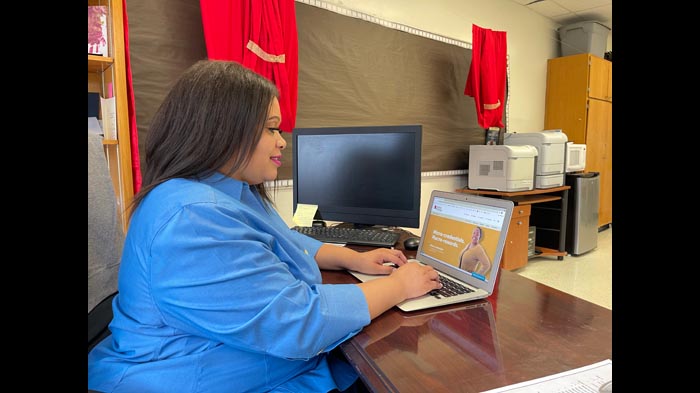 Pierre-Carly LaFaille taps into Teacher Training Pathways. Credit: Courtesy of Pierre-Carly LaFaille
To reimagine what was possible for her school, LaFaille leveraged her training with her past experience as a senior executive director for university systems. "Ms. LaFaille is an ex-project manager. So everything she does here at the campus, that bleeds through. She takes the bull by the horns and is very forward-thinking in, 'How can we get this to work?'" says Shondula Whitfield, principal at Atwell.
"I know organizations have funding available for philanthropy — and that other groups often do not apply for it," LaFaille says of her thought process. "I said to these organizations, 'So since you have a surplus….'"
In 2019, enough of those organizations were willing to donate that surplus that she was able to acquire licenses for her entire school. The resources helped Atwell improve rapidly and earn a just-below-C letter grade from the state of Texas, prompting Digital Promise to award it "Comeback School of the Year." Today, Atwell has a B, an achievement that LaFaille believes was possible because of Verizon Innovative Learning. "The program elevated our teachers into the 21st century. We had teachers who'd never used devices. After training, you had more teachers piloting tools, and more kids adopting them," she says.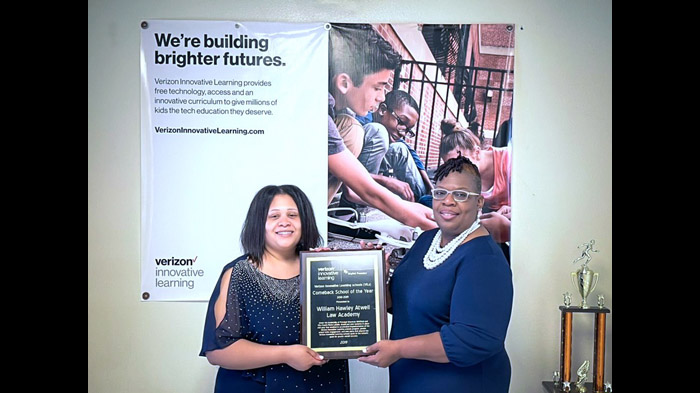 LaFaille and Whitfield celebrate William Hawley Atwell Law Academy's "Comeback School of the Year" award. Credit: Courtesy of Pierre-Carly LaFaille
Mrs. Whifield agrees, saying, "Engagement is 75 to 80 percent of the battle. And if we can win that, then we're winning."
Sharing the wealth
One year after securing licenses for Atwell, LaFaille went back to the companies to see if they would provide licenses for the other seven schools in her cluster, also part of Verizon Innovative Learning. "She was able to recognize the impact that the apps were having and asked me, 'Do you mind if we share this? In this way, all of the schools will be calibrated and I can come in and do training.' And she did just that," says Whitfield.
Once all eight schools gained access to the learning apps, many would have been satisfied with their work. But LaFaille knew more could be done. "I asked organizations to provide us with the services for the entire district. They went to their VPs, and from there they approved it," she says, meaning all 230 schools in the Dallas Independent School District received a total of about $1 million in licenses and donations for the 2019-2020 school year. The positive experience of that technology integration led to the district purchasing licenses the following school year—just in time to support remote learning during the COVID-19 pandemic.
The impact on the district is remarkable. "Mrs. LaFaille's unwavering commitment and expertise in a variety of online platforms has increased student engagement virtually and minimized the challenge for teachers in a way that has been invaluable during the pandemic," says Tracie Washington, executive director of the Dallas Independent School District.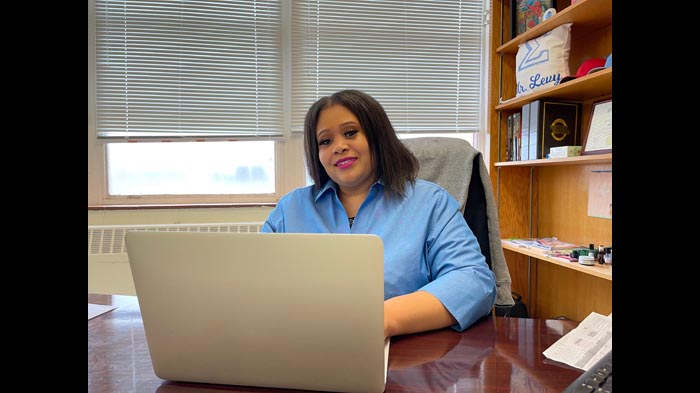 LaFaille, hard at work in her office at William Hawley Atwell Law Academy. Credit: Courtesy of Pierre-Carly LaFaille
Partnering for good
When LaFaille recalls how the effort happened, she gives credit to another woman. "My principal, when I tell you that she's amazing…it took a lot of trust in me. Ms. Whitfield said, 'What do you want to do?' And I explained, and she and Ms. Washington were like, 'Go.'"
And she did. Now, not only do the district's nearly 154,000 students have devices and data access provided by Verizon Innovative Learning, but they also enjoy one-click access to apps that are beneficial to students, parents and educators. The Discovery Education app — which provides instructional tools and professional development — is the second most used app district-wide.
The successful endeavor has also impacted LaFaille. Says the instructional coach, "I have a sense of achievement, definitely a sense of pride — and I really feel a sense of fulfillment."