Verizon Named a Top 10 Military Friendly Employer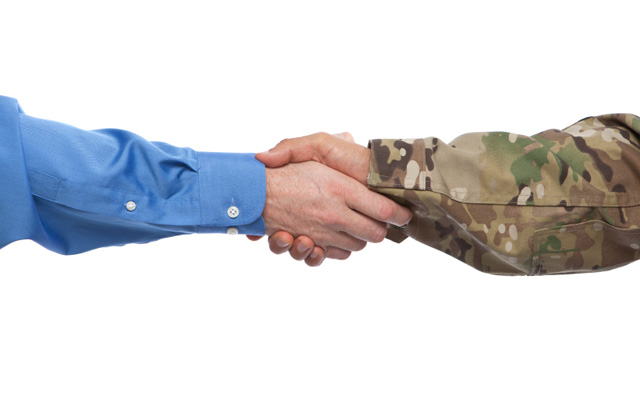 What's the best way a company can give back to its country while also making a positive impact on its own business? For Verizon, the answer to that question is simple: Hire a veteran.
Verizon is a proud employer of more than 11,000 military veterans and service members, and this Veterans Day, we're proud to be named to the 2015 list of Military Friendly Employers. Victory Media, which is the publisher of G.I. Jobs and is a service-disabled, veteran-owned business, surveyed more than 5,000 eligible companies to come up with its list of 180 Military Friendly Employers. Verizon was ranked in the top 10.    
Why is Verizon such a great place for military Veterans and service members? Here are five reasons:
A great fit. 85 percent of all job openings at Verizon have a direct counterpart in the military. In other words, most military service members have the skills, experience and training we're looking for in all our new hires. To help job-seeking Veterans identify which jobs at Verizon match their military background, we created a military skills matcher that searches job openings based on applicants' military service, branch and specialty code.
Strong benefits. Many military service members wish to continue serving their country while working in the private sector, which Verizon fully supports. If a National Guard member or reservist is deployed for active duty, Verizon provides pay differential and continued benefits for up to 36 months.  
Constant support. Verizon's Veterans Advisory Board is an employee resource group that provides recognition, support, mentoring and development of Veteran employees from the time they're hired throughout the duration of their employment.
Top partnerships. We leave no stone unturned when it comes to recruiting veterans and service members for employment at Verizon. We've partnered with a number of external organizations such as Hiring Our Heroes, Wounded Warrior Project, Employer Support of Guard and the Reserves, Military Spouse Employment Partnership, Department of Defense, Marine for Life, Soldier for Life, the John Jay College Veterans Roundtable and more.
Spouse assistance. Verizon believes it's not just service members who serve, but their spouses as well. That's why we provide them assistance in their job searches as well to help find careers that support their families.
The skills and leadership capabilities that veterans bring to Verizon are some of the biggest assets we have as a company. This Veterans Day, Verizon is sending out a special thanks to military personnel and their families for their service, on our new Veterans Day tribute page  and on social media via the hashtag #Thanks2Vets.