Verizon women leaders: Leading with empathy and elasticity
Full Transparency
Our editorial transparency tool uses blockchain technology to permanently log all changes made to official releases after publication. However, this post is not an official release and therefore not tracked. Visit our learn more for more information.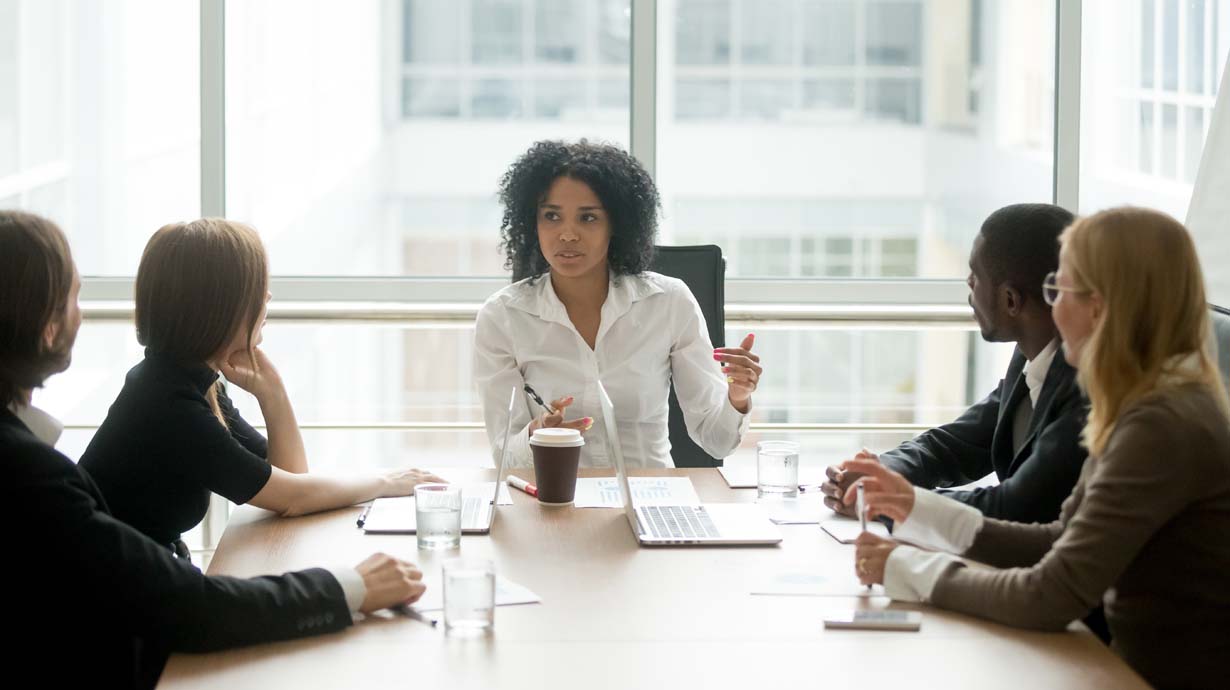 For the past three years, Verizon women leaders have shared their stories of courage and boldness, connectedness and authenticity, and vulnerability and resilience on the Lifting Up podcast. Connecting these women and their stories with virtual mentees across Verizon and beyond, the mentoring at scale proved more valuable than ever during the distance forced upon us by a global pandemic and the uncertainty of how things will be reimagined as we emerge. One thing that is certain? The fourth season of Lifting Up, hosted by Nykeba Sonubi, once again delivers lessons of savvy, wisdom, and heart.
While the leaders featured this season come from vastly different parts of the globe and different life experiences—from chicken farming in the US to backpacking alone in India to tracing maternal footsteps in Denmark—two themes surface again and again: the value of elasticity over rigidity and the power of empathy, both for ourselves and others.
Andrea Short kicks us off by going deep, explaining that both we and our work are more elastic than fragile, and advises us to avoid overstretching or burning out by establishing a strong sense of self; 

Lily Yu teaches us about leading with empathy and kindness—to work hard, but love harder—and to embrace your inner geek; 

Petra Fioretti shares with us the superpower of being an introverted "outsider," the power of being flexible instead of rigid with goals and plans, and the importance of recharging;

Nia Mathis illuminates that our journey and relationships are dynamic, not static, and urges patience, gratitude, and recognition for the power of each story;

Karen Zacharia discusses confidence, the art of dealing with imposter syndrome, and shares that her recipe for success includes a kitchen cabinet of advisors to help set goals and create accountability; and

Sheryl Suarez caps off the season with the invocation to inhale confidence and exhale doubt, to use perspective as a grounding guide, and to fuel ourselves through collaboration.
Elasticity means "capable of ready change," "receptive to new ideas," "not rigid or constricted." The agility and flexibility even in the face of great hurdles and complexity on display throughout these Lifting Up episodes not only demonstrate the elasticity of these leaders, but provide exactly the lessons we need to likewise stretch and grow.
I hope these new episodes continue to inspire you to keep expanding, aspiring, and lifting yourself and others.
How to listen
Lifting Up podcast episodes are digital audio files that can be streamed or downloaded to your desktop or mobile device at http://liftingup.libsyn.com/, on Google Play and iTunes (search "Lifting Up"). Or tell your voice-activated assistant to play "Lifting Up: Lessons from Verizon Women Leaders."
For more on the first three seasons
The Lifting Up podcast debuted in 2018 with a focus on mentoring:
S1, Episode 1 features Senior VP and Deputy GC of Public Policy and Government Affairs Kathy Grillo on Being Fearless

S1, Episode 2 features Donna Epps, VP for Public Policy and Strategic Alliances, on Building Relationships to Propel Your Career

S1, Episode 3 features Allie Kline of Verizon Media on Expecting the Unexpected

S1, Episode 4 features Senior Vice President and General Counsel for Verizon Global Network and Technology Organization Micki Chen on Pushing Your Comfort Zone

S1, Episode 5 features Michelle Ifill, (now retired, then-Senior VP and GC for Verizon's Corporate Services Group and the Information Technology Organization) on Setting Boundaries to Find Joy and Professional Satisfaction

S1, The final Special Bonus Episode features Global Compliance Trade Manager and former superstar of legal support management, Stacee Carson, on Just Doing It Afraid
In Season 2, we spoke to several impressive Verizon women about the prominent female leaders' stories that inspired them:
S2, Episode 1 features SVP and Deputy General Counsel of Verizon Consumer Group Vandana Venkatesh, speaking about Focusing on What Matters Most

S2, Episode 2 tells us "Don't Find Your Passion! Do Lift Others! with VP and Deputy General Counsel Caren Khoo

S2, Episode 3 features Associate General Counsel Laura Stolpman on Finding What Energizes You

S2, Episode 4 features Beth Sasfai, now Chief Environment Sustainability and Governance Officer, on The Power of Vulnerability

S2, Episode 5 features Verizon Litigation Counsel Kacey Hall on Charting Your Own Course

S2, Episode 6 features VP and Head of Global Public Policy for Verizon Media April Boyd on Seeing Difference as an Opportunity to Shine
Last year in summer 2020, in the midst of the physical distance and geographic dispersion created by the pandemic, Season 3 focused on resilience and inspiration:
S3, Episode 1 features Julie Hines, now VP of Innovation and Strategic Business Operations, discussing Crafting Your Own Path

S3, Episode 2 features Public Sector Counsel Rachel Juliana advocating for Finding a Champion and Being a Champion—and discusses how she juggles being a star attorney with being an elected official and having a family

S3, Episode 3 features Ellen Cummings, Regional Director for External & State Government Affairs, talking about the importance of Being a Sponge! On Learning and Lessons Learned

S3, Episode 4 features Tonya Rutherford, now VP and Deputy General Counsel-Fios TV, on Cultivating Intention in Your Journey

S3, Episode 5 features Head of International Public Policy Fiona Taylor discussing appreciation of cultural differences while learning to be your authentic self with an Open Heart, Open Mind

S3, Episode 6 closes out Lifting Up Season 3 by featuring Michelle Goldman, Senior Vice President of Human Resources Operations on Embracing Courage