Verizon's International Public Policy & Regulatory Affairs team hosts TechGirls
Verizon's International Public Policy & Regulatory Affairs team hosts TechGirls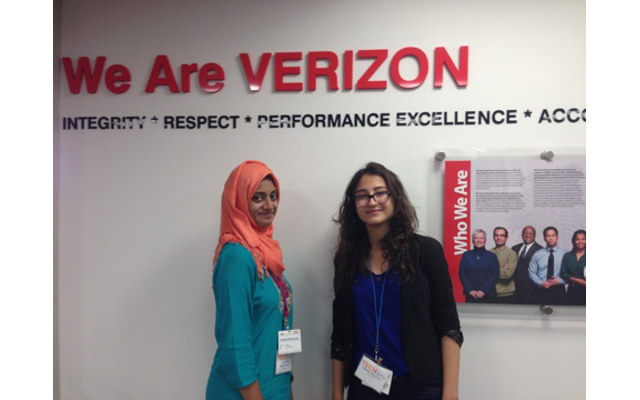 "We are meeting with important people," said the bubbly 16-year old Nadia. To which I replied, "You are also important."
This interaction took place immediately before a privacy discussion luncheon with Verizon leadership. Verizon had the privilege of hosting a job shadow day for two students, ages 16 and 17, from Tunisia and Yemen. The students, Nadia Houerbi and Husseina Mohammed, were in the U.S. for the first time as a result of their participation in a State Department-funded exchange program called TechGirls. TechGirls, launched by then-Secretary of State Hillary Clinton in 2011, follows a successful program entitled TechWomen, which mentored and paired emerging women leaders with some of the top American women in the technology sector. TechGirls builds upon the U.S. global commitment to advance the rights of women and girls around the world, as well as the technology industry's commitment to further engage young women in STEM education initiatives. The program aims to empower these girls with the knowledge and resources needed to pursue higher education and careers in technology.
This year, 24 TechGirls were selected from Algeria, Egypt, Jordan, Lebanon, Morocco, the Palestinian Territories, Tunisia, and Yemen, for the three-week exchange program.  Prior to their job shadow day at Verizon and other companies, the TechGirls completed a one-week course on coding through iD TechCamp, an interactive technology and computer camp at American University in Washington, D.C., where they worked side-by-side with American teens who were also learning web design and programming skills. At Verizon, the TechGirls spent the day with Verizon leadership, most of which were women, who discussed topics that included international policy, cloud computing, submarine cables, state government relations, and data privacy. During the privacy discussion, Husseina noted that in Yemen girls are highly interested in technology and that there is a high level of interest in the TechGirls program. Nadia was encouraged by her participation in iD TechCamp and plans on becoming a Programmer. Husseina is interested in becoming a Graphic Designer.
As a company that has benefitted from strong women's leadership, Verizon understands the importance of engaging the next generation of women with education and careers that will support the future of the tech industry. It is estimated that 80 percent of jobs in the next decade will require technology skills. Through the Verizon Foundation, our company has pushed to inspire young women to get involved with STEM-related education initiatives.  Just this past June, the Foundation partnered with MAKERS to #inspirehermind and to encourage more girls to become involved in the high tech STEM fields.  Reshma Saujani, founder of Girls Who Code, narrates the project's video, which tells the story of a young girl as she grows up and absorbs a number of experiences around her.  Join us in the conversation and explore the stories of many trailblazing women by visiting MAKERS—help us to #inspirehermind – because what we say to young girls can make a difference.
For more information on the Verizon Foundation's projects, please visit the foundation's website.
For more information on MAKERS, please visit https://twitter.com/MAKERSwomen