We're Never Too Old to Learn
We're Never Too Old to Learn
More than 140 senior citizens in the District of Columbia gathered recently to participate in Verizon's education, health and technology fairs, which offered vital healthcare information, one-on-one training on how to navigate the features on a wireless device, tips for being safe on the Internet and information on emergency preparedness and discounted phone services.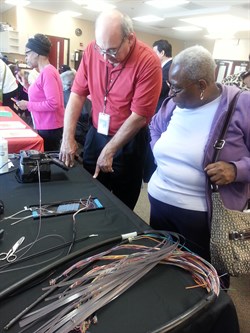 The senior fairs were held at the Kennedy Recreation Center on September 20th in partnership with Emmaus Services for the Aging and at the Hattie Homes Senior Wellness Center for the Aging on September 25th.  Seniors arrived with lots of questions and their cell phones in hand ready to learn more about the technology.  Members of Verizon's operations team displayed fiber-optic cables and fiber splicing equipment and discussed the benefits of fiber technology versus copper.  Verizon employees also were present to address customer service issues.    
Verizon community partners that were on hand to distribute information about programs for seniors included the Alzheimer's Association – National Capital Area Chapter; AARP-District of Columbia; D.C. Department of Health (Resilient D.C. Initiative); D.C. Office of Unified Communications (Smart 911 Program); D.C. Office on Aging; District of Columbia Office of Human Rights; George Washington University Hospital; National Caucus and Center on Black Aged, Inc.; The Washington Home and Community Hospices; and Unity Heath Care.
D.C. Councilmembers Muriel Bowser and Jack Evans spoke with the seniors and stressed the importance of technology.