5 ways to limit kids' screen time while working from home
Working from home while the kids are off school can be a challenge. Laura Tierney of The Social Institute offers tips to keep everyone happy, healthy and productive.
Full Transparency
Our editorial transparency tool uses blockchain technology to permanently log all changes made to official releases after publication. However, this post is not an official release and therefore not tracked. Visit our learn more for more information.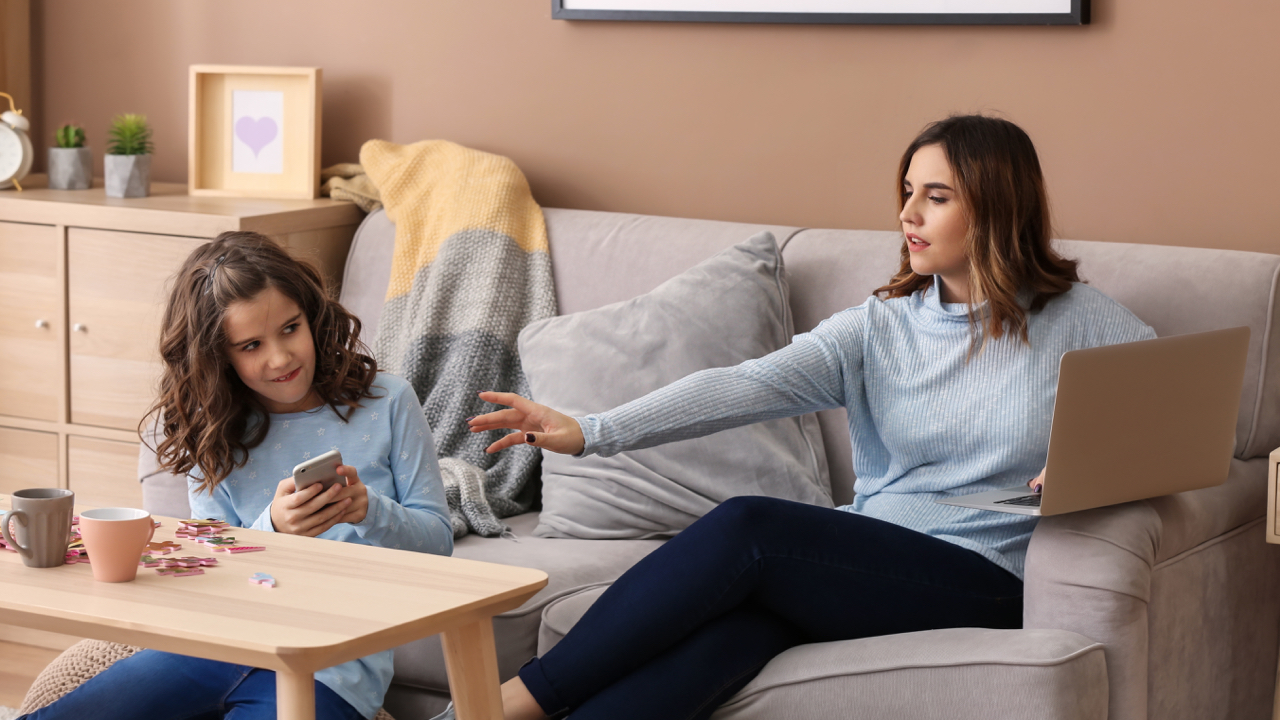 Working from home has its advantages. There's no commute or dress code, and you get to use your own bathroom. But, if your children are out of school, then working from home also comes with challenges.
Giving your kids a device can be an easy fix when you need to take that important conference call, but how can you ensure you are setting the proper amount of screen limits throughout the day?
"There are many tools and strategies that parents can leverage when you can't be attentive," says Laura Tierney, founder and CEO of The Social Institute, which helps students navigate social media and technology in a positive way. Here are five tips If you're busy and you can't always monitor what your kids are doing.
1. Set boundaries and expectations with honest family conversations.
Talk with your kids about their goals for the day. What do they need to achieve? Get alignment on expectations for getting school work and chores done before watching a movie or getting on social media.
"Have a proactive conversation about rules and technology standards in the home," Tierney says. "And the sooner, the better."
Once those expectations and boundaries are established, these strategies can help manage what they're viewing and the length of time they spend on devices.
Depending on the age of your kids, writing down the rules and putting them somewhere visible will help when they start to forget or question them.
2. Keep their devices close to you.
Store devices near you so that your child doesn't have access to them until you're able to monitor what they are doing. This makes keeping tabs on their activity easier because it's in front of you and every use involves a check-in.
"It's more of an old school option, but it ensures they're not able to go on their device to watch YouTube videos until you're done with your own work," Tierney says.
With the devices near you, kids have to be in touch with you in order to watch movies, get on the internet or use social media. Proximity to your kids isn't just about devices either—it's an opportunity for checking in and seeing how your kids are doing.
"I think what's important is that families have never had to navigate this before," says Tierney. Keeping in contact can help.
3. Use apps to limit screen time.
Some apps can help you manage and limit the content kids are exposed to. Apps like Circle, OurPact and Screen Time (iOS) allow parents to monitor content and set time limits. You can limit Instagram to 30 minutes per day, for example. Verizon also offers Smart Family, which allows parents to manage texts and pause Internet access.
"I always recommend to parents, if they're using these apps, to please sit down and communicate the 'why' with your child," says Tierney.
"Introducing it to them in a respectful, thoughtful way is very important," she says. Knowing why parents make certain decisions helps kids understand the issues behind them and learn good decision-making for themselves. 
4. Take a tech break.
If you're not using an app to set time limits, encourage technology breaks throughout the day instead. 
Use the Do Not Disturb function on devices to prevent messages from their peers from coming through during a tech break.
"Every time we receive a ding, wing or ping on our devices, that is dopamine that's being released," Tierney says. "[Breaks] are a friendly reminder to control your attention rather than letting friends control your attention. Be sacred with your time."
5. See tech's positive sides.
"Rather than seeing screens as a negative, families can leverage them for the positive," Tierney says. "We can use it to inspire kids to be creating something or encouraging creativity or problem-solving. It's finding the right balance of technology for your family."
It's easy to be stuck in fear mode because of the coronavirus and the extraordinary circumstances right now. But when it comes to concerns about screen time and technology, the quality of interaction makes a difference.
While you're busy working on your own screens at home, kids can be given creative challenges or use their devices to make something fun and expressive to share. And families can always use screen time as bonding experiences.
"The kids can show you their favorite dance trending in social media or their favorite YouTuber. Have family time together for sharing. Or, depending on the age of your kids, use Twitter to make a game of finding credible vs. non-credible information. You can use technology to promote learning," Tierney says.
When you're stuck at home, this kind of togetherness and fun can be a great way forward.
Learn more about Verizon's response to COVID-19.