Houseparty: How to create an online family game night
What are the new house rules of online family games? One dad shares proven tips on how they keep the competition—and the tradition—going.
Full Transparency
Our editorial transparency tool uses blockchain technology to permanently log all changes made to official releases after publication. However, this post is not an official release and therefore not tracked. Visit our learn more for more information.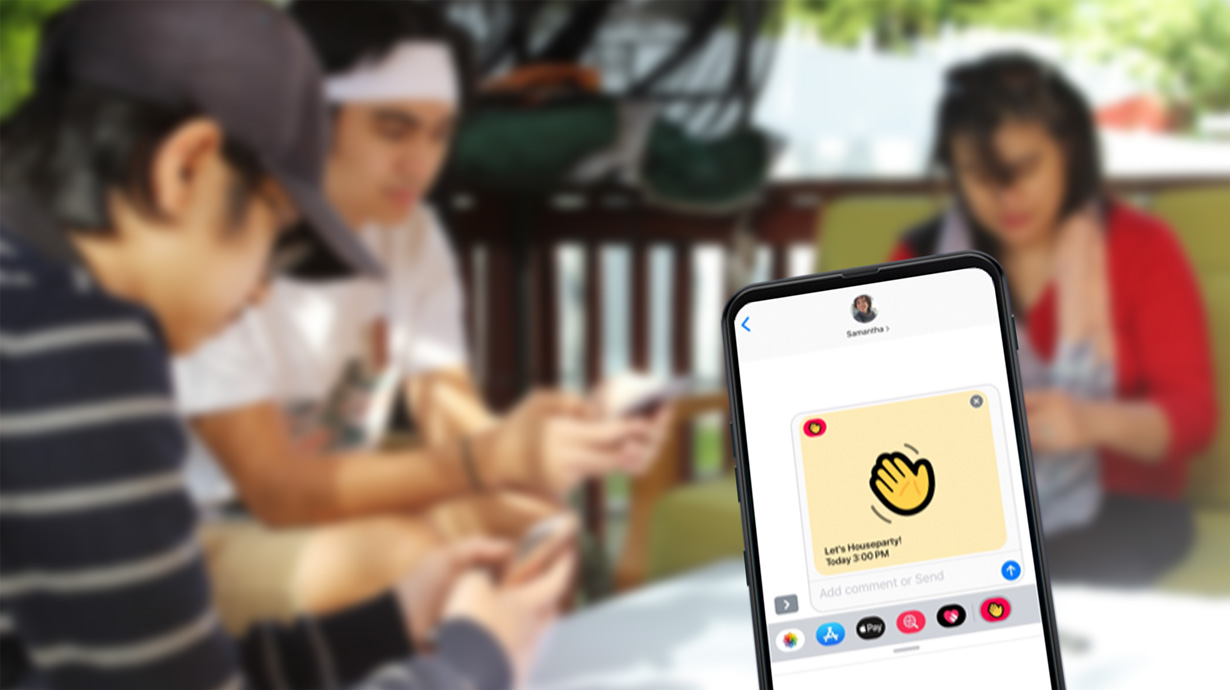 Game night has been a long-standing tradition in our family. We used to play Uno with my siblings and friends in the neighborhood, and there was a spell last year where my sons Travis, 18, and Owen, 15, learned how to play mahjong. But during quarantine times, and being together so much, game night was a little less … precious. We needed a break from each other.
As time dragged on, Owen's baseball games were canceled. Travis signed up to take the SAT and his driver's license test: Both were canceled. When we saw Travis playing Quick, Draw! on Houseparty, we asked about it—and figured out pretty quickly we could all do it together and still have our own space. Win-win.
So what is Houseparty?
Houseparty is a social app that lets families and friends play online games together with their smartphones. Like the way you can video chat with people on Facebook Messenger, you can play with folks wherever they are—in another room, another town, another state.
We tried Heads Up!; Chips and Guac; Trivia; and Quick, Draw!—all for free. We also learned a few things during the transition from board games to online games, like how to let the lighthearted trash talk of family night begin. If you're doing a Houseparty game night in your house, here are a few things to know ahead of time:
Got kids under 13 in the house? 
Vet games first—especially the trivia games—with fellow adults and decide if the topics are appropriate for your younger ones. The golden rule for choosing any video chat app for kids under 13 is to download only those with parental controls. Houseparty doesn't have parental controls, but there are some fun, all-ages games like Quick, Draw! that kids will enjoy with parental supervision.
Avoid getting schooled by your kids by playing it with another adult newbie first.
My son Travis had already played Quick, Draw! with his friends, and it showed. He almost always had the highest scores. His advice: "Don't overthink it, and use colors!" Playing one on one with a partner was a good way to get acclimated to each game before we played as a family.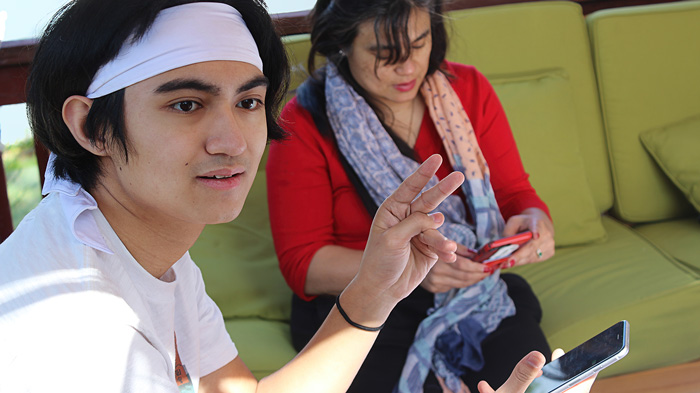 Sarcasm is key to trash-talking in our house. "All you need to beat mom are two correct answers. Two," says Travis. Photo credit: Sean Villafranca
Lock the group.
In Houseparty, almost anyone in your social network can crash the game. Before you start the game, look for the lock icon on the bottom of the screen. When you tap it, the game locks, and no one else can interrupt. It's good not just for privacy purposes but to maintain the game.
Establish a set day of the week and time when everyone can play.
We like to play for at least an hour on Thursday night. If you're playing with friends across town, or in another state, make sure everybody starts at the same time. Unless players set aside a specific time to play together, there's the awkward waiting for a player to make their move.
Vet games first—especially trivia games—with some adults and decide if the topics are appropriate for your younger ones.
Choose a moderator.
With these games, oftentimes, everyone is trying to yell over one another. For our family, either my wife or I will take the wheel and step in when everyone gets too rowdy or to keep the game moving along. It's helpful for someone to be the designated moderator, usually the host of the group.
Hide your phone screen (like you'd hide your playing cards).
Players should not be able to see each other's screens. When you play with friends remotely, this isn't a problem. When I played with my family, we were all in different rooms of the house, and yet we could hear one another yelling answers. For instances where you will be in the same room with the group, you have to get creative about where people sit. Once we all sat back to back in a circle in the living room and it was great.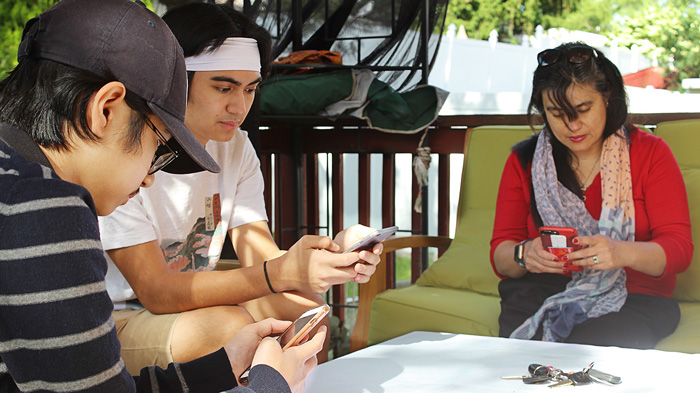 Mom turning the tables on Travis. Photo credit: Sean Villafranca
The winner gets to pick dinner.
To sweeten the pot, my family likes to award the winner of the most games with mild power, such as "Winner gets to choose where we get takeout dinner!"
Make sure your smartphone is charged.
Seems like a no-brainer, but you'd be surprised how many folks start playing with their phones charged 15%.
The most heated battles are fought when my two teenage sons are a team pitted against my wife and I while playing Heads Up! We all have competitive streaks, but a healthy sense of humor keeps things light and hilarious. Without fail, the next day we have a spirited recap of game night, followed by the important question, "So where are we getting dinner?"