Once upon an Instagram live…
How mobile tech inspired these sisters to write their own book series—and how their mom is finding balance and boundaries along the way.
Full Transparency
Our editorial transparency tool uses blockchain technology to permanently log all changes made to official releases after publication. However, this post is not an official release and therefore not tracked. Visit our learn more for more information.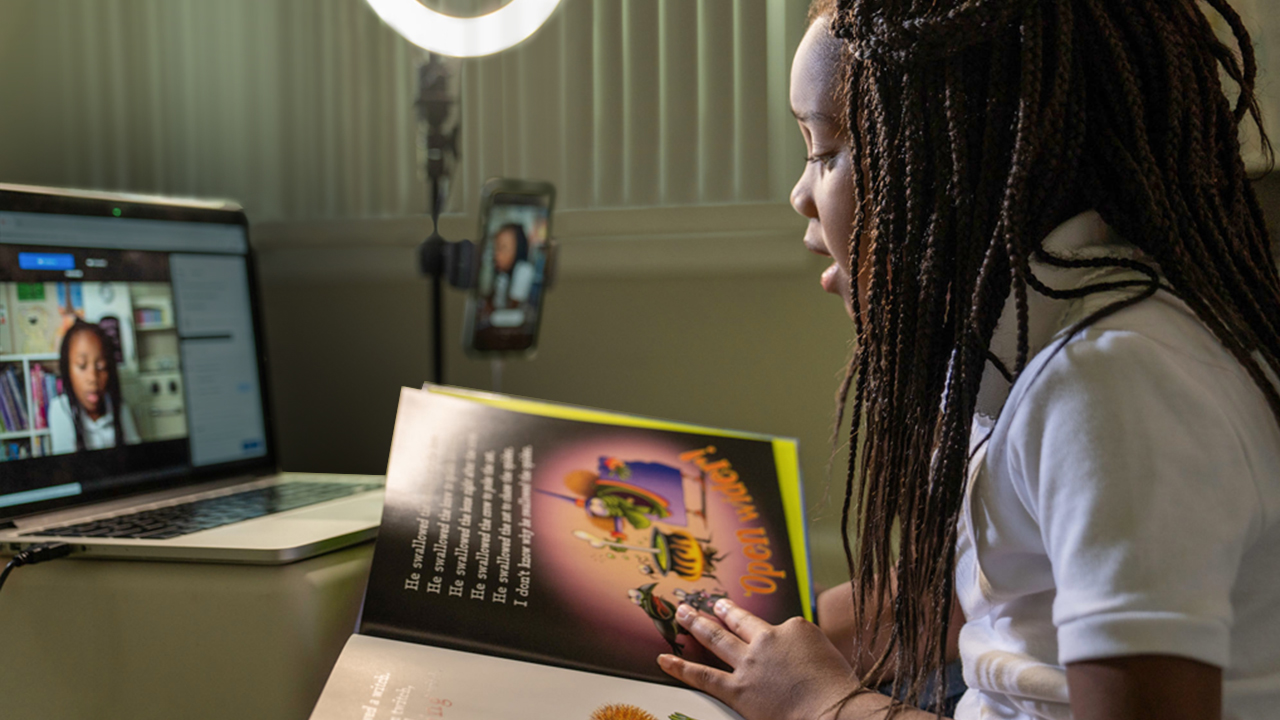 When the phone alarm goes off at 8 PM, the girls have 30 minutes to get ready for a bedtime story. And Hailey doesn't like to be late.
The little reading nook in the dining room used to be the family's craft corner, but now the cubbies hold a small library of books, stacked and grouped by color. "Women who read, lead," is written in neat cursive on the nearby toy kitchen fridge. On a carpet with a cartoon illustration of the world, the girls get set up: a pillow poof to sit on, a step stool, laptop, and a ring light with a smartphone holder made specifically for video bloggers. They open the laptop, tap the phone, and they're live.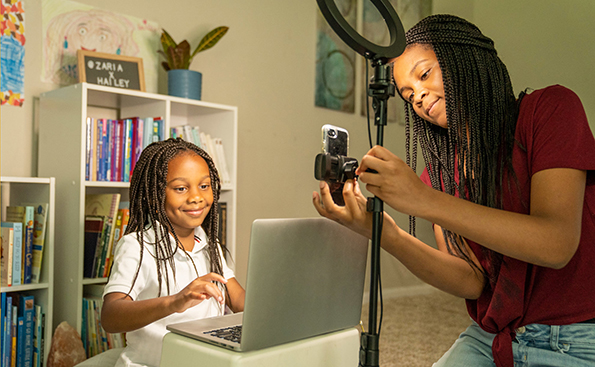 Photo credit: Ryan Donnell
"Hey beautiful people. I'm Hailey. Thank you for joining us," says Hailey, looking into the laptop camera. "Go ahead and hit that share button and remember to show love by liking or loving this video."
For sisters Hailey and Zaria, this is the new "once upon a time." On weeknights they livestream their bedtime stories for children who may not have the luxury—or parents who may just need a break.
"I'm still wrapping my head around it," their mother Victoria says. Early on, she wasn't sure about her girls being on social media. "They asked me a million times," Victoria says. "Like really."
By 8:30 PM, with any luck and without technical glitches, Hailey at age 8 and Zaria at age 13 read a bedtime story over Facebook and Instagram Live. "Our main purpose is to read a book of our choice each night at a designated time so that children can have a bedtime story each night," the Facebook page says about the story time.
They started reading books live in March to a handful of viewers, mostly their mother Victoria, and their 14-month-old twin girls Harlow and Harper, who watched upstairs from their phones during bath time. Now, the most-watched story on their Facebook page is 13,000 viewers. The Facebook page has over 10,000 likes and is growing. They started a YouTube channel, and the girls are reading to raise money to buy books for a library in Ghana, West Africa.
"Now I watch them when they're in their room on the floor like, 'Oh we should do this next. And we should work on doing this and this.' " Victoria says about how the livestream has inspired the girl's creativity and collaboration offline, too. "And they'll talk to me like, 'Mom, what if we got connected with other schools to build libraries.' So we've been in contact with the police department, the YMCA, the school district, trying to see which schools have the most needs."
Once upon an idea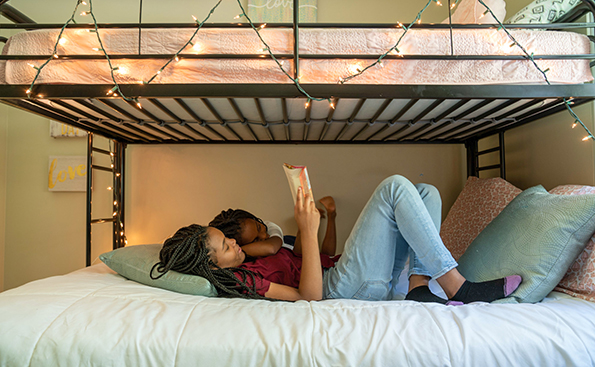 Photo credit: Ryan Donnell
Each summer, Victoria, a professional organizer, asks the girls to do a summer project, such as start a lemonade stand or help a neighbor do laundry. Earlier this spring, the girls were thinking about what to do for the summer project when they got the idea.
"Well, every night we don't go to bed immediately," says Hailey, "but we brainstorm and talk to each other as we're going to sleep."
"We were specifically talking that night about what we were going to do with our summer," Zaria says. "Because we didn't want it to be like every other summer. We wanted to do something important. Then, we started talking about how some kids don't get the luxury to be read to. Then, we were like, you know what, we're going to read to kids this summer."
Victoria wasn't convinced.
"I thought, are people even reading books anymore?" Victoria says about her response when the girls first brought her the idea. "'Who's going to be watching you? What's your audience?' And they were like, 'Mom, it's going to be great. Parents are going to log in for their kids.'"
Raising a digital parent takes a village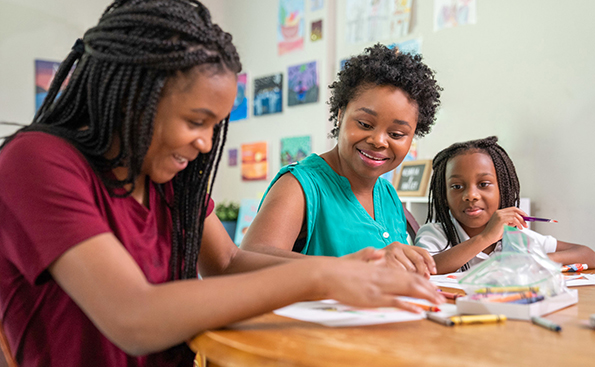 Photo credit: Ryan Donnell
"I'm in a million mommy groups," Victoria says about raising her kids in a digital age. She has five children: Hal is 15, Hailey and Zaria, 5-year-old Harrison, and the twins Harper and Harlow. She looks for help online, finds things on Pinterest and talks to moms with older kids.
Zaria got her first flip phone last year, and her first smartphone this year.
"The reason I like [the smartphone] is because I can limit everything," Victoria says. "I can control the whole phone from my phone." Zaria can use social media and watch YouTube for 30 minutes to an hour every evening, then she shuts it down. When Victoria gets home from work in the evenings, she turns off WiFi or changes the password until the girls do a few tasks.
Zaria also has a phone contract with Victoria. She turns off the phone at 9 PM each night. The phone goes away during family dinners. In the morning, the girls need to stick to their morning routines to keep using the tech. For Zaria, she meditates with affirmations three to five minutes every morning to help her get her day started right.
"Just things like that, they let me know when they've become very responsible," Victoria says about the girls using digital technology.
Live from Dover, Delaware
Once Victoria agreed, Zaria got to work setting up the tech—she's the tech whiz in the family. In those first couple of weeks, there were only two viewers, with Victoria being one of them.
"And they didn't get discouraged," Victoria says. "Even though they had nobody watching some nights, they kept doing it."
When Victoria realized how serious they were about it, Victoria got serious about it, too.
"When I get off work from my nine to five, I come home and they're my five to nine," she says.
Early on, Victoria thought it would be good for the girls to interact with the comments, but when a few weird comments turned up, she decided to have them turn off the computer as soon as they're done reading.
"They know to shut the laptop down, bring it to my room, and I go back through and I'll respond," Victoria says.
"I want to protect my babies," Victoria says. "I always tell them, when you do something online, think about how it would look three or four years from now. Every decision you make, it needs to be a future decision. Not a right-now decision."
Parenting online begins offline
 "This, for me, you know, is digital parenting at its finest: Where parents bring those experiences and that maturity and those thought processes from the offline world into the online world," says digital parenting coach and consultant Elizabeth Milovidov. Based in Paris, France, Milovidov helps parents around the world learn how to raise their kids in the digital age.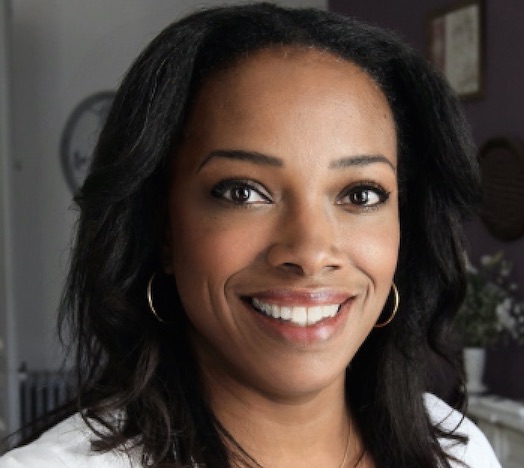 Even with the risks associated with digital exposure, Milovidov stresses the importance of learning through those concerns to give children a creative experience—especially when it's being used to facilitate positive change.
Today's kids are more primed than ever to be social media influencers. In a recent survey of children ages eight to 12, the most sought-after job for kids in the US and UK was being a vlogger or YouTuber.
"And they can ask questions and they can help their children," Milovidov says about parents on the learning curve with digital technology. "They can provide answers that are based on their own experiences. And that is the best way to support a child. In fact, a lot of the times that children do get into trouble, it's because they didn't realize they had someone they could go to."
And they all wrote happily ever after
Now, with a few months of story time in the books, the girls have five pre-recorded stories on reserve in case the family is running late, wants to do something else or someone isn't feeling well.
"I don't want them to feel restricted to being home at a certain time to go live," Victoria says. "We don't try to confine our time to be at home so we can do our outdoor things.
In recent weeks, children's book authors have been reaching out to the girls, asking if they'd read one of their books live. Zaria's favorite author, April Henry, a young adult crime novelist, wrote to thank her for reviewing her book Girl, Stolen and sent her a signed copy of her new book.
The girls are also writing a story series of their own about growing up in a blended family called Mixed, Matched and All That. Their oldest brother, Hal lives in Mississippi and he's illustrating the stories. He'll text pictures of the drawings to the girls and they'll video chat on their phones to art direct the images.  Zaria is writing the first story in the series: "Me, Myself and Mommy."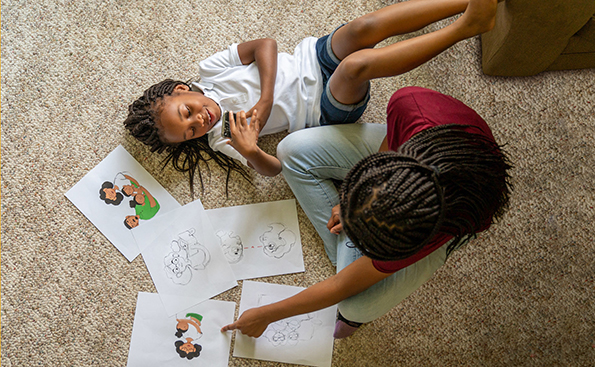 Photo credit: Ryan Donnell
"I don't really know how to explain it, but we're just making a book," Zaria says about the process. "It's about all of our lives, but it starts off with me. She helped me a little bit on this one," Zaria says, looking at Hailey.
"I just help her when she doesn't write it right," Hailey says.
Parents corner
Is your child thinking about using social media for the greater good? Most social media apps prohibit children under the age of 13 from using the platforms, but with parental engagement and direction, you can help protect and nurture your child's interests.
Close the comment sections. 
Milovidov suggests turning off the comments feature since it sometimes attracts inappropriate content. But, if someone clicks the thumbs down or dislike on the video, use it as a teaching opportunity, Moilovidov says. Just like one sister might like macaroni and cheese, but the other doesn't, that doesn't make the mac and cheese bad—it simply means that not everybody likes everything.
Brush up on the Children's Online Privacy Protection Act.
The Federal Trade Commission recently fined YouTube and Google $170 million for collecting personal information from viewers of child-directed channels, particularly shows created for children.
Dress appropriately.
With respect to audiences around the world who may be watching, dressing appropriately also shows respect for the people and the other viewers who may be watching.
Consider the siblings.
Not every child wants to be online. But, if other siblings are getting bullied or feeling left out, get ready for the conversation.
Read the terms and conditions on social platforms.
Think like a digital guardian. Understand the copyright and intellectual property rights you surrender when you publish images online. For example, once photos are uploaded to Facebook, you give Facebook and other platforms a license to use them. 
Know your safety centers.
These social platforms each have some safety options. Explore those pages to know how to report and block aggressive users. "Obviously, there will be things happening where people do and say things," Milovidov says. "But, again, you can also use those things at teaching moments and guide children in how to use technology responsibly."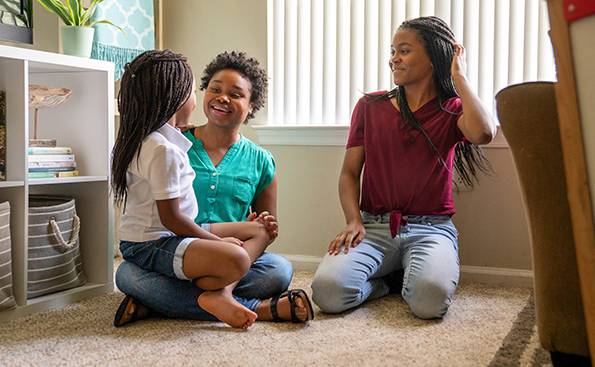 Photo credit: Ryan Donnell