Game on: Why gamers are getting serious about physical fitness
A parent and professor of esports shares his tips for talking with kids about why today's professional gamers are taking physical fitness seriously, too.
Full Transparency
Our editorial transparency tool uses blockchain technology to permanently log all changes made to official releases after publication. However, this post is not an official release and therefore not tracked. Visit our learn more for more information.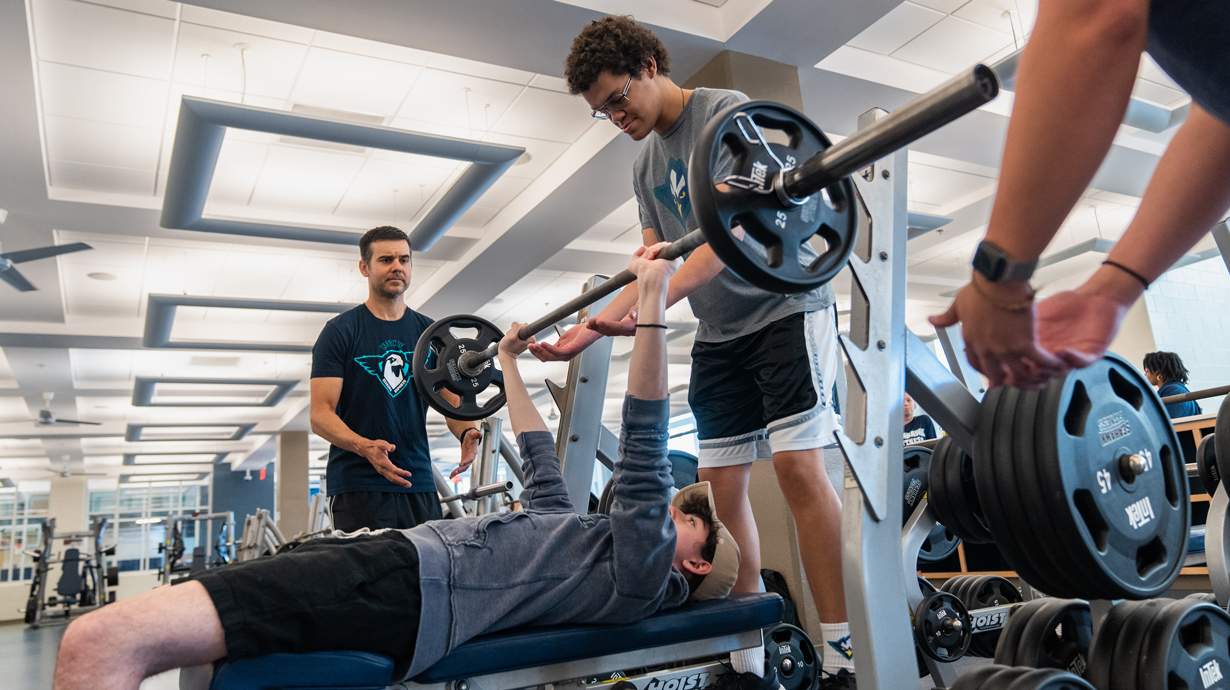 "I want to be a professional gamer or streamer," says my fourth grader when asked what his dream job would be. This isn't an unusual reply.
As a professor and leader of the esports program at the University of North Carolina Wilmington (UNCW), I have 55 student esport athletes competing on multiple teams. Some have actually paid for their college tuition with tournament winnings, and I've watched them go onto lucrative careers in management, marketing and coaching. Any child with the ambition and talent to be a professional gamer could have a career making money that aligns with the dollars awarded to other professional athletes. The player with the highest overall earnings has made over $7 million.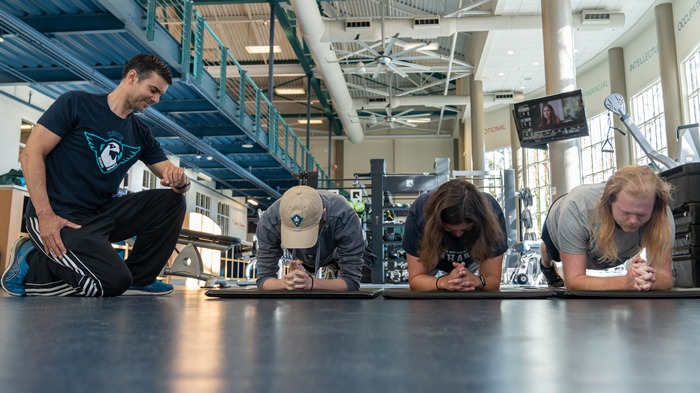 Image credit: UNCW/Bradley Pearce
Dr. Ray Pastore does planks with students in the gaming and esports club at UNCW.
What's surprising to many parents and aspiring esports athletes that I work with is a new focus on health and fitness. Gamers spend a tremendous amount of time gaming and practicing on their consoles, but that's not enough to reach peak performance. New and ongoing research shows that good exercise, nutrition and mental health are linked to improved results.
"Proper nutrition and exercise improve mood, increase tolerance for stress, increase resilience, increase motor functioning and accelerated learning," says Chang Ko, the director of performance at Team Liquid, a professional esports team and partner of Verizon.
"The bottom line is, pro gamers who eat right, hydrate properly and exercise regularly will have faster reaction times, make quicker decisions and perform better under pressure."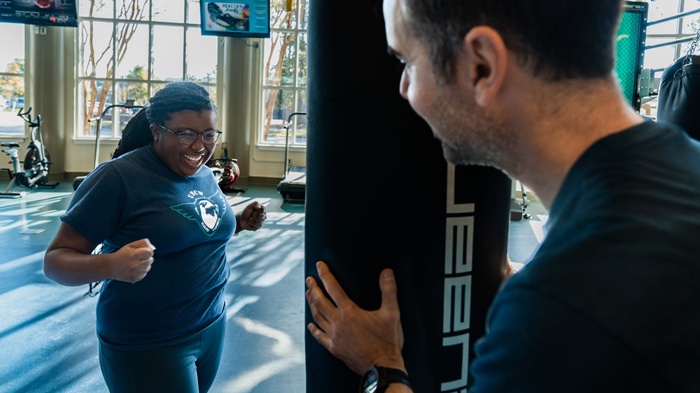 Image credit: UNCW/Bradley Pearce
Dr. Ray Pastore and a student work on strengthening abdominal muscles and improving eye-hand coordination with a boxing heavy bag at the UNCW Student Recreation Center in Wilmington, NC.
New products are helping gamers get fit and perform better.
Training has become so vital to competitive gaming that new technology is emerging to help esports athletes train like traditional athletes.
Some games include in-training simulations to boost hand-eye coordination. 

New exercise programs for esports athletes help prevent injury and improve gameplay. There are physical therapists and doctors now specializing in esports. As the industry grows, so will its focus on health.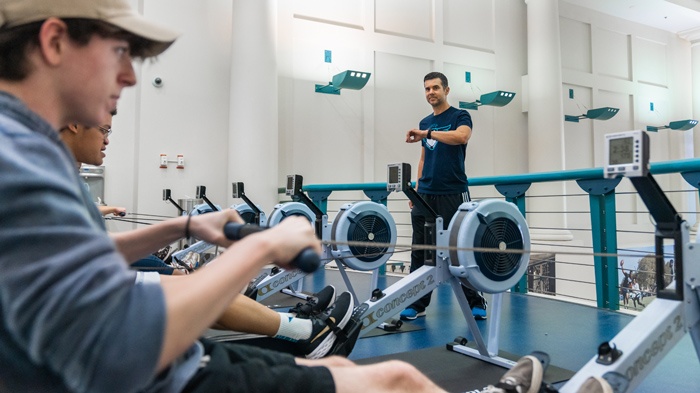 Image credit: UNCW/Bradley Pearce
Dr. Ray Pastore and students in the gaming and esports club are working on rowing machines to improve cardio endurance at the UNCW Student Recreation Center in Wilmington, NC.
New research is exploring the fitness and gaming connection.
The trend towards health is recognized by top esports organizations—and being explored in research settings. A study by Trotter et al. (2020) found that the top 10% of esports players were physically more active than the other 90% of competitive gamers. Currently several colleagues and I have started looking at the role of health in competitive gaming. A group of faculties from UNCW and Slippery Rock University from several different departments—computer science, health, psychology are applying to a grant that will examine how exercise affects game play for competitive gamers. Our goal is to provide clear objective evidence that gamers must include exercise as part of their training regimen if they intend to be the best.
Overall, we're seeing a focus on health trickle down from professional esports to grades K-12 and college esports programs. For example, one of my recent graduates, Kyle Flemming, is a UNCW alumni, Army veteran and former captain of our Call of Duty and Halo teams. He does both weight training and cycling.
"Without proper nutrition and exercise, it's nearly impossible to achieve the mental clarity every competitor strives for prior, during and after game time," Flemming says.
Joshua Wagner, one of my students from our Super Smash Bros. team, does resistance training three to five days per week.
"Exercise is about as good of a stress relief as you can get, and it's a big reason I've never gotten truly angry at a game—even when I lose very, very badly," he says.
Many of my students see physical exercise as a way to improve game play and better themselves overall. In my opinion, this is the future for competitive gamers. Exercise and health programs will become standard in esports programs just as they have for traditional sports.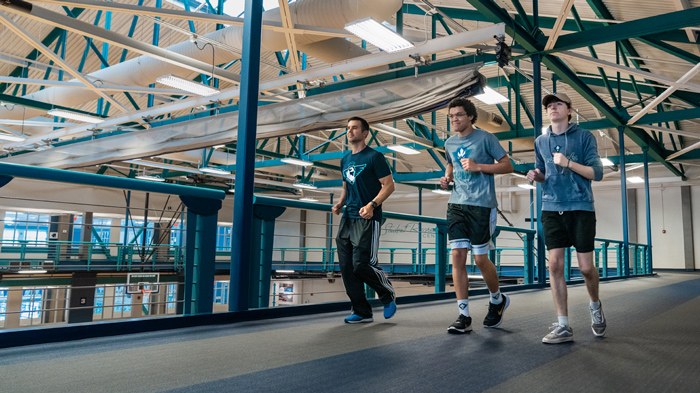 Dr. Ray Pastore and students in the gaming and esports club warm up for a workout designed to improve gaming performance at the UNCW Student Recreation Center in Wilmington, NC.
How to get your own gamer to focus on physical fitness
When you talk with your kids about gaming, tell them that, increasingly, today's best gamers are working on their health, which includes exercise, diet, sleep and mental health.
Talk it out. Consult with your kid's pediatrician before launching any fitness regimen. Then talk with your kid about their goals and set up a clear plan. 

Meet with coaches and trainers to develop that plan. One of the best recommendations for exercise comes directly from the Center for Disease Control (CDC), which says that children should have at least 60 minutes of activity every day. That includes general play such as outdoor games, sports and other forms of cardio. You also want to include strengthening activities such as pushups, climbing, jumping, yoga or light resistance training three times per week. Kids also need a minimum of eight hours of sleep and a well-balanced diet full of fruits, vegetables, whole grains and a variety of good protein sources such as seafood, lean meat, beans and nuts. 

Take gaming breaks. When your child is gaming, have them take a break and stand up every half hour. This aligns with the American Academy of Ophthalmology's 20/20/20 recommendation, which says to look away from the screen every 20 minutes at an object 20 feet away for 20 seconds to reduce eye strain. 

Try to balance game time with physical activity. For example, for every 60 minutes they spend playing a game, they should have 60 minutes of physical activity.
Following these guidelines can help your child excel in gaming and set them up for a lifetime of healthy habits. The key here is getting them to understand that being the best gamer requires more than just playing the game.
Putting research into practice at home
As for my fourth grader and his two brothers, my wife and I have taught them that forming healthy habits will make them better in everything they do, including gaming and school. We work on making healthy choices at the dinner table and ensure that game time is balanced with exercise. That includes going on bike rides, playing outside with other kids, and playing various sports or martial arts throughout the year. We have a set bedtime routine and monitor both their game time and the games they play.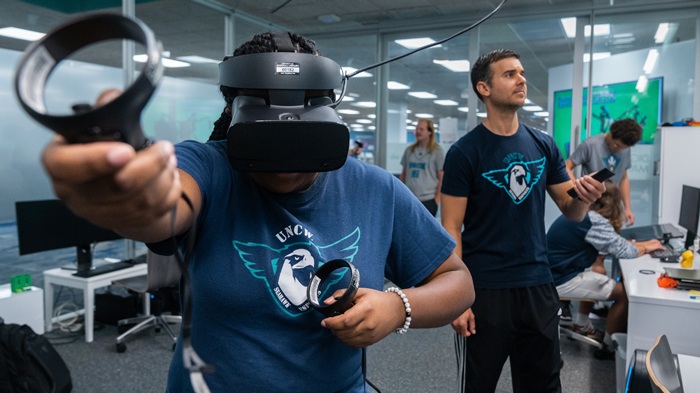 Dr. Ray Pastore and a student in the gaming and esports club play a Virtual Reality (VR) game in the VR lab at the UNCW Student Recreation Center in Wilmington, NC.
Teaching them that these healthy habits will help them accomplish their dreams was—and still is at times—a struggle. However, once we explained the benefits and set up a plan of action with them, it became a part of the daily routine and they started meeting their gaming goals.
They still need reminders and positive reinforcement along the way, but they understand now why it's important and why they need to keep doing it if they want to have a shot at playing with the best in the world. The message is simple: Exercise does affect your game play. If you want to be the best, a healthy lifestyle is one aspect you cannot ignore. Remember getting started is the hardest part.
Good luck, gamers.

Conversation starter
Are they serious about gaming?
For every 60 minutes kids spend gaming, they should have 60 minutes of physical activity, Pastore says. If there's a serious gamer in your house, talk together about how fitness can improve their gameplay, and what activity they'd like to do to improve response times.